At MWC 2014 Sony launched Xperia Z2 Tablet and a couple of dedicated accessories associated with it like Style Cover Stand SCR12 , Cover Stand BKC50, BKC10, Bluetooth Keyboard BKB10, Stereo Microphone STM10, Bluetooth Speaker with Magnetic Charging Pad BSC10 and Magnetic Charging Dock DK39. Just now we spotted that Sony has also listed official Screen Protector ET974 for Xperia Z2 Tablet for pre-order at Sony online stores in Europe region.
Sony Screen Protector ET974 for Xperia Z2 Tablet is like a screen guard protecting your tab's screen with dirt and scratches. It has anit-glare film and anti-stain coat to avoid finger impressions. It is expected to be shipped around in March 2014.
Sony Screen Protector ET974 for Xperia Z2 Tablet is priced at £10 in UK, €14.99 in France, Netherlands, Italy, €19.99 in Spain, Germany, 59 zł in Poland, 199 kr in Sweden. Free delivery and 30 day return is included in the pre-order.
Let's see how Sony Screen Protector ET974 fits on Xperia Z2 Tablet .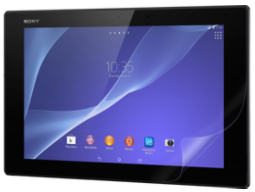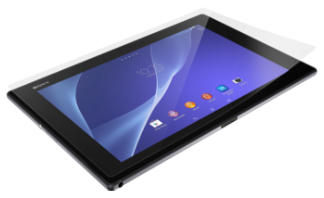 It's nice to see that Sony is also selling now official screen protector for its devices but it is over priced, one can get so many screen protectors at cheaper price from local market stores, isn't it ? Well if you need an official Sony product, get ready to shed some more bucks from your pocket…
Do you also think it is over priced ? Let us know, drop your comments below.