Google has officially put Pixel 6 and Pixel 6 Pro out of genie bottle and Google's new flagship lineup is no mystery anymore. Google has been teasing Pixel 6's specification now and then and recently Google's SVP Hiroshi Lockheimer shared a screenshot over Twitter which is believed to belong to Google Pixel 6 Prp smartphone and the lockscreen screenshot shows an in-display Fingerprint Sensor (Tweet is now not available as it was deleted quickly soon after it was posted) and the Android 12 Clock Wodget.
If the screenshot actually belongs to the Pixel 6 series smartphone then Google has taken a step in the future direction and Pixel 6 and Pixel 6 Pro will become the first Pixel series smartphone to feature an In-display Fingerprint Sensor and 1440×3120 px screen resolution.
Google Pixel 6 Pro In-display Fingerprint Sensor
Check out the screenshot below which was shared by Hiroshi Lockheimer over Twitter. As per the Tweet made, Hiroshi Lockheimer was testing out Android 12's Material, You theming engine. The device is connected to Verizon 5G Network.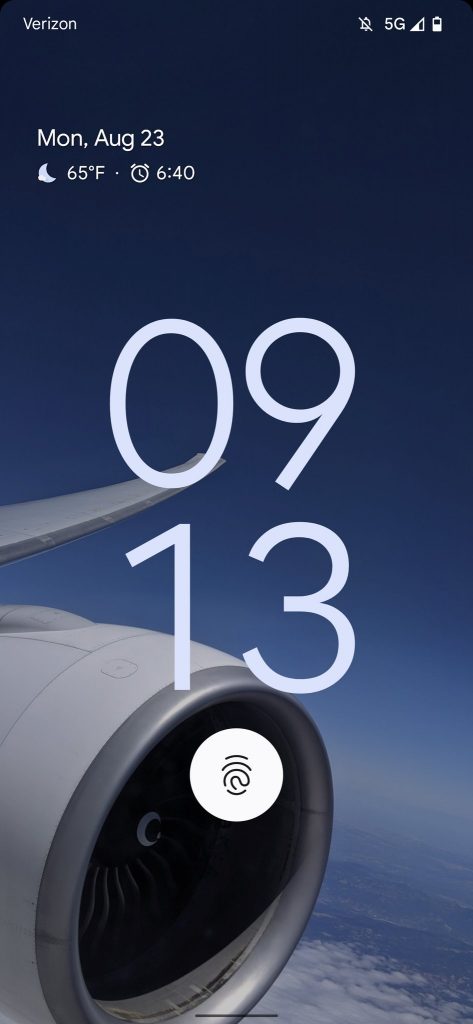 Pixel 6 screen Pro resolution should be 1440×3120 px, whereas the screenshot shared had a screen resolution of 1440×3220 px as it was screenshotted on Galaxy S21 by Jeff Springer.
It also gives us a sneak pneak about the Lockscreen of Pixel 6 Pro running Android 12 Beta.
Google Pixel 6 series will also feature an in-house built SoC i.e. Tensor Processor by Google. Excited about the Pixel 6 series, let us know in comments.
Source – Hiroshi Lockheimer & Mishaal Rahman & Jeff Springer.