Sony F3311 and Sony F3216 was recently spotted on GFX Benchmark whereas Sony F3216 was launched as Xperia XA Ultra recently and now Sony F3311 has been spotted in a documents coming from Russian Customs as Xperia E5.
A few days back news came that Sony is ending its Xperia "Z" series lineup and then that Xperia "X" series would be there now for 1-2 years and now out of blue, Xperia E5 appears.
Sony F3311 dubbed as Xperia E5
Check out the leaked material from Russian Customs below.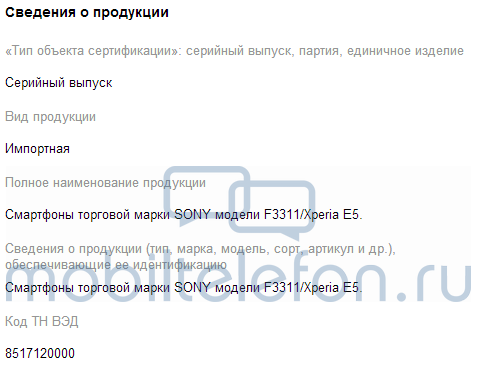 Sony F3311
Check out Sony F3311 specifications as listed by GFXBench below:
Android 6.0 Marshmallow running
720p HD 4.6″ screen (looks like a compact version of bigger series)
MediaTek MT6735 quad core CPU @1.3GHz SoC (Cortex A53 – ARMv8)
ARM Mali-T720 GPU
2 GB RAM, 16 GB Internal Storage
13 MP Rear Cam
5 MP Front Cam
Single SIM model
We will keep you updated once any solid lead comes on the commercial name of this mysterious Sony F3311.
Thanks for the tip, Rishi! Source – MobileTelefon