Something is definitely cooking up, Sony Mobile Communications is hosting a press event on 25 June at Munich, Germany. For what it is for ? That's the mystery remain unsolved yet. Rumors are that Sony is about to launch its first phablet code named as Sony Togari which we have seen number of times in leak images online, as Xperia ZU very soon.
Sony Togari launching as Xperia ZU on 25 June press event at Germany ?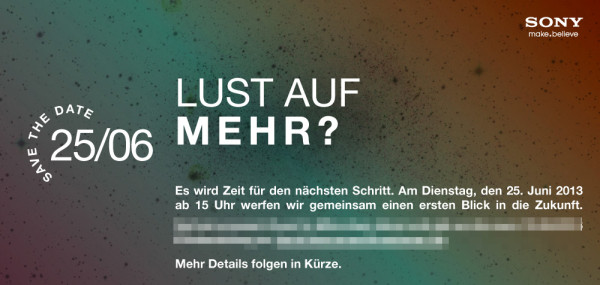 Press invitations for meet on 25 June has been started by Sony. The above banner read as "LUST AUF MEHR?" whose English translation is as "Desire for more?". More translation are as follow "Es wird Zeit für den nächsten Schritt. Am Dienstag, den 25 Juni 2013 ab 15 Uhr werfen  wir gemeinsam einen ersten  blick in die Zukunft" as "It is time for the next step. On Tuesday, June 25, 2013 from 15 clock we throw together a first look into the future".
It is expected that Sony might be launching a new android device on this press meet. There are many speculations behind this, people are claiming that Sony might launch a new Xperia device range for 2013, a Google Nexus edition of Xperia Z or can be the launch of their first cyber shot phablet Togari.
Rumored Launch of Sony Togari or Xperia Honami
Very strong rumors are there that Sony might release it's first phablet Sony Togari as Xperia ZU ahead of the launch of Samsung Galaxy Note 3 and HTC One Max both phablets. Rumored specifications of Sony Togari or Xperia ZU are full HD 1080p 6.44″ screen with Snapdragon 800 2.3Ghz Quad core processor with Adreno 330, Bluetooth 4.0,
It can also be a launch of Sony Xperia Honami which has already been listed by "Snapdragon Wikipidea Page".
Nothing has been confirmed officially yet, only a leaked image from Sony invitation has been brought out. Let's see what Sony will give to it's users on 25 June, just sit back and wait 😛 What do you think regarding this, do let us know…
[ Via –
BestBoyZ
]