Year 2013 is about to end and Sony Mobiles is ready for new Sony 2014 Xperia lineup, as it is already being confirmed that Sony will be having a press conference on 6 Jan 2014 at CES 2014 there we might see the official announcement for Xperia Z1 Mini ( international version as Sony D5503 ) and Xperia Z1S ( facelift model of Xperia Z1 ). So is that enough ? No new models then ? Well it seems yes there is a different Sony 2014 models lineup in Sony's camp.
As Sony D5503 ( Xperia Z1 Mini global version ) is already been seen at Indonesian Postel website ad just now we spotted 3 new models Sony D6503, Sony D5303, Sony D5503 on the same website. Well it seems there is a lot cooking up in Sony's camp right now.
Check below listing of Sony D6503, Sony D5303, Sony D5322 and Sony D5503 at Indonesian Postel website.
[ Click on Image to ZOOM ]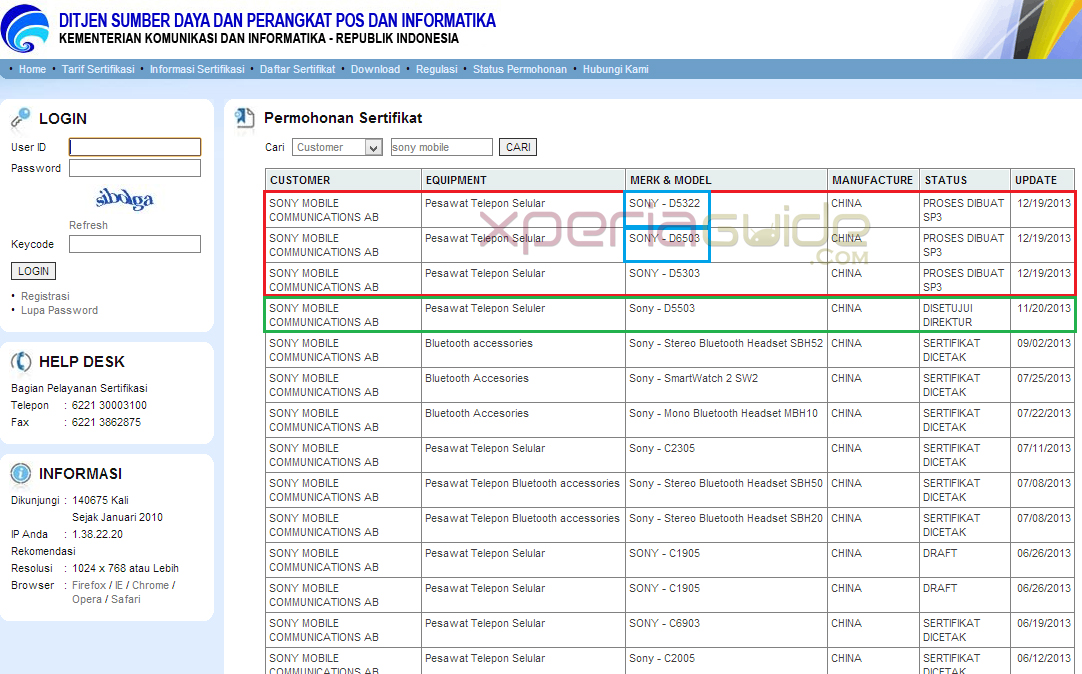 Features and specifications of Sony D5503 ( Xperia Z1 Mini global version ) is already being leaked number of times with pics but most fascinating here is the rest three devices Sony D6503, D5322 and D5303 where one of them is expected as new flagship model for year 2014 from Sony, seeing the naming Xperia Z1 it may happen we may see Xperia Z2 also ( purely a speculation for now ).
CES 2014 and MWC2014 is approaching now and we may see some new Sony models from above listed in those. What do you think guys ? Let us know.
[ via – Indonesian Postel ] Thanks Ben 🙂