Yesterday we saw two major leaks regarding Sony D6503 Sirius, one displayed 4K Video app, Timeshift Video app and Creative Effect Camera App leaked screenshots from Sony D6503 "Sirius" and other one features 1080p video recording at 60fps, 15.5MP Manual Mode camera settings . Till now Sony D6503 has been seen in many leaks and almost unofficially announced. Sony D6503 features android 4.4.2 KitKat with a new refreshed Xperia UI, Snapdragon 800 processor MSM8974AB SoC, 5.2″ disply with IPS panel and Triluminos display for mobile, 16 GB onboard memory with 3 GB RAM and 20.7 MP rear cam.
User "iRimas" who holds a prototype version of Sony D6503 Sirius has leaked some of the new android 4.4.2 KitKat based new Xperia UI's Walkman Lock Screen Screenshots which are almost similar to android 4.3 Walkman lock screen except some of the native android 4.4 KitKat features, let's have a look at it.
[ 
UPDATE – 14 Feb
 ]
Black and White Sony D6503 Sirius vs Xperia Z1 vs Xperia Z Real Pics Comparison Leaked
[
UPDATE – 13 Feb
]
Sony D6503 Sirius KitKat UI Video Leaked – New Lockscreen Transition, Live Wallpaper Spotted.
Sony D6503 Sirius KitKat UIWalkman Lock Screen Screenshot
On the lockscreen, music scrubber is displayed and you can select any part of music to be played, this feature is right now not available on android 4.3 Xperia Z1 as it is a native KitKat feature. Camera launch icon is also spotted at bottom.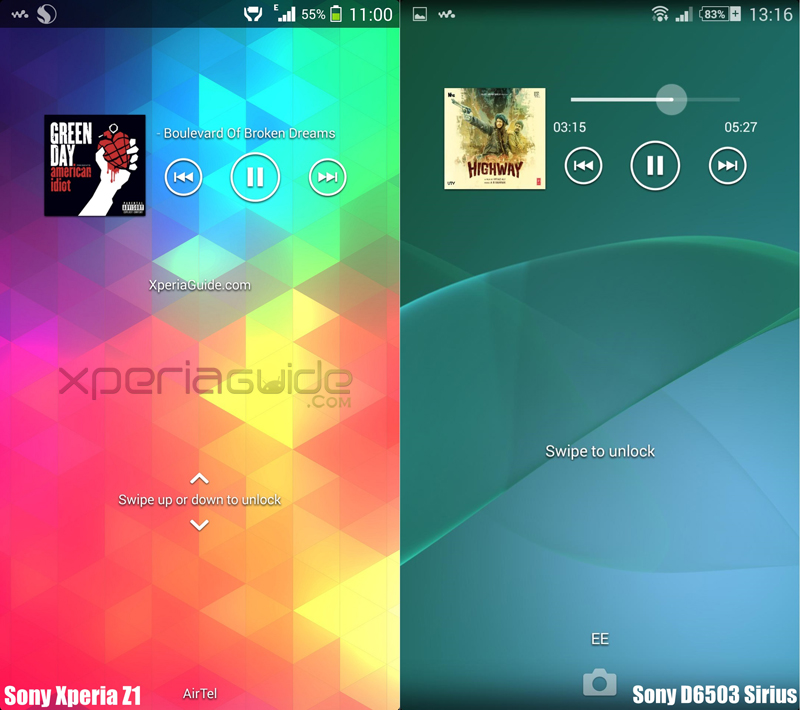 Another interesting statement was quoted by "iRimas" that right now there is no option to switch on ART settings in the firmware running on this prototype, which is again a native KitKat feature. We hope all new features which we saw in Sony D6503 Sirius KitKat firmware also comes to Xperia Z1, Z Ultra and Z1 Compact when android 4.4 KitKat arrives on them.
What do you think guys, is Sony gonna provide these all features on other devices also, we hope so they do. Drop your comments below.