It's time for Mobile World Congress Barcelona event starting from 24-27 February 2014. At CES we saw Sony launching two high end devices viz. Xperia Z1 Compact and Xperia Z1S LTE, as Sony already mentioned that no flagship device will be launched at CES 2014 so will it be at MWC 2014. MWC14 Brochures are out now so the timings and details of Sony Mobile press conference at MWC 2014 in Barcelona.
As what MWC14 brochures say, Sony's press conference under category "device" will take place on 24 February 2014 at 08.30 CET at stands Hall 2 Stand 2P60 and Hall 3 Stand 3M10, so if you are going to attend the MWC 2014 event, don't forgot to visit Sony's stand.
Check below the Sony's MWC Event's location details.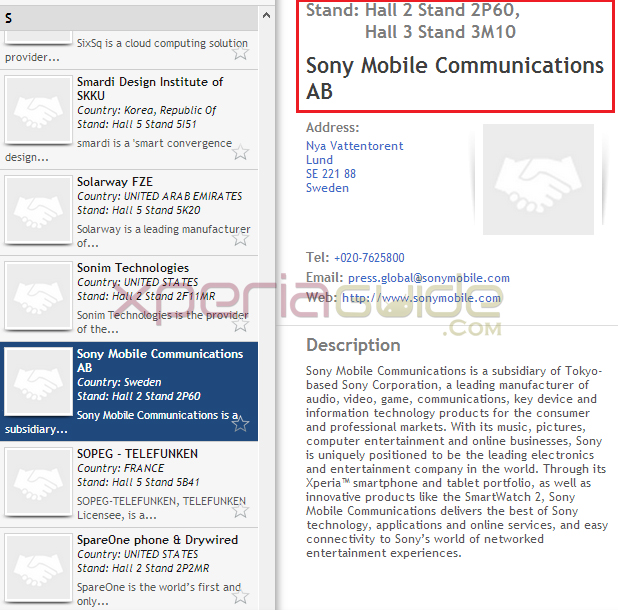 Event will go live at 08.30 CET means 13.00 IST / 07.30 BST, live streaming video link will be soon updated.
It is expected that Sony will announce Sony D6503 aka Sony "Sirius" and a new tablet, successor of Xperia Tablet Z in form of Sony SGP521 codenamed "Castor" at MWC 2014 event. We may or may not see new mid range devices in form of  Sony D23XX at MWC 2014.
Download MWC14 eBrochure
Below you can browse the eBrochure in 3D effects.
View MWC14 eBrochure
So are you excited guys about Sony D6503 ? Well we are as Sony will also present its new Xperia KitKat UI with it. Let us know, drop your comments below.