Sony has already released two teasers for their MWC 2015 event where they are going to launch Xperia M4 Aqua and Xperia Z4 Tablet and continuing the streak Sony came up with the third teaser which confirms the PS4 Remote Play coming to Xperia Z4 Tablet as well (first seen in Xperia Z3).
Sony's MWC event is schedule on 2 March 2015 where Sony will release two new devices which have already been confirmed by so many leaks.
Xperia Z4 Tablet will have PS4 Remote Play
Earlier today we saw White Xperia M4 Aqua getting snapped in wild (Red Xperia M4 Aqua has already been leaked in pics). Sony Xperia M4 Aqua is expected to feature 5.2″ 720p HD display, 2 GB RAM, 13 MP rear camera, 5 MP front cam, S610 processor SoC, 16 GB ROM.
Below is the third teaser pic released by Sony on Twitter.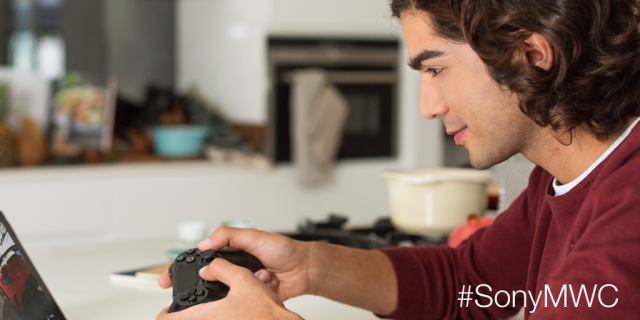 No detailed info about Xperia Z4 Tablet specification is available right now but earlier Sony posted that Xperia Z4 Tablet will have stunning 2K display combined with the latest ultra fast processor and industry leading battery performance.
We are expecting one more teaser before Sony goes for their MWC 2015 press conference which is only 1 day far now.
What are you expectations from MWC 2015 event, let us know. Drop your comments below.