Rumors have caught more fire now, this time Sony D5503 model which is speculated as Xperia Z1S aka Xperia Z1 Mini ( international version of Xperia Z1 and sibling of Xperia Z1F ) has marked its presence on a legit Indonesian Postel website ( FCC equivalent of Indonesia ). It is well-known for outing the names of many Sony Mobile's new models like Sony C6833 and C6802 appeared in past.
It's not the first time we have heard of Sony D5503, it was first spotted with its camera picture sample then real pics of Sony D5503 were leaked from all angles confirming the model number and android 4.3 running as 14.2.A.0.205 firmware build.
Check below the certification for Sony D5503 on Indonesian Postel.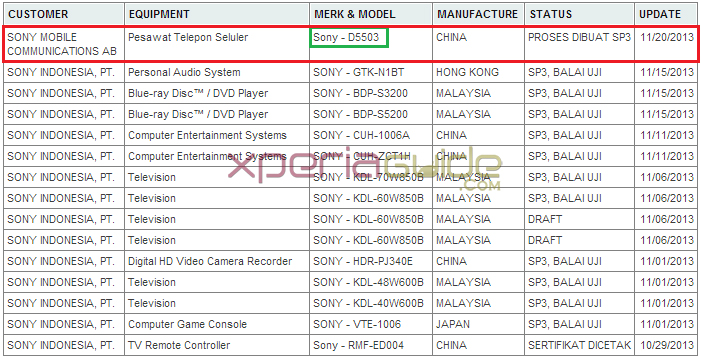 As you can see it is latest updated on 20 November i.e. today, so it definitely proves the existence of Sony D5503 somewhat officially this time but the global model number has not been confirmed yet. As recently we spotted pic of Xperia Z1S on top of Xperia Z1 with an annotation which reads that it may not be called as Xperia Z1S. Lately on Sony Mobile global product page listing of Xperia Z1S was spotted but it was taken soon which confuses again about the branding Xperia Z1S.
Another rumor has sparked which says that Sony D5503 along with Xperia Taichi ( Tianchi ) may be launched on Nov 22 in an event in Shanghai, consider it as 100% rumor now.
Are you excited for Sony D5503, hopefully it is Xperia Z1S and soon we will see the international release of aka Xperia Z1 Mini.