From a long time there was no word from Sony on the Android 4.2.2+ upgrade for Xperia C and Android 4.3+ upgrade for Xperia SP well now Sony has officially confirmed that both Xperia C and Xperia SP will no longer be updated anymore, they have reached their EoL ( end-of-life term ) of android updates.
Sony last updated Xperia SP to android 4.3 as when Xperia V and T was also given update but Sony Xperia SP Software update page says "Latest & Final Version, Android 4.3 Jelly Bean". Xperia SP was launched with Android 4.1.2 Jelly Bean in 2013 which is undoubtedly the best 720p HD display mid range Xperia handset of 2013.
No KitKat for Xperia SP
Below you can see the snapshot from the Xperia SP software update page.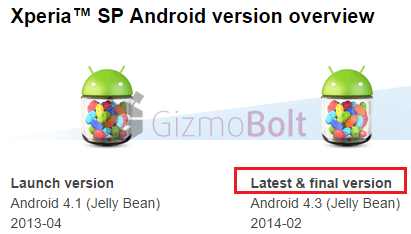 No Android 4.3 & KitKat for Xperia C
Sony launched its first MediaTek SoC phone in form of Xperia C in 2013 with android 4.2 out of the box and unfortunately now it will remain only on Android 4.2 only with only 3 minor updates till now since launch. Xperia C Software update page now reads as "Latest & Final Version, Android 4.2 Jelly Bean".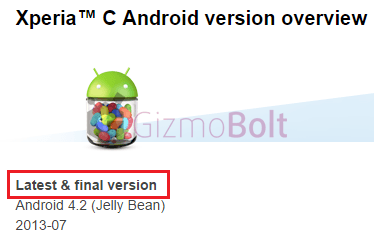 We were really expecting from Sony atleast updating Xperia SP on Android 4.4 KitKat as when we have seen Xperia E1 getting a better treatment from Sony in terms of update. Xperia M saw Android 4.3 update while Xperia C was not updated further.
Well that's unfortunate now as Sony has ended support for Xperia C and Xperia SP officially. So users what are you going to do now, moving over to another handset or now its time to try for KitKat custom ROMS. What are your plans, let us know. Drop your comments below.