Yesterday we saw a new android 4.3 12.1.A.0.256 firmware was certified for Xperia SP on PTCRB over previous certified 12.1.A.0.253  firmware build and just now XDA legendary developer DooMLoRD has posted screenshots of Xperia SP android 4.3 12.1.A.0.256 firmware which is about to get released soon in upcoming days officially. Well to be very clear let us tell you that only screenshots have been leaked so don't ask for system dump or 12.1.A.0.256 firmware ftf for the time being.
Android 4.3 12.1.A.0.256 firmware brings the same taste of android 4.3 as what Xperia Z1 and other Xperia Z series member got, it means Xperia SP is about to get the same UI and other apps similar to what Xperia Z1 users have on their android 4.3 firmware update. Both Xperia SP C5302 and C5303/C5306 will get this same update.
[
UPDATE – 11 FEB
]
Xperia SP 12.1.A.0.266 firmware Android 4.3 Rolling Now Officially – Install it / Flash it manually.
[ 
UPDATE – 9 JAN
 ]
Download Android 4.3 Leaked ROM for Xperia SP 12.1.A.0.256 firmware and Xperia T 9.2.A.0.278 firmware – Need to Unlock bootloader to install
[
UPDATE – 9 JAN
 ]
Xperia T LT30p Android 4.3 9.2.A.0.278 firmware Screenshots Leaked
Xperia SP android 4.3 12.1.A.0.256 firmware Leaked Screenshots
Xperia SP gets new "white UI" on android 4.3 12.1.A.0.256 firmware and a new Sony Smart Camera app with cool "Xperia" Themes. Xperia SP will be coming directly from android 4.1.2 when it officially lands on it in a few days.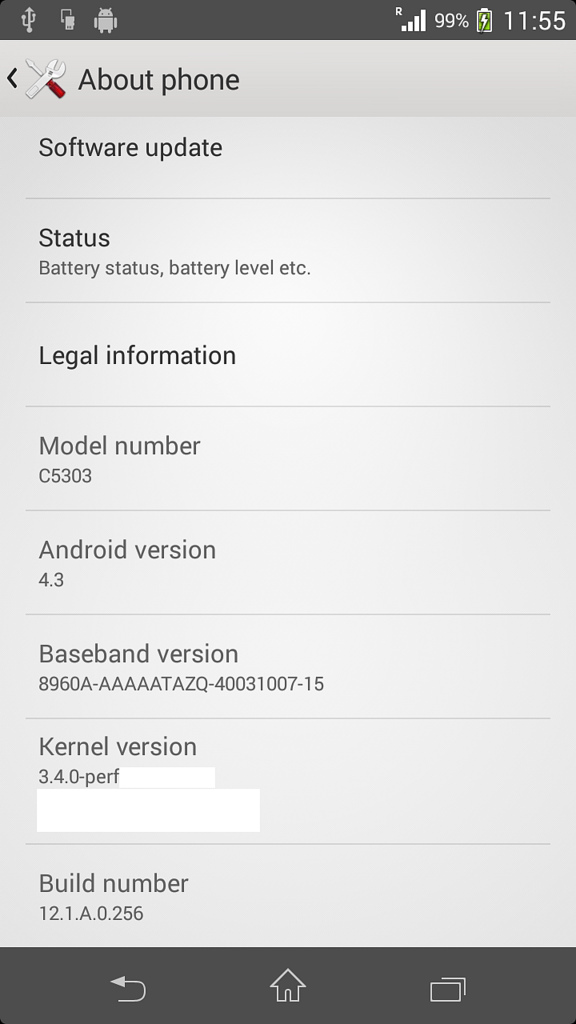 We made a bit of changelog as per the screenshots and what "DoomLoRD" posted.
White UI exactly like Xperia Z1 android 4.3.
New Sony Smart Camera app.
New Media apps.
New Xperia Themes, downloadable content.
New Message app with left hand keyboard settings.
New Xperia Wallpapers.
New Xperia Home launcher.
More Free RAM. Total 839 MB of RAM is available now.
Does Camera quality improved ? NO word can be said until it get officially updated.
Smooth UI, project butter at its best.
No X-Reality for Mobile, still Bravia Engine 2 included.
Security Fixes.
Smooth and enhanced Graphical Experience.
Magnification gesture settings.
Day Dream screensaver option.
Touch Screen responsive more.
Glove and Stamina mode present as like in previous firmwares
No option to move apps to SD card.
Do note that this is a leak from an internal testing firmware so in final version may be somethings are removed or added. Like it Xperia SP users ? Drop your views on above screenshots, do you like the white UI or want old black UI back ? It is a matter of some time only that it will officially being rolled on Xperia SP hopefully with very less number of bugs.