Sony introduced new white UI in android 4.3 update on all Xperia smartphones and for many users white background UI was a bit disturbing as it gave rise to yellow hue issue on many phones so many users normally want a black themed UI. We have already shared Xperia Z2 Message, Clock, Email, Calendar app port which has white UI but now XDA dev Rajeev has ported Xperia Z2 black themed Message app on other rooted Xperia smartphones.
So far following Xperia Z2 ports have come up viz. Xperia Z2 Smart call handling feature port, Xperia Z2 Camera apps Addons port – Creative Effects, AR Effect 2.0.4 , Background Defocus 1.1.7, TimeShift Video port and Xperia Z2 KitKat Media apps viz. Movies 6.1.A.0.4 and Walkman 8.1.A.0.4 app port,  Xperia Z2 Phone Answering Machine port and Xperia Z2 What's New, Movie Creator, Sony Podcast, Simple Home apps port,Xperia Z2 Walkman Music Widget port, Xperia Z2 Home 6.2.1.A.0.1 Android 4.4.2 KitKat launcher port, Xperia Z2 KitKat Notes 1.0.4.A.1 and Sketch 1.0.A.4.2 App port, Xperia Z2 Media Sounds and Camera Click Sounds from KitKat port, Xperia Z2 4K video cam app and TimeShift Video app port and Install Xperia Z2 KitKat themes and task killer app port.
To install Xperia Z2 black themed Message app port, you need root on android 4.3 or later versions, working on deodexed ROMS only ( install SuperUser Mod if you can, Xperia Z1 users see here. )
#For Android 4.3 Users Download the below zip file, flash it in recovery and reboot.
Download Z2_Black_Themed_Apks.zip
Original Xperia Z2 Message app here, in case you need it.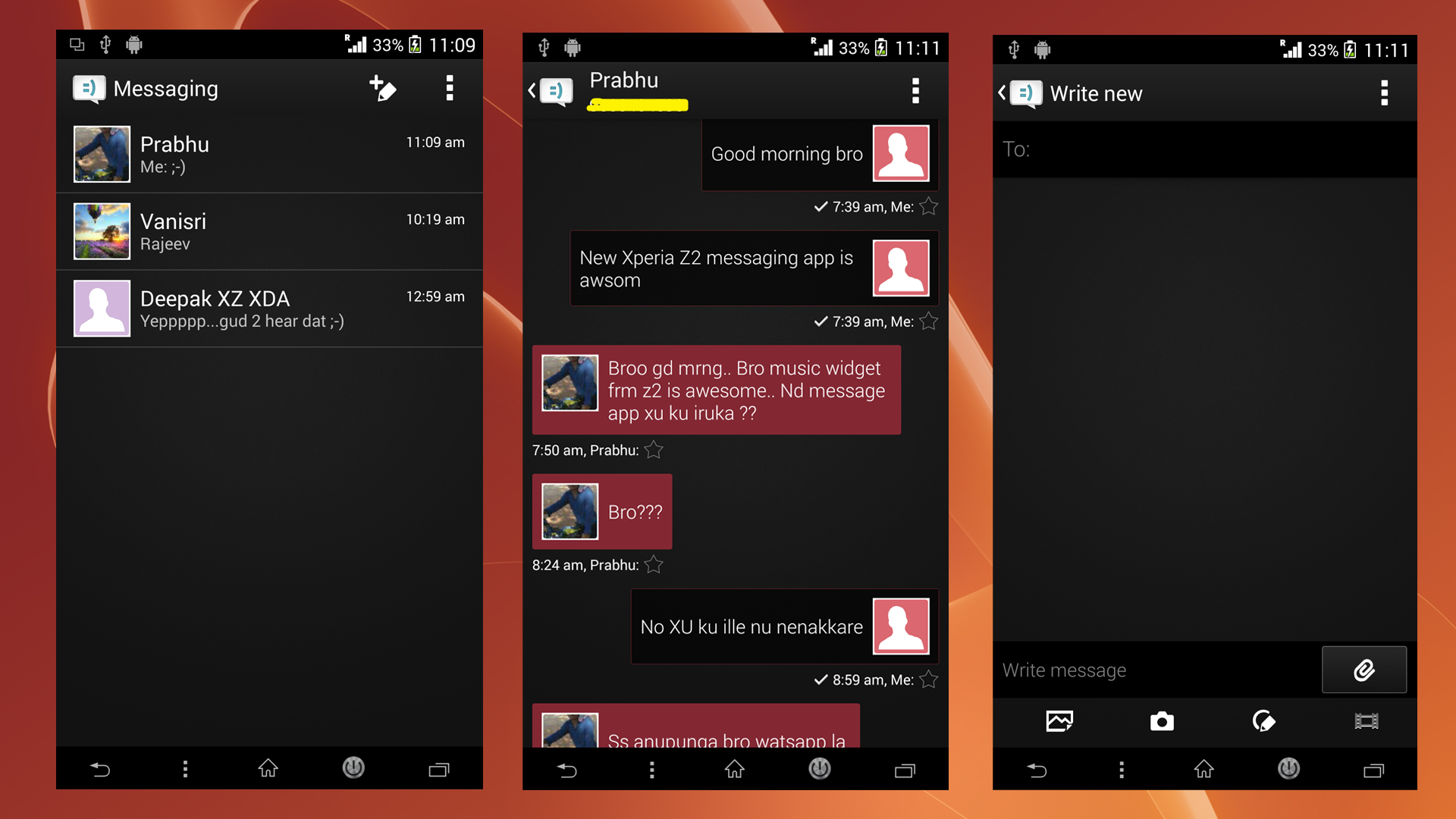 #For Android 4.1.2 Users
First you need to install the new Xperia Z2 Message app for android 4.1.2 by XDA dev jjwrongjj. Flash the below zip file in recovery. It has new Xperia Z2 Message and Calendar app. ( White theme )
Download Xperia_Z2_M_C_4.1.2.zip
Now after installing above zip file, flash back the below given zip file. ( Black theme )
Download Z2_Black_Themed_Apks.zip
Xperia Z2 Black themed calendar app will be available soon. Let us know guys if it worked on your Xperia handsets running android 4.1.2 and later versions. Drop your comments below.