Xperia Z1 banded as "the best of Sony for the best of you", a powerhouse from Sony featuring Snapdragon 800 chipset, 2GB RAM, Adreno 330, 5″ full HD Triluminos display and a 3000mAh battery ( non-removable ). Well what do you think, is that battery power enough to keep Xperia Z1 alive ? Yes, certainly for a normal user but if you are a hardcore user of Xperia Z1 who plays games and browse internet a lot then it might not be enough.
Similar case was with Xperia Z which originally comes with 2330mAh battery ( non-removable ). Non-removable battery is a major issue as users can't replace it with a higher power one. So Mugen Powers came up with 3000mAh Battery Case for Sony Xperia Z, it's just like another back case.
3200mAh Power case for Xperia Z1 from Brando is another bright solution for Xperia Z1 users. Brando sent us this 3200mAh Power case for Xperia Z1 as a review sample unit. It is priced at  $34, shipped worldwide and available in white and black color. Seeing its advantages it is very cheaply priced.
3200mAh Power case for Xperia Z1 from Brando comes in glass box whose front says the it is an external battery case for Xperia Z1 / L39h.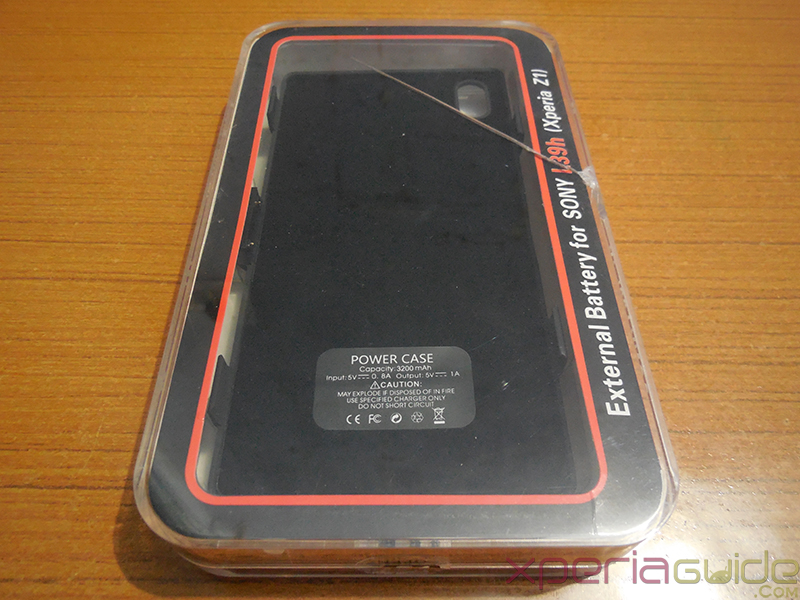 Back side of cover reads the product description.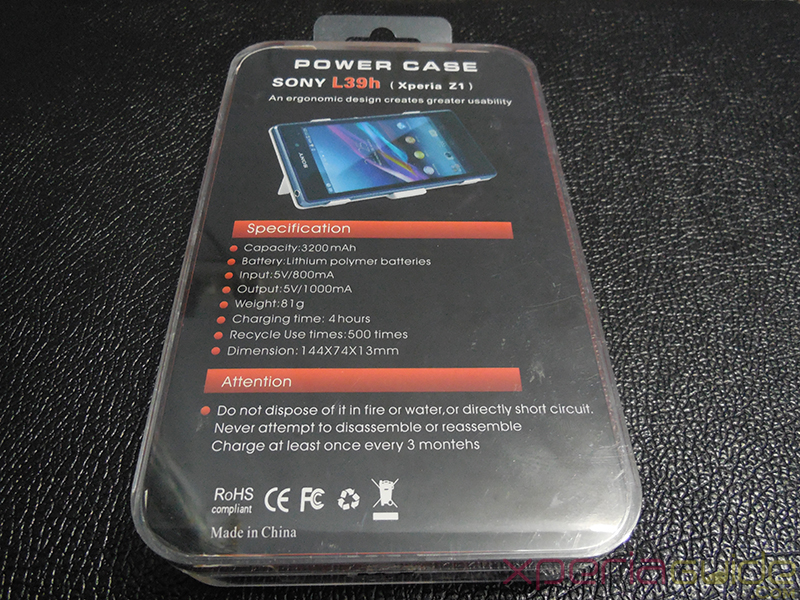 The back of case is made up of a solid rubberized plastic while inner surface has velvet lining in order to avoid any scratches on the back glass panel of Xperia Z1.
Technical Specifications
Capacity : 3200mAh
Battery embedded – Li Polymer
Input : 5V/800mA
Output : 5V/1000mA
Weight : 81 grams
Charging Time : 4 Hours ( to 5 hours ).
Recycle use times : 500 times.
Dimensions : 144 x 74 x 13 mm
Description
At the back of 3200mAh Power case for Xperia Z1 from Brando you will see 4 lights and a button. Press the button to start charging your phone, put the phone inside the case carefully making pins getting engaged to magnetic charging slot area.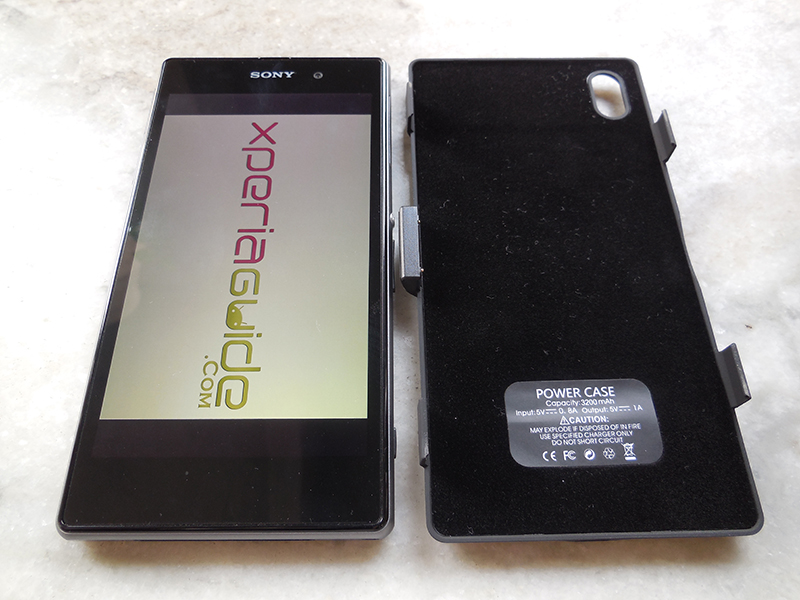 As soon as you press the button, charging starts and you will see Blue lights getting lighted upon.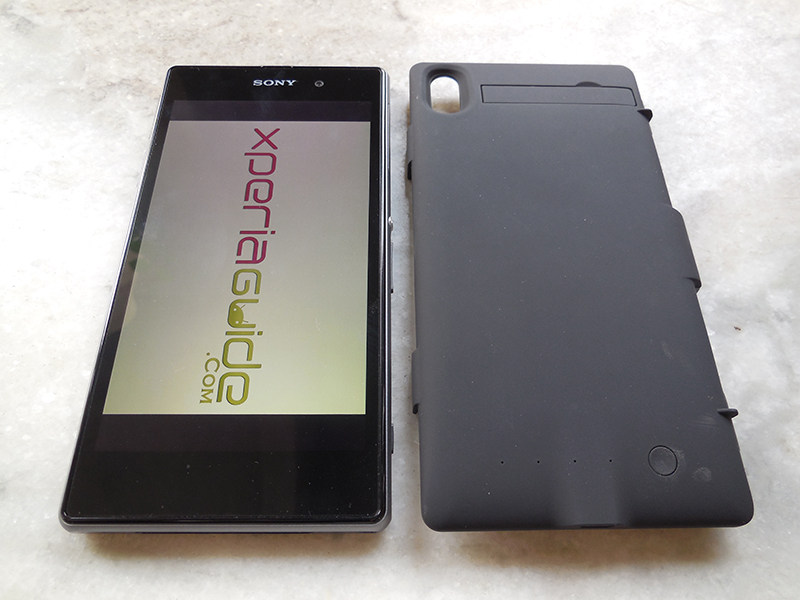 Blue lights indicate the power level in the case left.
4 Blue LED lights – Power 100 %
3 Blue LED lights – Power 75 %
2 Blue LED lights – Power 50 %
1 Blue LED light – Power 25 %
To charge the case, connect the AC Adapter of your phone to the micro USB slot in the case. Do not charge both your case and phone simultaneously, it may explode due to overheat.
Built-In-Stand
It has built-in-stand from the back of case, so you can simultaneously charge your phone and view movies in landscape mode and get similar feel just like you get seeing movies while phone is on Sony Dock Dk31.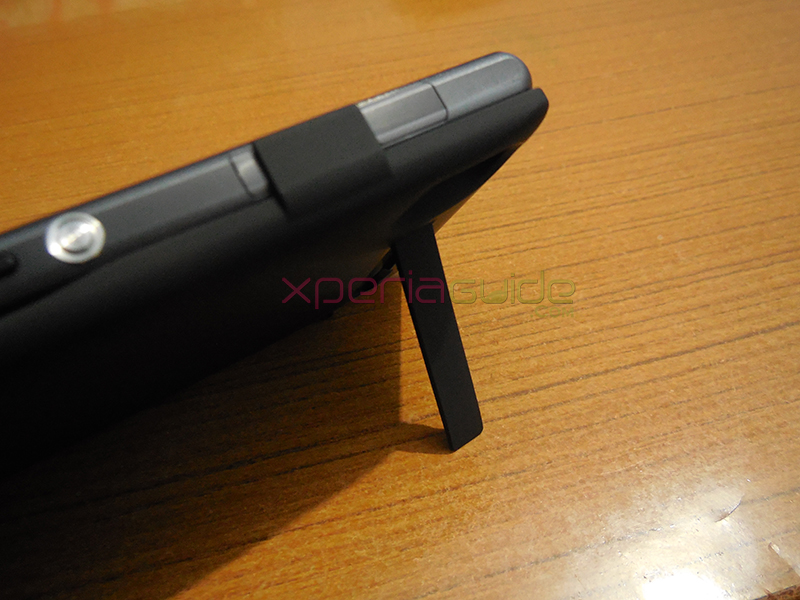 Accessibility 
You will notice that case is a bit bulky while it is on and gives a lot thickness to the phone. Check which ports are accessible while case is on.
On the left side clips of the case covers the micro SD card slot while USB port is open and on the right side SIM card slot is covered up.
You will notice a bit rise in the temperature of phone while charging it from the case and back panel of phone is also heated.
Charging Test Results 
Around 4-5 hours were taken to charge the case fully from 0-100%.
Our Xperia Z1 was charged to 0-100% with in 4.8 hours with this case on which is pretty much long time seeing it also heated the phone.
Pros
Price Worth item.
One of its own kind yet.
Handy to use.
Cons
Heats the phone while charging.
Very Slow charging time.
If you don't have any external portable battery power charger with you like Sony CP-F5 charger then 3200mAh Power case for Xperia Z1 from Brando seems a very good option.
Check the Xperia Z1 3200mAh case listing here, Thanks Brando for sending us this 🙂
If you are using any such power case for Xperia Z1 let us know, we would like to know your experience. Drop you comments below.