Xperia Z1 is powered with 3000mAh embedded battery and trust me that battery power is not enough to keep this monster alive though after recent android 4.3 update for Xperia Z1, users are reporting a poor battery life and very much reduced stand by time even when stamina mode is on. Well what's the solution then ? If you are looking for some external power case or portable charger then it's a good thought.
In India Sony gave CP-F5 5000mAh Sony portable charger with Xperia Z1 exclusively well those who don't have it or don't want to buy it and are looking for some power case then guess what, Mugen Power has come up with brand new 3000mAh battery case for Xperia Z1 exclusively. In past we reviewed Xperia Z Mugen Power 3000mAh Battery Case and are totally satisfied with it till now. Mugen Power also have one 4000mAh power case for Xperia Z Ultra.
Xperia Z1 Mugen Power 3000mAh Battery Case
Xperia Z1 Mugen Power 3000mAh Battery Case is available in black color only for the time being and comes with 365 days replacement warranty and is shipped worldwide. Normally they ship from Hong Kong and it takes around 5-7 days to reach you depending on your remote location.
You can check the pic of case, what it looks like. It would a bit thick and charges Xperia Z1 via magnetic dock pins. Notice the 5 blue light at bottom of case, it indicates how much power is left in the case.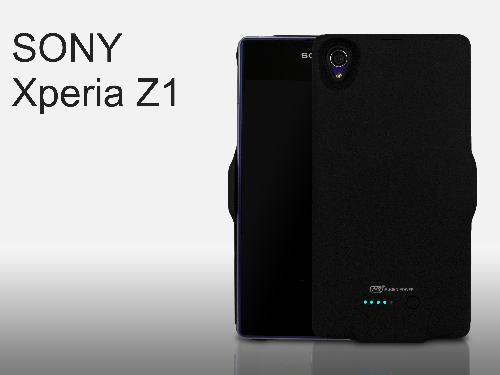 Xperia Z1 Mugen Power 3000mAh Battery Case is priced a bit high at $89.50 but we guess it is worth 🙂 It will be shipped after 14 Feb 2014 if you order today.The case itself is chargeable via USB port and you can use your AC adapter to charge it. You can simultaneously charge the case as well as charge your phone after inserting phone in the case.
It is compatible with both Xperia Z1 C6902 / C6903 and Docomo Xperia Z1 SO-01F. We expect it should also be compatible with Xperia Z1S also.
Technical Specifications :- Model Number [CC-C6903]
Capacity – 3000mAh
Cell – Li-Polymer
Voltage – 3.7V
NOTE :- Well let us tell you one thing very clearly, as it says it is a 3000mAh battery case, it doesn't mean you get additional 3000mAh power for your Xperia Z1 as the output voltage of cases are normally different ( like we have 1.5A for AC adpater ) so when you put the case on with phone charged at 0%, you may end up getting only 50-60% phone charged with full 3000mAh battery power of the case consumed. So before buying the case, do confirm all things with customer support.
Some user may find it expensive and if they look for other options, many cheap power case for Xperia Z1 are available in market. We review such one case from Brando, which is worth $34 and has 3200mAh battery power. You can check our review of Brando Xperia Z1 3200mAh power case at below link.
Do let us know if you plan to buy one, or you have any doubt regarding it. We used Mugen Power case for Xperia Z and it was worth it. So if you have any doubt, drop your comments below.