We have seen a lot many products from Muvit especially made for Xperia devices likes Muvit Essential pack for Xperia Z1 which ncludes Leather Flip Case and Sony Car Charger, Muvit Sony Xperia Z wireless charging pack today we have got Muvit miniGEL case for Xperia Z1 as our review item. We like Muvit products and hope you also like it.
Muvit miniGEL case for Xperia Z1 is like another back case for a phone, but the difference is it is made up of rubber so soft and smooth and whose back is a bit thick so provides solid grip. Ascendeo.fr sent us this Muvit miniGEL case for Xperia Z1 as a review sample unit. It is priced at € 14.90 inc VAT and is shipped worldwide.
As usual Muvit use same silver box packaging for their products with a purple shade. Have a look at the front cover of the box it says "soft and skin-tight case for Xperia Z1".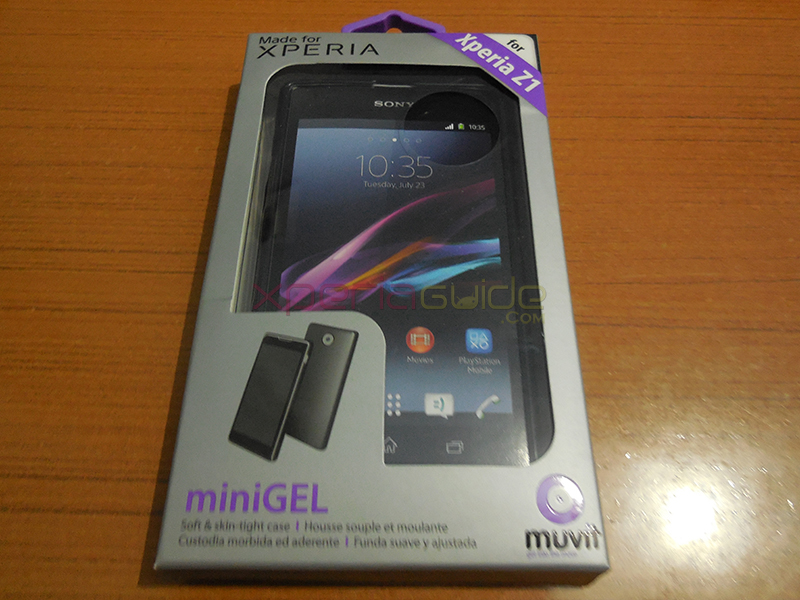 Back side of Muvit miniGEL case for Xperia Z1 mentions the product details in an image.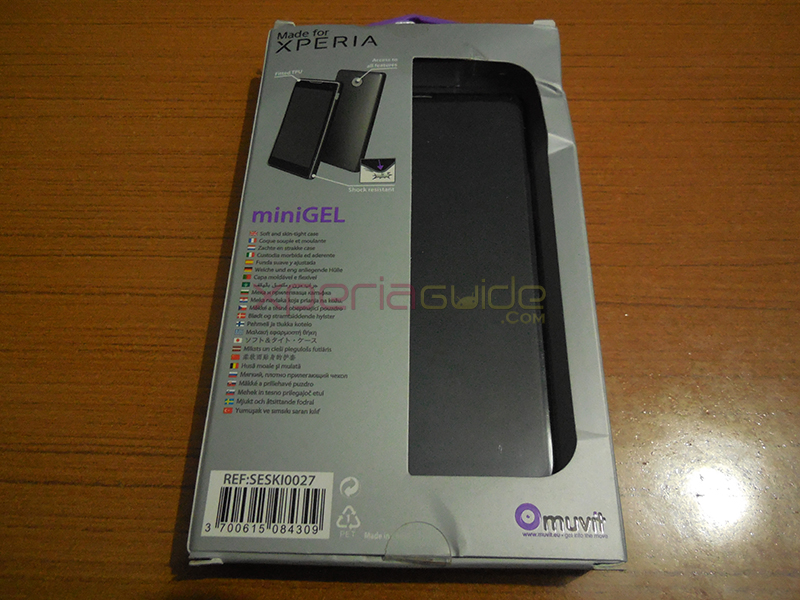 Muvit miniGEL case for Xperia Z1, is similar to any other back case out their, let's have a look what it has for us to offer. See pics below of Xperia Z1 with Muvit miniGEL case on it.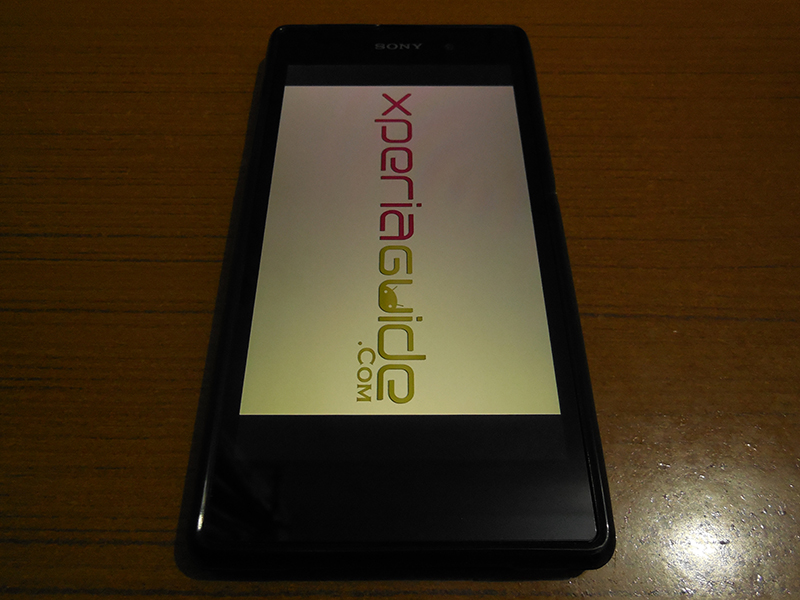 Back side of Muvit miniGEL case is a bit thick, good it is as it provides very strong grip while holding it and placing it on rough surface. It do draws scratches just like another cases if used roughly. It is of translucent brown color, looks great on Xperia Z1.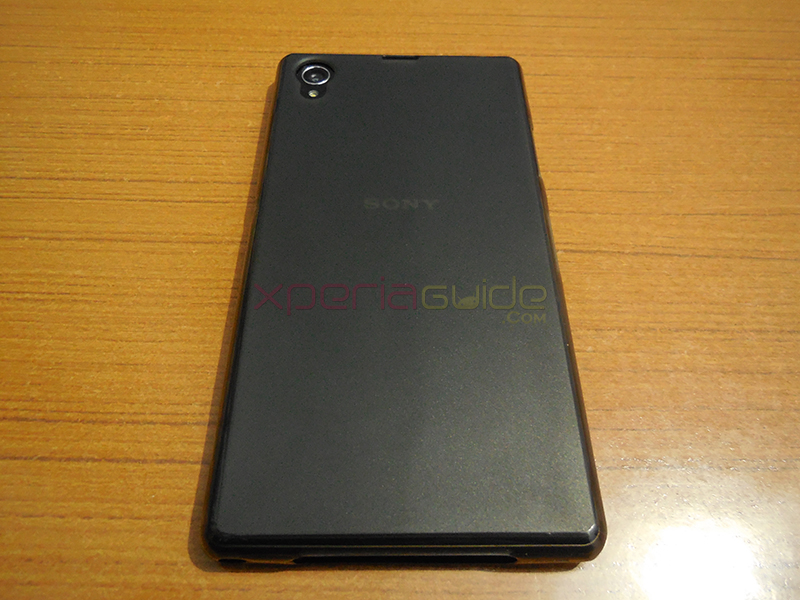 Accessibility 
All corners are covered just like bumper case. Perfect opening for hearing speaker and notification light area.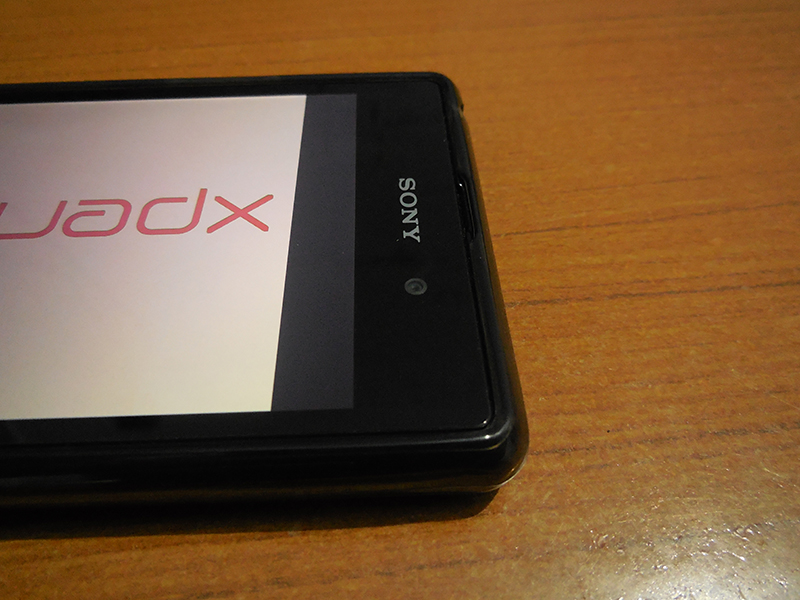 Power button is clearly visible and is not covered while external camera shutter button and volume rocker keys are covered with a soft plastic layer so you can press them easily. No problem is faced while pressing them but it will look unusual to you in starting. Camera shutter key has to press a but hard. SIM card slot is completely covered up, to open it you need to remove the case.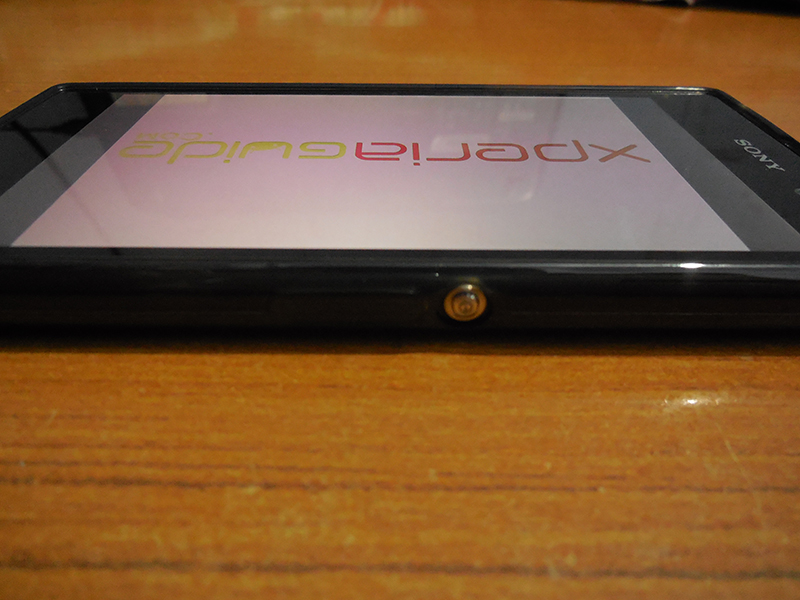 Check below the covering on camera shutter key.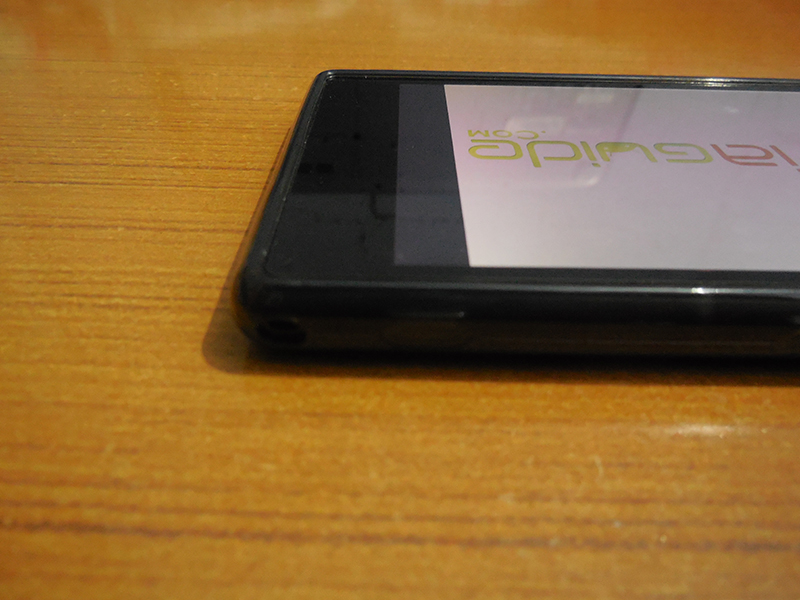 Speaker grill is well opened.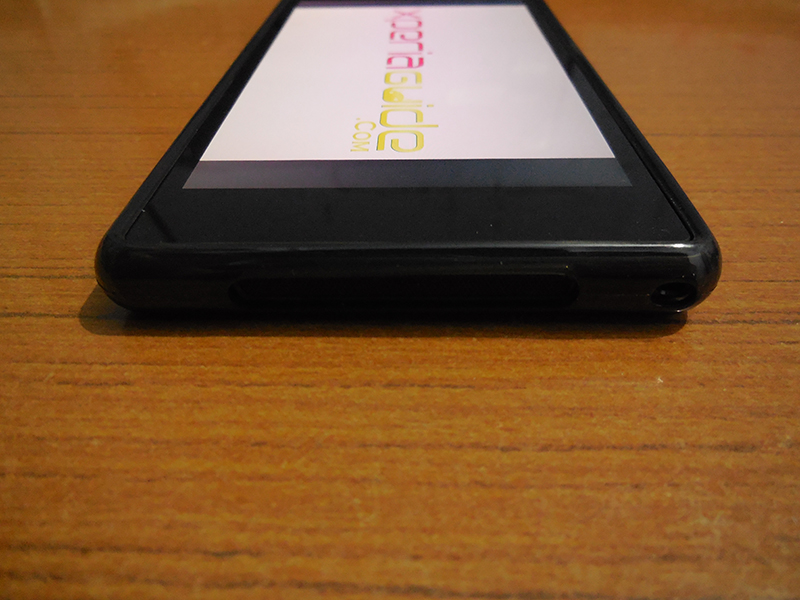 The best advantage of Muvit miniGEL case for Xperia Z1 is that magnetic charging slot is not covered up you can use EC21 magnetic charging cable to charge your phone while case is on and even microSD card slot area is also opened. But on putting the case on Xperia Z1 and placing it on Sony Dock DK31, it was not inserting properly so can't be used. Though while EC21 magnetic charging cable was connected it was falling off very frequently so it seems case has got some issues due to thickness to hold the cable.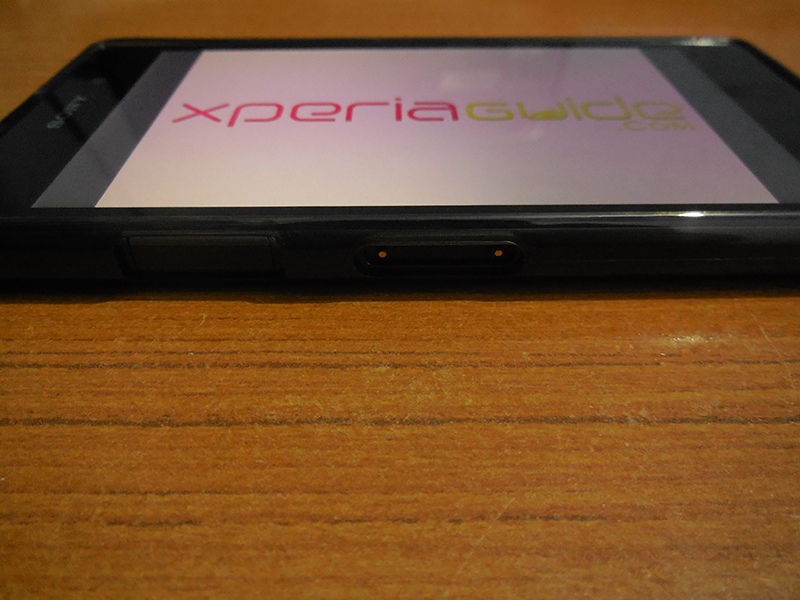 Proper opening of 3.5 mm headphone jack is there in case.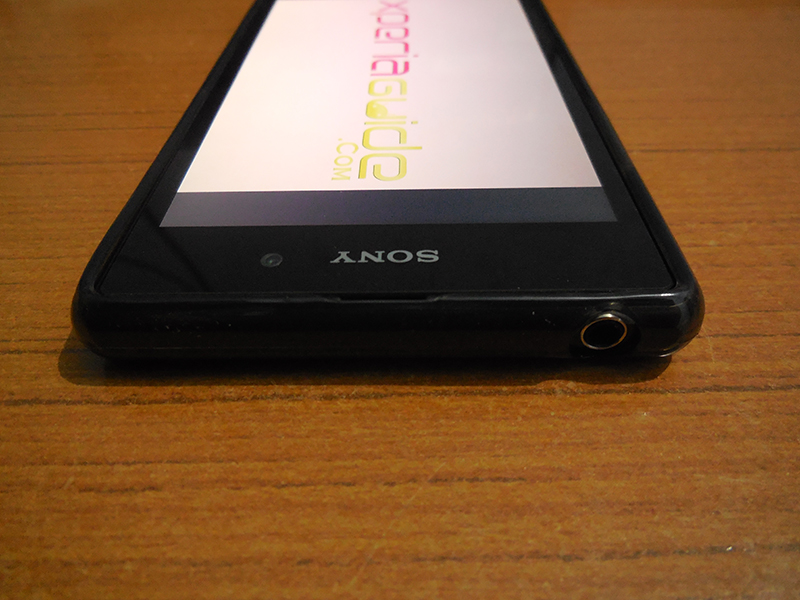 Camera and flash opening with secondary microphone is included at the bottom side of case.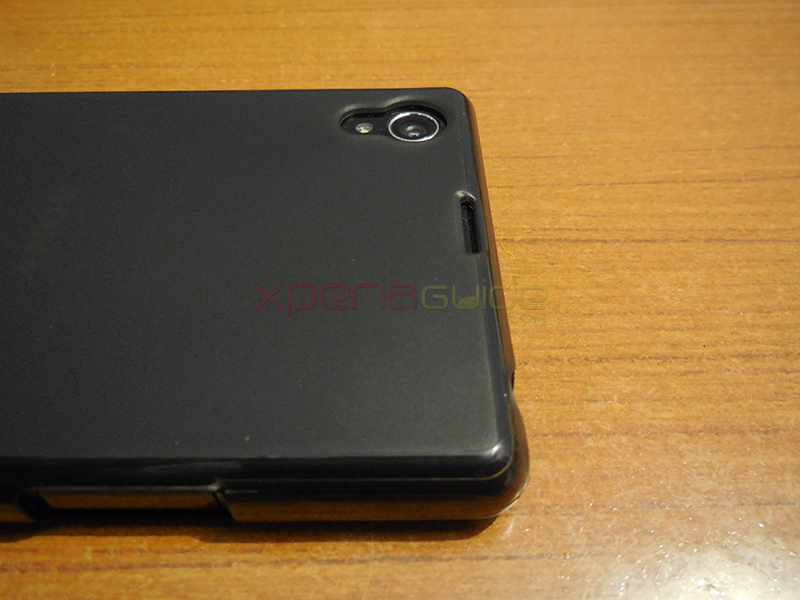 Pros
Light Weight.
Soft and skin-tight.
Durable.
Translucent in nature.
Perfectly accessible at all openings.
Cons
Problem inholding EC21 charging cable tightly.
Muvit miniGEL case for Xperia Z1 seems a very good choice if you don't want to use any sold hard back case for sake bulkiness.
If you are willing to purchase "Muvit miniGEL case for Xperia Z1″, look at the listing of Xperia Z1 gel case at Ascendeo. They also have very good screen guards for Xperia Z1, do check them out. Thanks for sending us 🙂
Many users will prefer a solid hard back case over this case but if you have ever used this case or any gel case for Xperia Z1, let us know in comments section.