Xperia SP, the wonderful phone launched by Sony has gained world-wide appreciation. It is powered with 1.7 Ghz. dual-core Snapdragon S4 pro chipset packed with Adreno 320 GPU. Xperia SP comes with wealthy 2370 mAh non-removable battery which means that to do hard reset, we need an alternative way to switch it off.
Xperia Z also has a non-removable battery with a non-removable back casing, so in order to do a hard reset on it, one need to press and hold down "power+volume up" together for 3-5 seconds then phone vibrates, switched off and restarts. Well unfortunately the same method doesn't work on Xperia SP.
[
UPDATE – 12 Feb 2014
]
Xperia SP Frame Bent Issue appeared like Xperia Z1 – Poor Build Quality ?
Let's come to main issue of this article.
Xperia SP Heats Up Goes dead – Won't Turn On or Charge
Many Xperia SP users have complained that their handset heats up to extreme sometimes during charging and then remain hot for a while more than 30+ minutes. Well that's terrible.
So What Actually Happened with us ?
At 13% battery, we put our Xperia SP on charging and when we came back after half and hour, we found our Xperia SP was very hot :/ We removed the charger and kept the phone aside. Even after 30 minutes phone didn't cool down and the golden light in the illumination bar didn't shut, it was lighted through out that period.
Xperia SP Won't Turn or Charge 
We were not able to get back to display screen even after pressing the power button on our Xperia SP, neither it was charging not it was turning on. For a moment we were afraid, that what happened. Phone was in on stage, it was not switched off.
Problem Solution
We thought of re-installing the firmware on our Xperia SP 12.0.A.1.257 firmware again by SUS, but before doing that we thought of doing a hard reset so that it can be switched off and restarted.
So how did we do that ? – Remember "Pressing power + Volume UP" button combination don't work in Xperia SP.
Remove the back cover of Xperia SP and look for a small yellow dot on mid bottom with "OFF" written below it. Check the image below.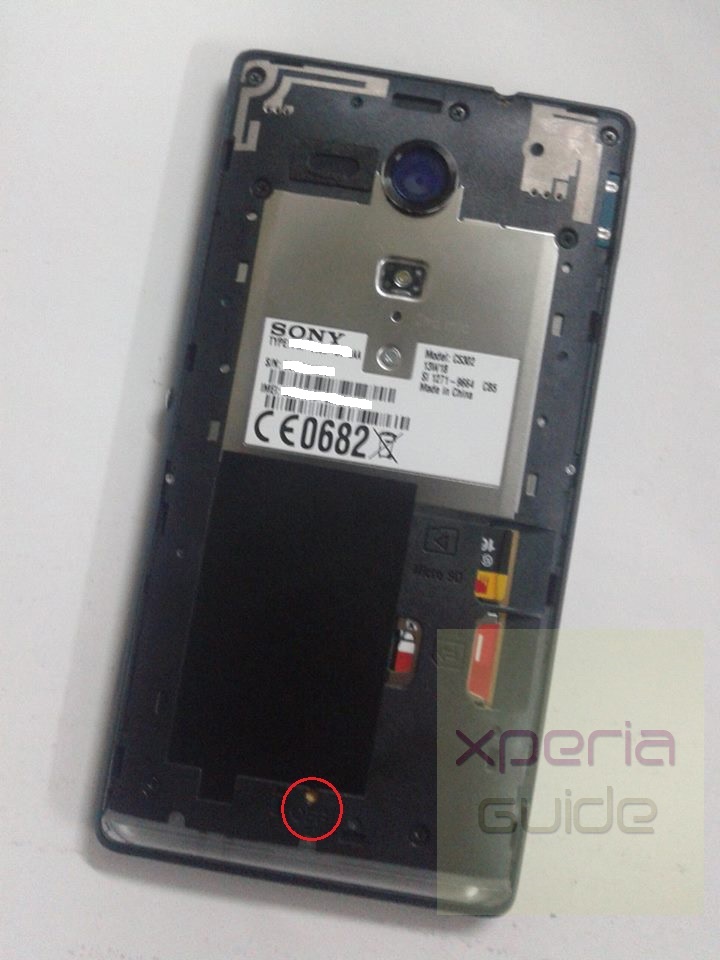 Now "Press & Hold Down the OFF Button, using a tip of pen or any other pointed object for around 10 seconds". Phones vibrates and will be switched off automatically. Check image below.
P.S. Don't use very sharp objects as it may damage the OFF Button.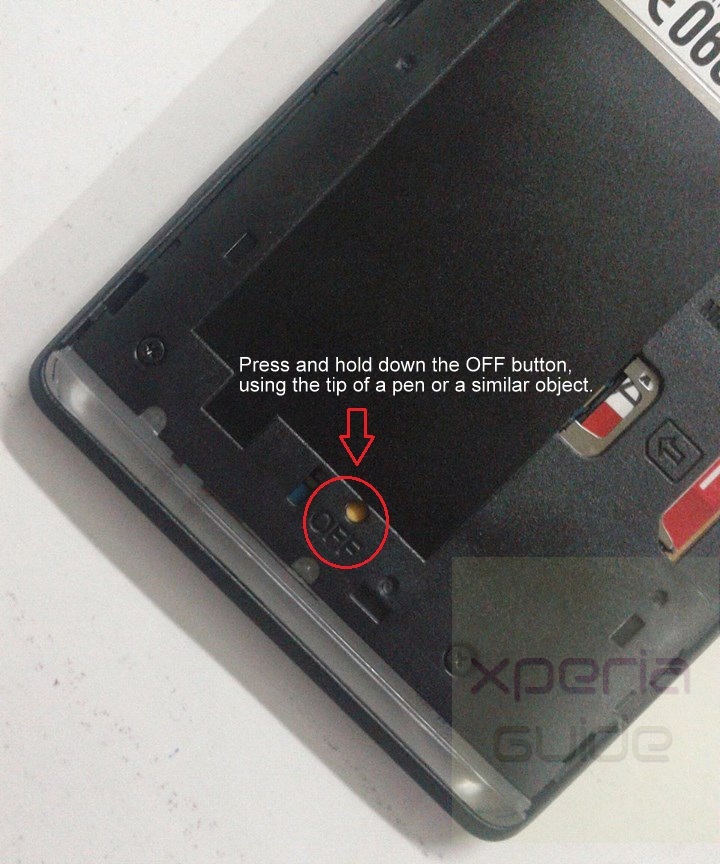 After restarting we found that our Xperia SP got back to normal temperature and everything was fine.  🙂 We were able to charge our Xperia SP again, device was cool.
Conclusion 
Main issue is that why Xperia SP is getting this issue ? Why Phones heats up suddenly without doing nothing ? Why doesn't it turns on ? Why doesn't it charge ??? Many users are coming up with this issue on Sony Mobile Forums even…no proper verdict has been given by support staff on this issue.
Are these all firmware bugs or some another issue…
Please report if you have also faced same situation on your Xperia SP, report below with your problem…Comment we will get back to you soon may be with a solution…