In announcing the launch of GraphicStock.com, they are giving away 7 days of complimentary access to download anything you want from over 50,000 royalty free images, icons, vectors, textures, backgrounds and more. Ranked #4 on Inc's list of Fastest Growing Media Companies, GraphicStock.com is a subscription-based website that provides members with unlimited downloads all for a low monthly cost.
GraphicStock's mission is to provide high quality content that household brand names are proud to use, but at a price point that even the casual graphic design enthusiast can afford.
SPECIAL: Enter code BLACKFRIDAY13 for 83% off unlimited downloads. Claim Offer here
7 Days of Free Downloads from GraphicStock
Instead of charging per download, "royalty free" means they allow their members to download as much as they want all for less than the price of just one graphic at many competing sites.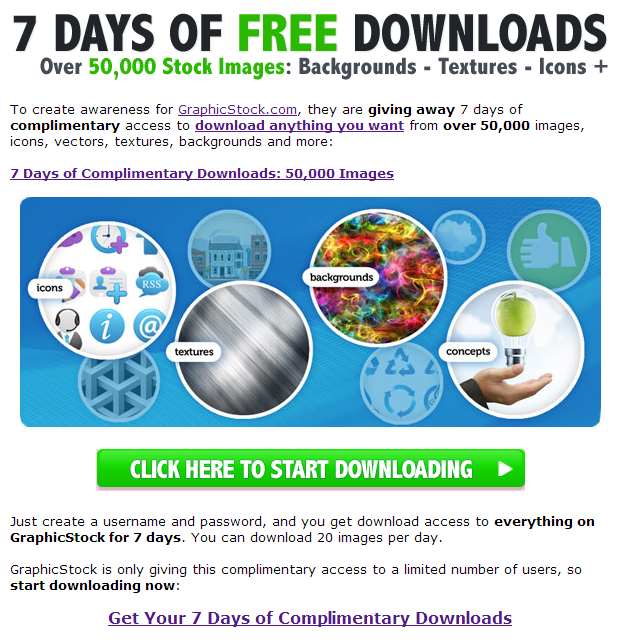 After signing up, you'll have unlimited access to the entire GraphicStock archive. There are no download caps once you're a member and the best part is GraphicStock is constantly adding new images to their library.
Their graphics are easy to use in all types of media projects and creative design concepts from graphic design, website themes, and building apps to creating video games, motion graphics animations, and more.
Don't wait! Get your 7 days of complimentary downloads today!
The GraphicStock Guarantee
You can cancel at any time, no questions asked: You may cancel your subscription at any point, and your current billing cycle will be your last. You will not be billed for the next monthly billing cycle.
You can keep using the graphics even after you cancel: The graphics you download during your subscription (either paid or free trial) are yours to keep and use forever, royalty free!
There are never any additional fees: Your monthly membership fee gives you the right to use the graphics you download in all types of projects, royalty free. There are no additional fees for usage.
Downloads are safe: Dite is scanned daily by McAfee to ensure that all files are safe to download. We are a Certified McAfee Secure site.
Your information is safe: We use Verisign SSL certificates to encrypt all sensitive information, such as billing information.
Refunds: You may request a full refund for up to 30 days from the date your trial or subscription started, as long as you have not downloaded any graphics. Unfortunately, given the nature of our business we cannot provide any refunds if you have downloaded graphics.
Don't wait! Get your 7 days of complimentary downloads today!