Xperia Z1S LTE version on T-Mobile USA was recently launched at CES 2014 event by Sony officially. Xperia Z1S is priced at $0 down and $528 full retail price on T-Mobile. Well if you have bought Xperia Z1S already, then there is a good news as Sony has started a new promotional offer for Xperia Z1S users 🙂
Sony is now giving away Free 1 year PlayStation Plus Subscription for Xperia Z1S users exclusively who bought or will be buying Xperia Z1S either from T-Mobile or Sony stores between 13 Jan 2014 and 12 Feb 2014. To redeem this offer check below mentioned steps. Offer is valid till 5 March 2014 only.
How to redeem Free 1 year PlayStation Plus Subscription Offer
You need to take picture of your Xperia Z1S purchase receipt and IMEI number written on the Xperia Z1S box. User good quality cam to take pictures.
PlayStation Plus Offer Official Info here
Check below pic and take picture of IMEI number accordingly to it.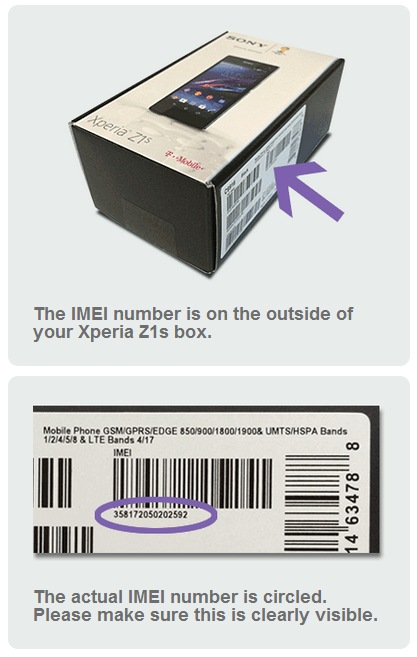 Now you need to upload those 2 images and submit your details to Sony Mobile on below link.
Submit Details here – Sony Mobile Official Offer Link
Hurry up all Xperia Z1S users before the promotional offers ends.
Do let us know if this helped you, drop your comments below.