Xperia Z1S C6916 the LTE version on Xperia Z1 in USA for T-Mobile USA was unveiled at CES 2014 by Sony besides Xperia Z1 Compact and is now available for sale via T-Mobile online stores. Xperia Z1S features the same specifications just like global version of Xperia Z1 except some minor changes like it has 32 GB internal storage and some changes in location of ports on phone. Xperia Z1S runs android 4.3 out of the box with new Sony background defocus camera app exclusively.
Xperia Z1S will be available in USA on T-Mobile carrier only. Xperia Z1S is priced at $528 as full retail price and $0 down payment with a choice of $22 per month for next 24 months i.e. 2 years exclusively, on ordering any package you need to add $10 for SIM starter kit.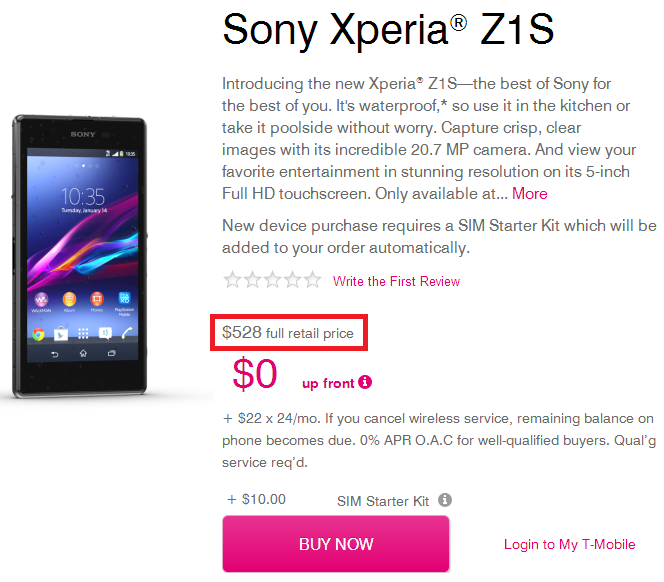 While ordering Xperia Z1S on T-Mobile USA you will get $100 Visa gift card from Sony as a promotional offer. At present you can only buy Xperia Z1S online from T-Mobile and after 22 Jan, it will be available exclusively in T-Mobile stores.
Data plans cost is not included in the full retail price, so before buying it do review all data plans from T-Mobile for Xperia Z1S. As mentioned on T-Mobile's site unlimited data plan will cost you $70/month, 2.5 GB data for $60/month and 500 MB data for $50/month. As far as full retail price is considered, it is cheap as what other regions got at the time of launch.
Do let us know, if you have bought Xperia Z1S or planning to do so. Drop your comments below.
[ via –
T-Mobile
]