A few days back Sony mentioned that Xperia C3 and Xperia T2 Ultra will also be getting Android Lollipop update besides Xperia "Z" series. Earlier Sony has rolled Android Lollipop update on whole Xperia "Z2" and Xperia "Z3" series, which is now available globally for Xperia Z3 users and Xperia Z2 users will be getting it by next week.
Xperia C3 is right now on Android 4.4.2 version and a new 19.3.A.0.468 firmware has been certified on PTCRB, which seems that it is the new Android Lollipop firmware which Sony mentioned.
Xperia C3 19.3.A.0.468 firmware
Check out the 19.3.A.0.468 firmware certification for Xperia C3 on PTCRB.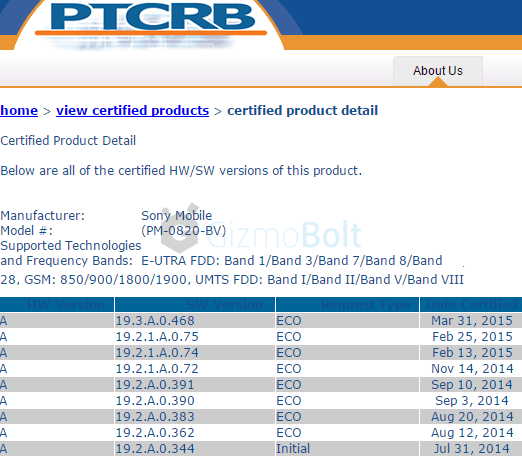 Sony has directly rolled Android 5.0.2 update earlier so Xperia C3 will also be getting Android 5.0.2 update directly hopefully skipping Android 5.0.
We have already seen some alleged screenshots showing Android 5.0 Lollipop running on Xperia C3 which earlier seemed fake but now it looks they were real.
We will keep you updated once Sony rolls Lollipop update for Xperia C3 users.