A few days back we saw Sony D6603 in AnTuTu benchmark database scoring 32996 points and that is the only solid info which he have seen yet about the existence of Sony D6603. Yesterday we saw Sony D6503 aka Sony Sirius getting almost unofficially announced with full Android 4.4.2 KitKat Xperia UI getting displayed with screenshots. Till now image or anything regarding Sony D6603 Specifications have come up.
Just now we spotted that Sony D6603 Specifications are revealed allegedly in a benchmark test run by AnTuTu which clearly hints what Sony D6603 has hold for the users. Sony D6603 and Sony D6503 can be the first high end device from Sony for the year 2014. Let's have a look at detailed Sony D6603 Specifications.
Looking carefully Sony D6603 and Sony D6503 has many common similarities in hardware and software except for some minor changes.
[
UPDATE – 21 Jan
]
Watch Xperia Android 4.4.2 KitKat Boot Animation Video on Xperia SP
Sony D6603 Specifications Leaked
As per the benchmark result of Sony D6603 from AnTuTu, it seems Sony D6603 also runs on Snapdragon 800 MSM8974AB SoC processor with Adreno 330 GPU. Below we have listed the Sony D6603 Specifications as per AnTuTu benchmark results. In this current test, Sony D6603 scored 33838 points.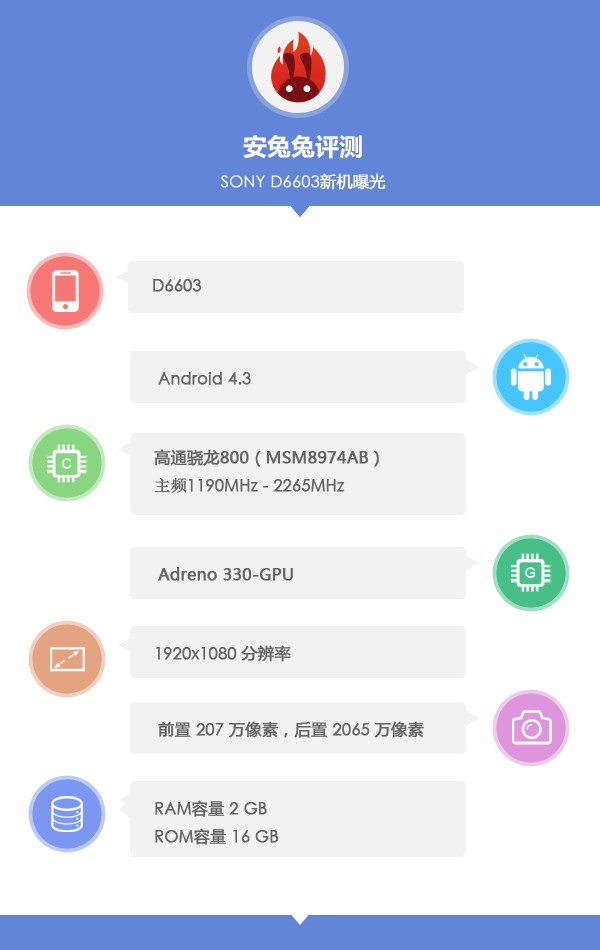 Processor – Snapdragon 800 MSM8974AB SoC
GPU – Adreno 330
RAM and ROM – 2 GB RAM with 16 GB internal storage.
Camera – 20.7 MP rear cam and 2 MP front cam.
Screen Resolution – 1080p, no 4K yet.
Android – Currently runs on  Android 4.3.
Dimensions – Thinner than Xperia Z1.
Sony D6603 AnTuTu Score Vs Sony C6603 Xperia Z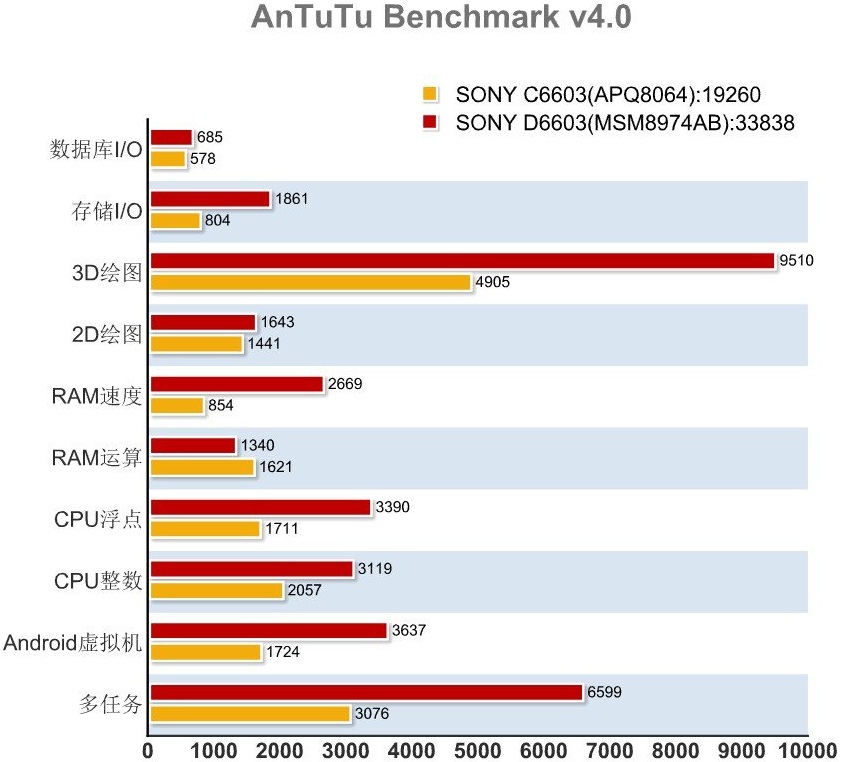 On comparing Xperia Z C6603 with Sony D6603 it score merely 19260 points against Sony D6603.
It is clearly visible that Sony D6603 and Sony D6503 are great devices and we hope they get launch officially during MWC 2014 event. What do you think guys about Sony D6603, drop your comments below.
Thanks Ben 🙂