Sony Xperia Z1, an insanely powerful smartphone from Sony features a whooping 2.2 GHz Qualcomm MSM8974 Snapdragon 800 Quad core processor, Adreno 330 GPU and 1080p full HD 1920 x 1080 pixels resolution screen, 441 ppi density and X-Reality for Mobile. So what keeps this monster phone alive, its 3000mAh non removable battery sure. If we compare processor chipset and battery size Xperia Z Ultra ( 3050 mAh battery ) also has same configuration except it's has a monster screen size of 6.4″ full HD.
Xperia Z1 battery test results have arrived and GsmArena test results prove Xperia Z1 results disappointing as when compared with Xperia Z Ultra. Xperia Z1 battery test results include 3G talktime, web browsing and video playback. Let's have a look at the Xperia Z1 Battery Test Results from GsmArena.
Sony Xperia Z1 Battery Test Results
Xperia Z1 is at the top of leaderboard when talktime battery stats appeared. It beats LG G2 which also features a 3000mAh battery by around 2 hours and LG G2 maintained 25 hours of talktime. Huawei Ascend Mate which features 6.1″ screen and 4050 mAh battery is at the second position.
Phones' screen is off during the 3G talktime test. While testing below mentioned 3 tests,  Stamina Mode on Xperia Z1 was switched off.
Xperia Z1 Battery Test Talktime Result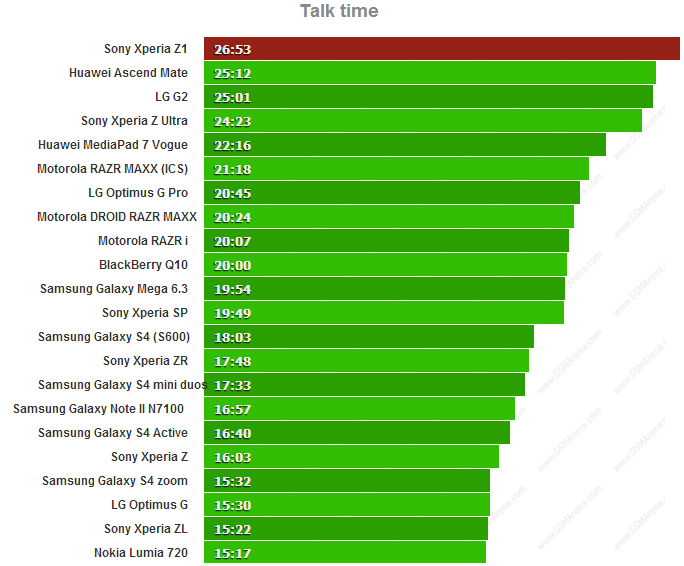 Xperia Z1 Battery Test Web Browing Result
Web Browsing is something which every mobile phone users performs in his handset and if a phone's display can sustain for a longer period during web browsing it would be great. Sony Xperia Z1 doesn't perform like a top contender here, Xperia Z1 Battery Test Web browsing results are normal only not at all impressive and even Xperia Z, ZL, SP, ZR beats it very well.
Xperia ZR features a 2350 mAh battery and has 4.55″ 720p HD screen. Xperia ZR has the best battery stats among any Xperia smartphone when web browsing results are compared; it's display lasts for more than 11 hours so is the case with LG G2. In this result Both LG G2 and Xperia ZR wins the bout.

Xperia Z1 Battery Test Video Playback Result
Video Playback another area where majority of phones' battery dissipates. Xperia Z1's triluminos display is an improvement over previous Xperia handsets but just like Xperia Z it has not performed very well in video playback result too.
Even Xperia Z Ultra gave an additional 3 hours of video playback as when compared to Xperia Z1's stats.

Xperia Z1 didn't perform that very well on video playback and web browsing tests but it's standby endurance ratings are good somewhat. GsmArena's testing shows their Xperia Z1 lasted for 53 hours if for one hour each i.e. 3G talktime, video playback and web browsing is performed a day. But for a heavy users who surf internet and watch video a lot, they need to plug-in their Xperia Z1 may be twice a day. ( or more than that )
Xperia Z1 Endurance Rating
As when compared to Xperia Z, talktime and endurance rating improved but if we see video playback and web browsing time, it has been lowered though.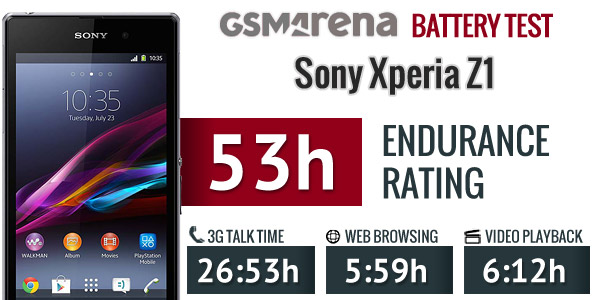 To sum up Xperia Z1 got 53 hours endurance rating, 26:53 Hours 3G Talktime, 5:59 Hours Web Browsing and 6:12 Hours Video Playback.
What's you take on above Xperia Z1 Battery Test Results, do you find them sufficient as when compared to other Xperia handsets. We don't think above results are impressive for Xperia Z1 but you may get some different battery stats on your Xperia Z1 depending on various unstated factors.
You might be interested in seeing some other comparisons also.
Drop your comments on Xperia Z1 Battery Test Results…
[ Source –
GsmArena
]