Sony released Jelly Bean 6.2.B.0.211 firmware officially for Xperia S LT26i, Xperia SL LT26ii and Xperia Acro S LT26w on 11 June, 10 days later when the first build of Android 4.1.2 Jelly Bean 6.2.B.0.200 launched for above three handsets. As told by sources, Jelly Bean 6.2.B.0.211 firmware didn't land world-wide.
[ Update ] – 26 August
Xperia S,SL,Acro S 6.2.B.1.96 firmware Rolled NOW – Major Update fixed 1080p HD Video Lag, Volume Up button bug.
For Indian Users :- Xperia S Jelly Bean 6.2.B.0.211 firmware was reported by many users in India, but Xperia SL LT26ii users still haven't got the official notification via PC Companion or SUS. We have been receiving mails since it's launch and we have not seen a single Xperia SL LT26ii user in India who has got the notification.  Now we have brought a solution for Xperia SL LT26ii Indian users 🙂
Note :- Type *#*#7378423#*#* and then go to "Service Info" > "Software Info" and check file system version. For India users it must be like "WORLD_6.2.B.0.211" . In India normally Brand – World firmware is updated. If it is then you can update by following our manual flashing guide.
Flashing ftf file is 100% Safe 🙂 Very easy to do…Works on both Unlocked as well as Locked Bootloaders. Warranty is not void 🙂 No need of Rooting.
Warning
XperiGuide.com will not be responsible for any damage happened to your phone.
What's the Catch ?
STEP 1 – We will flash the brand – WORLD ftf file on our Xperia SL LT26ii by Flashtool.
STEP 2 – After rebooting/flashing, Performing Factory Reset on the phone ( Wiping all SD card also ) – MUST Step
STEP 3 – Now we will connect the phone to SUS or PCC, and will repair our Software again. If we will do this, it means now Officially via Sony service we are getting the latest Jelly Bean 6.2.B.0.211 firmware. ( As we have already 6.2.B.0.211 installed on our phone and now PCC or SUS will show that latest software already installed it means 6.2.B.0.211 already installed and we can now repair it again 😛 )
Prerequisites 
Backing Up full Phone Data
Connect your phone to PCC and back up full data as we will be doing Factroy Reset and we will need to restore the content.

Downloading Firmware ftf file
Download Xperia SL LT26ii Jelly Bean 6.2.B.0.211 firmware, Brand – WORLD ftf file from given below link.
Download xperia sl (lt26ii)_6.2.b.0.211_world.ftf I 509 MB
Download Xperia S LT26i Jelly Bean 6.2.B.0.211 firmware, Brand – WORLD ftf file from given below link.
Download Xperia S [LT26i]_6.2.B.0.211_World Generic.ftf I 508 MB
Downloading and Installing FLASHTOOL
Download Xperia FlashTool from given below link. Install it on your PC. Install it in location "C:/Flashtool"
Download flashtool-0.9.10.2beta6-windows.exe
Windows Version 0.9.10.2 Beta 6
Changing Phone settings
Enable "USB Debugging" on phone, Go to Settings > Developer Option >Enable USB debugging.
Enable "Unknown Sources" on phone, Go to Settings >Security > Enable Unknown sources.
Manual Flashing Tutorial Guide for any Xperia Handset – NOOB'S Guide
Below mentioned tutorial works for any Xperia 2012, 2013 handset. Just perform the below steps for your Phone. We have described the tutorial using "Xperia SL LT26ii".
Installing Drivers for Xperia SL LT26ii
We must install drivers for our phone. As we are updating Xperia SL LT26ii so after installing Flashtool on your computer, go to "C:\Flashtool\drivers" and click on "Flashtool-drivers application".  
Install the Driver for Xperia SL LT26ii by choosing from the option "Select Components to install". Check the mark for "Xperia SL Driver". Click on "Install" option.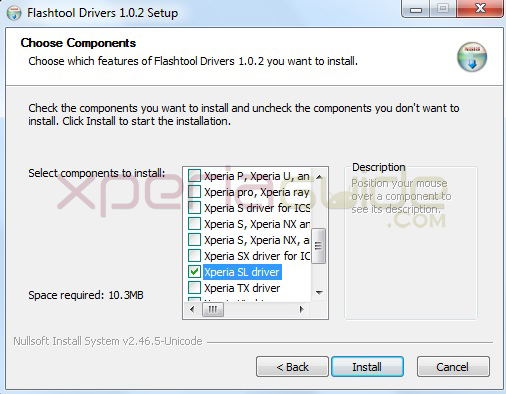 Wait till Xperia SL LT26ii drivers are installing on your PC. As soon as drivers are installed. Click on "Finish".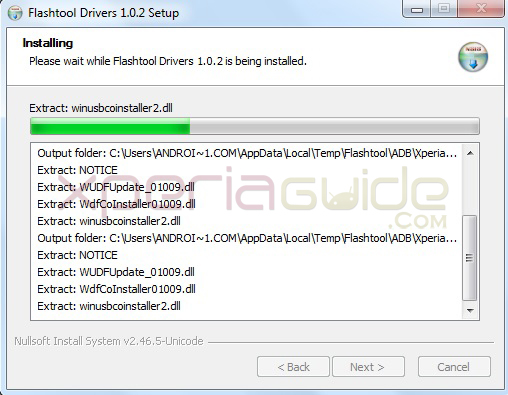 Placing firmware ftf file on Flashtool folder
After downloading the above firmware ftf file, Copy the ftf file downloaded above in folder "C:\Flashtool\firmwares".
Open Flashtool
Click on "FlashTool" application in folder "C:\Flashtool" and run it as admin.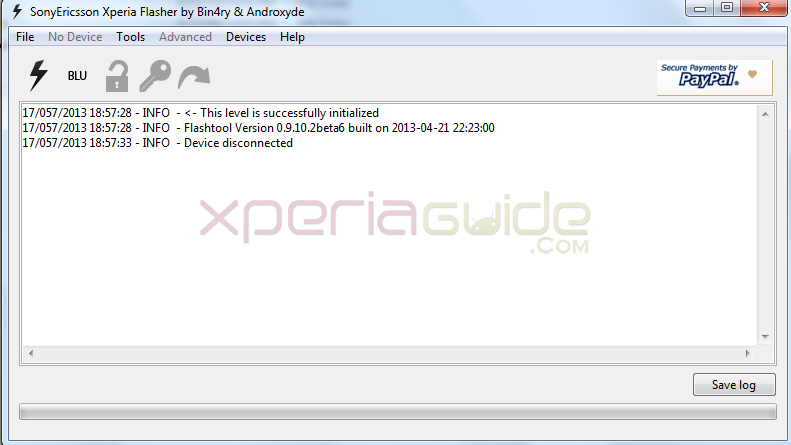 Click on "Black Lightning Bolt" icon on the top left corner of the FlashTool window and then a pop up box appears as shown below. Choose option "Flashmode" and then click "Ok".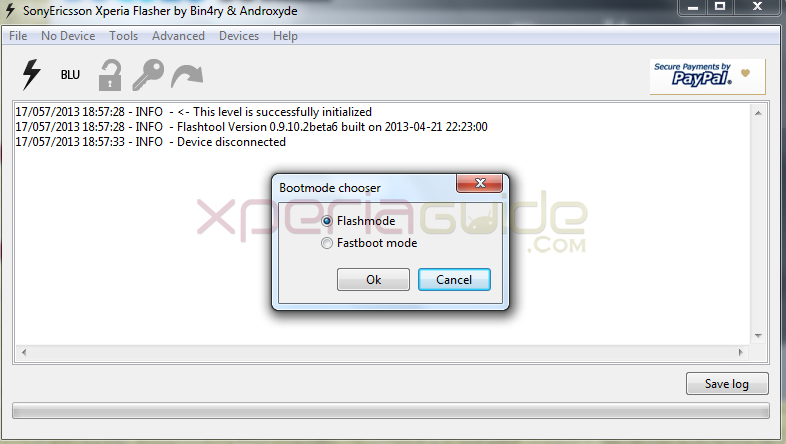 Choosing Firmware to Flash
You will see a screen as shown below now after entering into Flashmode. Now in the left side box, you will see your downloaded firmware listed which you placed in "C:\Flashtool\firmwares".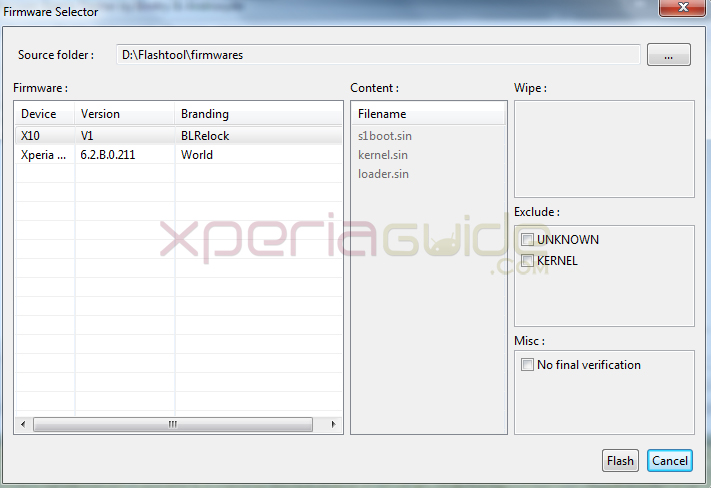 Now we will choose our firmware. Select the firmware "6.2.B.0.211" from the list on left side box and click on it. You will see the content of ftf files listed in the "Content"  section. Under "Wipe" section make sure you check the boxes of "DATA, CACHE, APPSLOG". You chosen option screen must look similar to as shown below.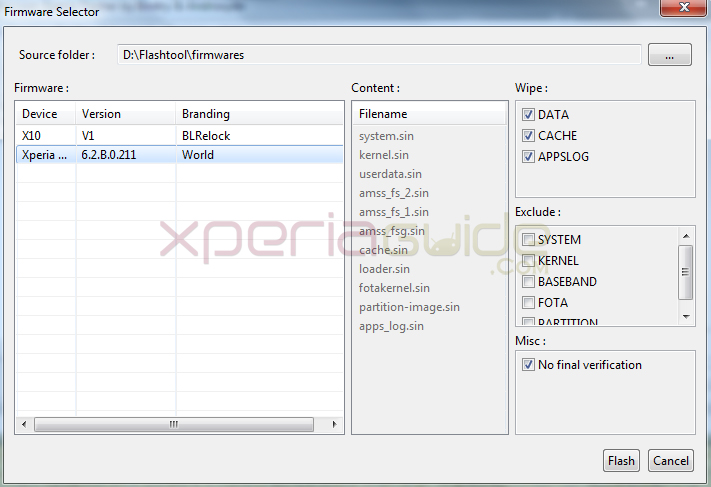 Start FLASHING
Click on "Flash" Button, now FlashTool will prepare files for flashing and you will see a screen as shown below.
Connecting Phone to PC
Now as soon as your see onscreen instruction asking you to connect your phone to PC, Switch off your Phone. Connect USB cable to PC and now pressing "volume down" button on phone insert cable in phone. Now you will see your phone detected by system as green LED lights up.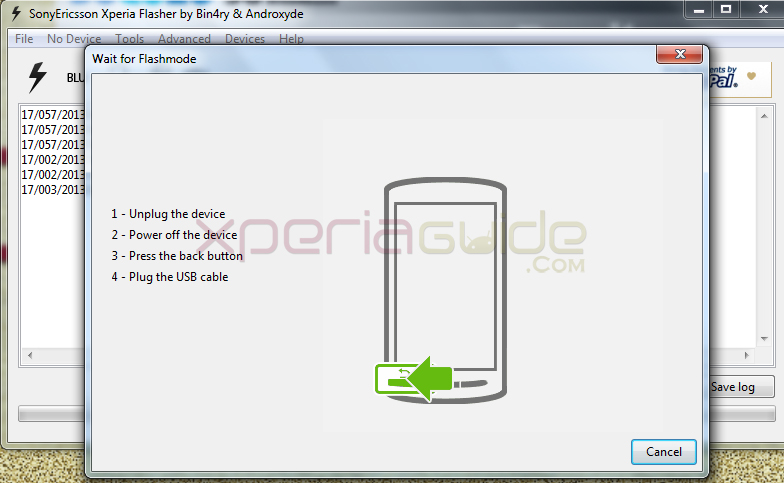 Flashing Starts…
As soon as your phone is connected in flashing mode, flashing process begins as shown below. Do not do anything now. FlashTool will flash the required files on your Xperia SL. As when flashing is finished you will see the notification on screen. Check screenshots below…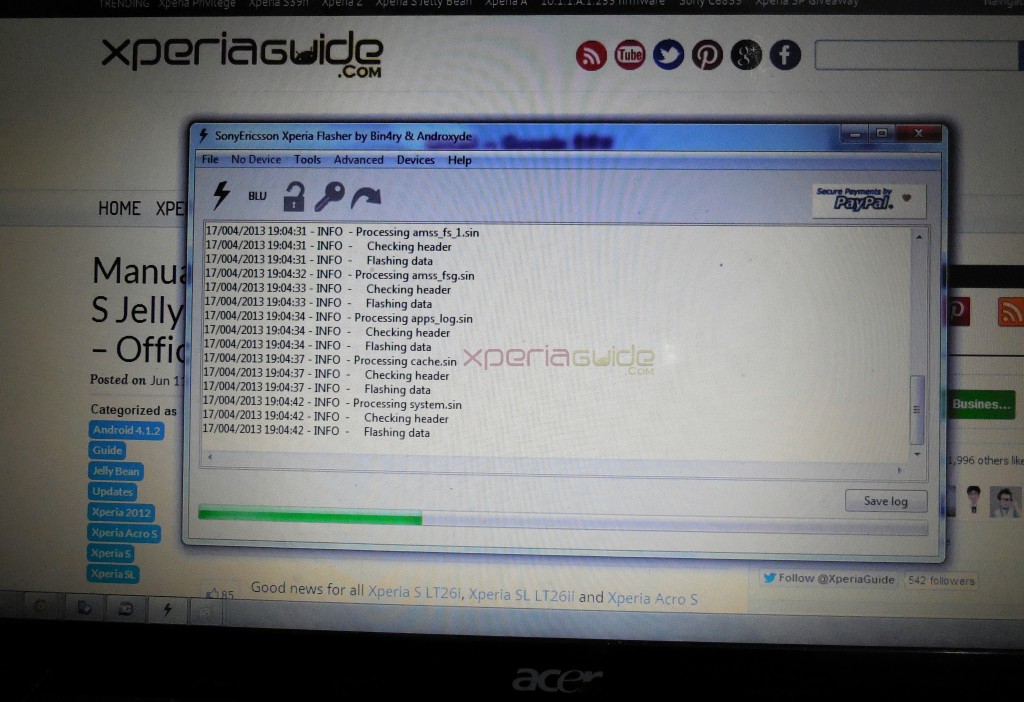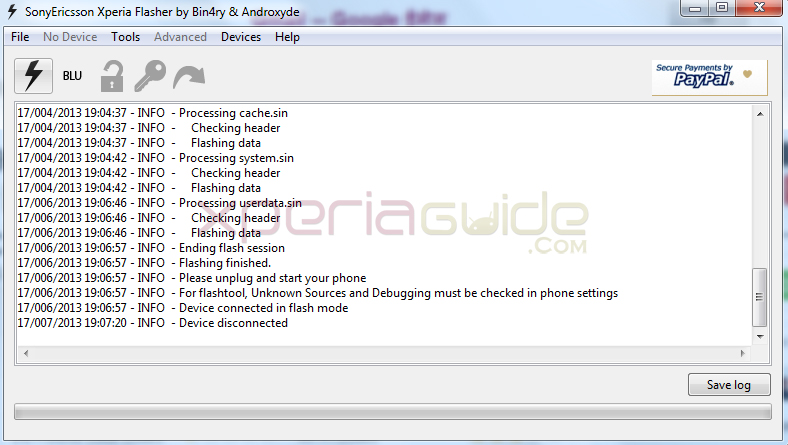 After Flashing 
As you see on screen the message "ending flash session, Flashing finished". Disconnect your phone from PC. Reboot your phone now, the first reboot after flashing the  Jelly Bean 6.2.B.0.211 firmware ftf file will take a little bit time. Do not panic. Keep calm phone will start after some Sony animations 😛
Must Step to Do after Flashing
As soon as your phone reboots, go to "Settings > Back up and Restore > Factory Reset > Check mark option "erase all data on SD card" > Now Factory reset your phone. As soon done, your phone will boot up itself and now a fresh installation has been taken. 
Why Factory reset ?
Factory reset will give you a fresh installation of  Jelly Bean 6.2.B.0.211 firmware and it solved our Wi-Fi issue 🙂 So it's a worth doing step…
After Factory resetting ? Updating Officially via SUS or PCC Method
If you want to be 100% sure of the original firmware on your phone depending upon your region ( Ours is INDIA ), you can now update or repair your phone' software via PC Companion or SUS. It will give you a fresh installation of  Jelly Bean 6.2.B.0.211 firmware as per your region deployed by Sony. ( We did this step and it's worth ). In this way your phone will be officially updated via PCC or SUS.
If you don't want to do above step then after factory resetting, just back up your content via PC Companion. You will be able to receive any future updates via PCC or SUS , no issues regarding this… 
Now your Xperia SL LT26ii must be running on Android 4.1.2 Jelly Bean 6.2.B.0.211 firmware 
Phone Model Number – Xperia SL LT26ii (AAD-3880120-CV)
Frequency Bands Supported – GSM: 850/900/1800/1900, UMTS FDD: Band I/Band II/Band V/Band VIII
Android Version – 4.1.2 Jelly Bean
Baseband version – 8660-AAABQOLYM-314010-35
Kernel Version – 3.4.0+
Build Number – 6.2.B.0.211 firmware.
Changelog / Bugs after updating to Jelly Bean 6.2.B.0.211 firmware ?
1080p video capture still lags.

2G data slow issue.
Battery drain issue at 2x speed but it is expected to stabilize as after 1 week.
Wi-Fi issue fixed after factory resetting.
How to Root Root Xperia S, Z, SP Jelly Bean by DooMLoRD Easy Rooting Toolkit v11 ?
It's a worth update and you can now update to Jelly Bean 6.2.B.0.211 firmware 🙂 Give it a try once 😉
Please in the comment section post your reviews regarding Jelly Bean 6.2.B.0.211 firmware on your phone and if you face any troubles in updating to your phone do let us know in comments we will help your out…