Xperia Z2 Android 4.4.2 KitKat testing 17.1.A.0.289 firmware build's system dump was leaked as soon the phone was launched by Sony officially and till date we have seen so many ports related to Xperia Z2 KitKat apps and features which will not be available on other Xperia smartphones for some time on official KitKat update.
Just now Xperia Z2 D6503 17.1.A.1.2 firmware ftf has been leaked which is the most recent build for Xperia Z2 till yesterday when we saw new 17.1.A.2.36 firmware getting certified on PTCRB. Leaked Xperia Z2 17.1.A.1.2 firmware is of 'Commercial and Journalist' Version not the retail 17.1.A.1.2 firmware ftf which will be available to regular Xperia Z2 users after the phone is officially launched in market.
Download Xperia Z2 17.1.A.1.2 firmware ftf
Download the below mentioned 17.1.A.1.2 firmware ftf, it has no CDA.
Download [email protected]
[ Key – BQsj0rAPlWvlwzuMZi1tWTMG1lt1-mrwQCVltLiZVGk ]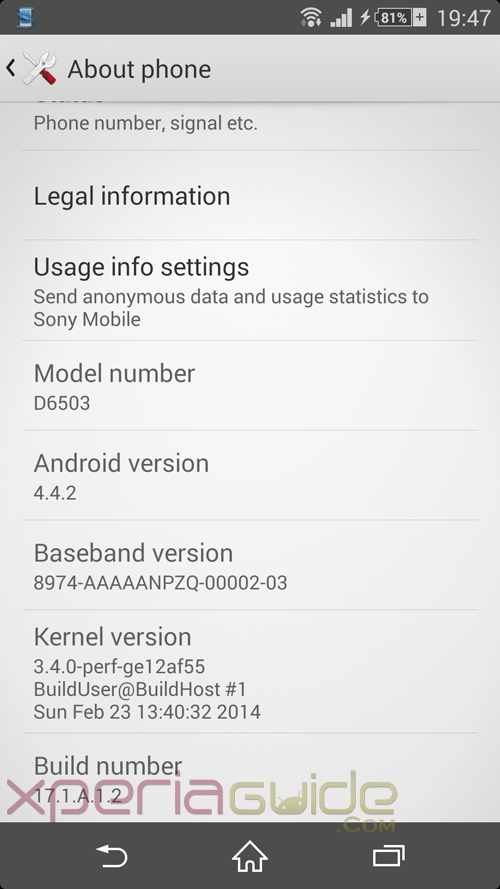 In order to flash above 17.1.A.1.2 firmware ftf on your Xperia Z2 you need to download the latest version of FlashTool  v0.9.14.0
Download flashtool-0.9.14.0-windows.exe 
[ via – Androxyde | FlashTool.net ]
Below you can see the software info of Xperia Z2 on 17.1.A.1.2 firmware.
Software Version – 1278-4770_17.1.A.1.2 | Cust – 1279-0989_R3A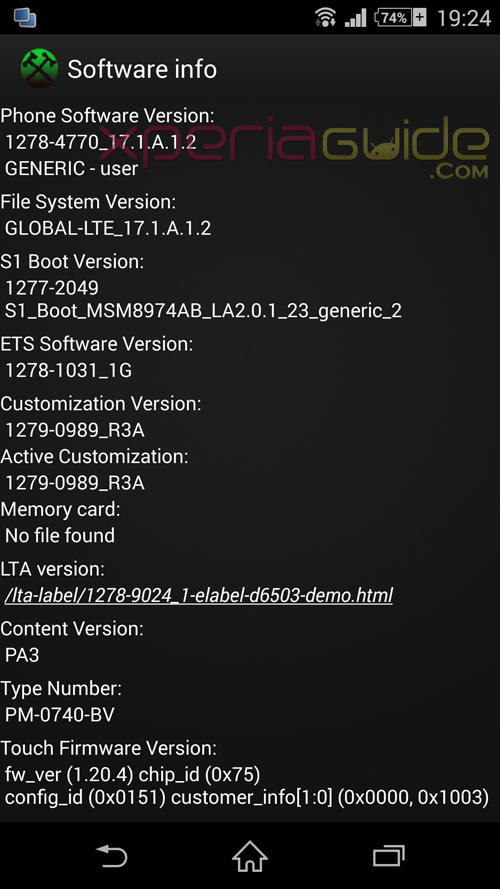 If you are interested in developing apps from Xperia Z2 17.1.A.1.2 firmware then apps and framework have been shared below. Download it and start developing.
Download Z2_17.1.A.1.2_freamwok&apps_deodex.rar
[ Key – 8xOZroOgQ2Vv6jhBJSuYqK4PZRjAOE4e26HLmcuUhRM ]
If you have retail Xperia Z2 already you can try flashing the firmware ftf if you want to. Let us know if you do so. Drop your comments below.