Sony Mobile has just updated one of their media app, Album app is updated to new version 5.4.A.0.12 from previous 5.3.A.0.24 version. This new update moves album app from version 5.3.A to 5.4.A which means considerable changes in the app. At present Album app version 5.4.A.0.12 is confirmed rolling on Xperia Z series and Xperia L across many nations.
Album app version 5.4.A.0.12 brings android 4.4 KitKat Support as mentioned in the changelog which is very amusing right now, why would Sony mention android 4.4 KitKat stuff in the changelog of media app update. Well if you see clearly in screenshots below in one the screenshot taken by Sony itself, all icons in status bar are white in color which is a standard KitKat feature of Android.
[
UPDATE – 5 Feb
]
Info Eye version 1.3.04 update rolling for Xperia Z1 Camera App
Album app version 5.4.A.0.12 is rolling as OTA update, check in your update center app.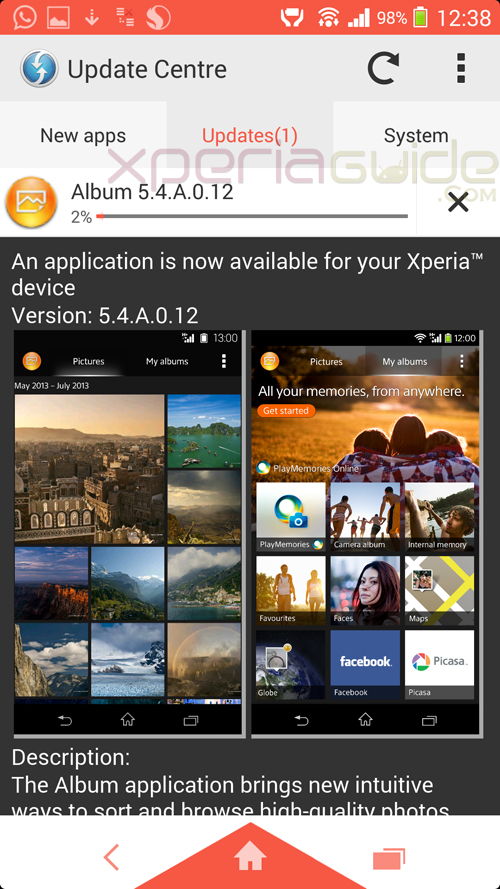 Download Album app version 5.4.A.0.12
Below file is taken from our Xperia Z1 C6902.
Download com.sonyericsson.album_version5.4.A.0.12.apk
No root needed, just install above as normal apk. Confirmed working on android 4.3 devices. Android 4.2.2 or android 4.1.2 users try it by installing on your Xperia S, SL, Acro S, SP, T, V,C etc and let us know.
Album app version 5.4.A.0.12 Changelog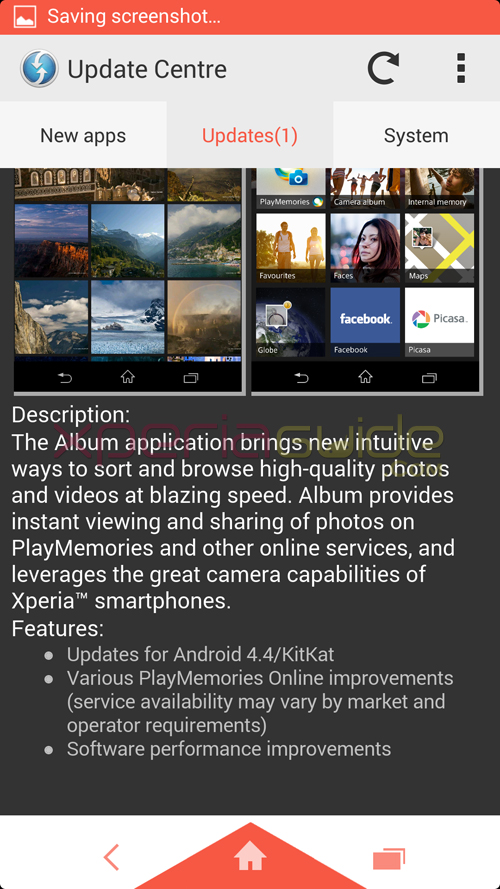 Updates for Android 4.4/KitKat Support.
Various PlayMemories Online improvements.
Software performance improvements.
Smooth scrolling across pictures and fast loading of thumbnails is seen.
What do you think why would Sony mention KitKat support in Album app version 5.4.A.0.12  update, is its release near than we actually expected. Drop your comments below.
Thanks Camilo Uribe, David Emanuel 🙂