These days, a lot of professionals use PDF files as a way to share information or data because of the security and independence it offers and these are enough reasons to use PDFs. For example, instead of using Microsoft office, you can decide to use PDF since it is secured and not easy to edit. Even if you have already created your files in Microsoft office, you can always convert them back to a more secured PDF file so easily.
There are just few tools that you can use to convert PDF's from Microsoft office in Mac and Wondershare PDF creator for Mac is one of the tools and the best of them all. With the PDF creator for Mac, you have an awesome tool that helps you convert all your Microsoft office documents to a more reliable PDF. Below are the reasons why you should choose this awesome tool.
PDF Creator For Mac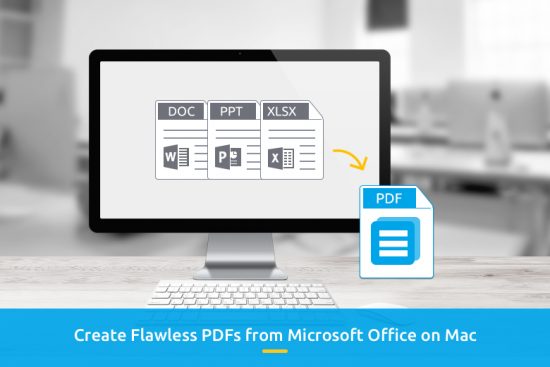 Important Functions
Wondershare PDF creator for Mac supports the creation of PDF files from any Microsoft file type. It is important to note that it can create PDF whether it is from the old or new file format like PPT, PPTX and the rest. For example, you can create PDF from PowerPoint files. ( See how to create PDF from PowerPoint file). It works like a magic.
Wondershare PDF creator for Mac has solved the problem of wasting too much time trying to convert office to PDF documents. Make no mistake, this used to be a problem initially but with this tool, it is now possible to create multiple PDF documents from just one office document and all these can happen at the same time. All you need to do is to add a batch of files or better still, add the entire document folder and create the PDF files you desire.
When you do not want to compromise on the quality of output, then this tool is your best choice. It gives you the highest cutting edge output that works so well with other PDF converters, readers and editors. Everything is designed to standard from the resolution to the formats; you will get the quality you want.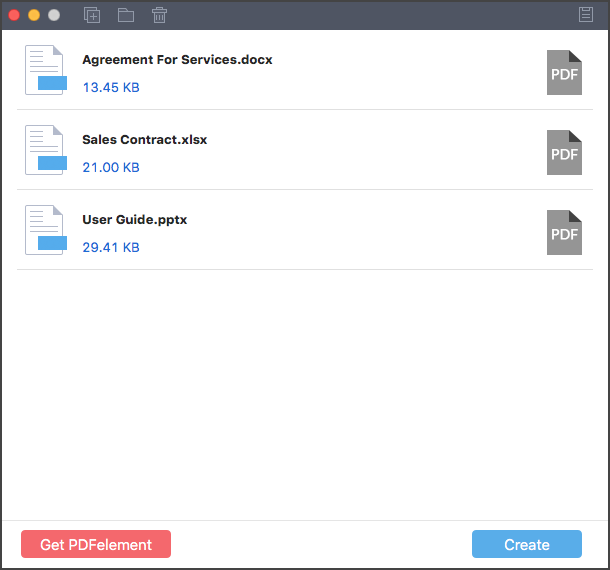 Awesome Features
This tool is just easy to use. You do not need any form of elaborate training to use it. Its user interface is friendly and intuitive that means if you can use a computer then you can use it.
There is also no file limit you can upload to the platform. Just import as many files as you want.
The quality of PDF produced is superb and it covers both old and new office format
It is highly compatible with Mac as there are no bugs, hitches and error messages when you use it on Mac.
This tool is highly reliable and you can always get quality help at after sales service
The reality is that creating PDF files from office documents have never been this easy, Just try it.