Sony recently unveiled its Xperia "X" series lineup for 2016 which officially marked the end of Xperia "Z" series lineup. Sony Mobile came up with Xperia X, Xperia XA, and Xperia X Performance.
Rumours are floating around saying that a new Xperia X series smartphone i.e. Xperia X Premium might be launched by Sony Mobile which will feature world's first  HDR Display in a smartphone.
Sony Xperia X Premium
Sony Xperia X Premium is seen as successor to last year flagship Xperia Z5 Premium as per sources.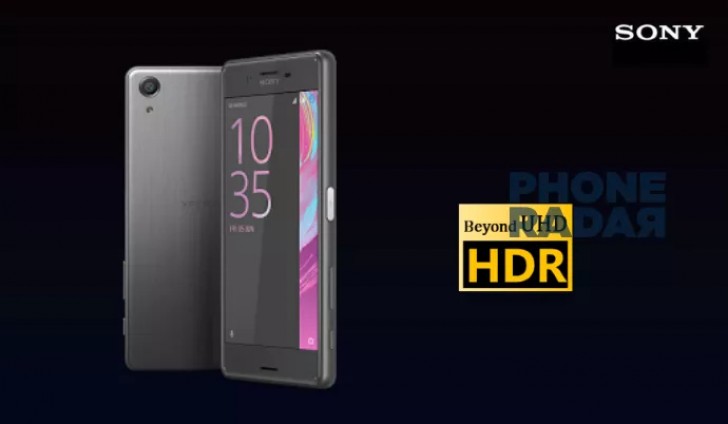 Rumoured Xperia X Premium Specifications
Xperia X Premium is rumoured to feature 5.5″ LCD (Whitemagic display), Full HD (1920×1080 resolution), supporting HDR (High Dynamic Ranging) playback (and display). Xperia X Premium HDR display is tipped to offer 1000 nits of white brightness (maximum upto 1300 nits) i.e. 10-bit HDR display offering color depth of 1.07 billion as compared to 16.7 million color depth of many high-end smartphones out in market.
As compared to usual 256 shades of RGB colors, Xperia X Premium 10-bit HDR display would display 1024 shades of RGB colors. It is also tipped to feature 120Hz refresh rate (seen in UHD TVs) and 2000:1 contrast ratio. As far as specifications are concerned, Xperia X Premium is to feature similar specs like Xperia X Performance i.e. Snapdragon 820 SoC, Adreno 530 GPU, 3 GB RAM and moreover a USB Type-C port will be there.
For the time being there is no verified authentic source to confirm the above mentioned specifications of Xperia X Premium, so take it with a pinch of salt for now.
What do you think of new Sony Xperia X Premium, let us know. Drop your comments below.
Source – PhoneRadar, via – GsmArena