Sony Mobile launched Xperia T3 in India, New Delhi today at price Rs 27990 i.e $466 to be made available from 28 July at all leading Sony and Electronics store. Xperia T3 features Snapdragon 400 1.4 GHz quad core processor packed in 7 mm thin aluminium frame. Xperia T3 has 5.3″ 720p HD display, Adreno 305 GPU, 1 GB RAM, 8 GB internal storage, 8 MP rear cam and 1.1 MP front cam.
Sony has launched as usual 3G variant of Xperia T3 in India. Looking at many competitors in market like HTC Desire 816, Xiaomi Mi 3, Asus Zenfone 6; Sony has over priced Xperia T3 if we consider a Snapdragon 400 powered device.
Xperia T3 launched in India
Sony has already listed Xperia T3 on its product page in India. It will be available in white, purple and black color variants.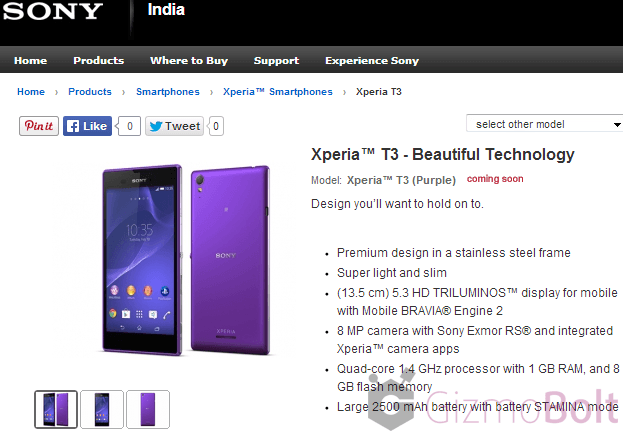 Buy Xperia T3 from Flipkart in India
Online retailer Flipkart has listed Xperia T3 in India for Rs 26999 ($450) giving away free Sony SmartBand SWR-10 worth Rs 5990 ($100) and premium case worth Rs 2490 ($42) along with it.
Buy Xperia T3 from Flipkart – Black, White, Purple. Flipkart has also listed Axes Flip cover for Xperia T3 in White and Black for Rs 299 ($5) each.
Thinking of buying Xperia T3 in India ? Let us know or you are looking for some other alternative. Drop your comments below.