We have launched an add-on Gizmo Bolt Community Forums to main blog. Earlier we were XperiaGuide.com but now revamped into GizmoBolt.com. We cover latest news from Internet on Gadgets, Social Network platforms, Apps, Review guides and How to Tutorials.
Gizmo Bolt Community Forums is open for all tech enthusiasts around the world. Ask-Discuss anything related to technology, gadgets, mobiles, how to tutorials etc. What we expect from every individual using this community forum, kindly keep it clean. Post valid content only, if you have any doubt ask us, we will answer your query. DO NOT SPAM!
Gizmo Bolt Community Forums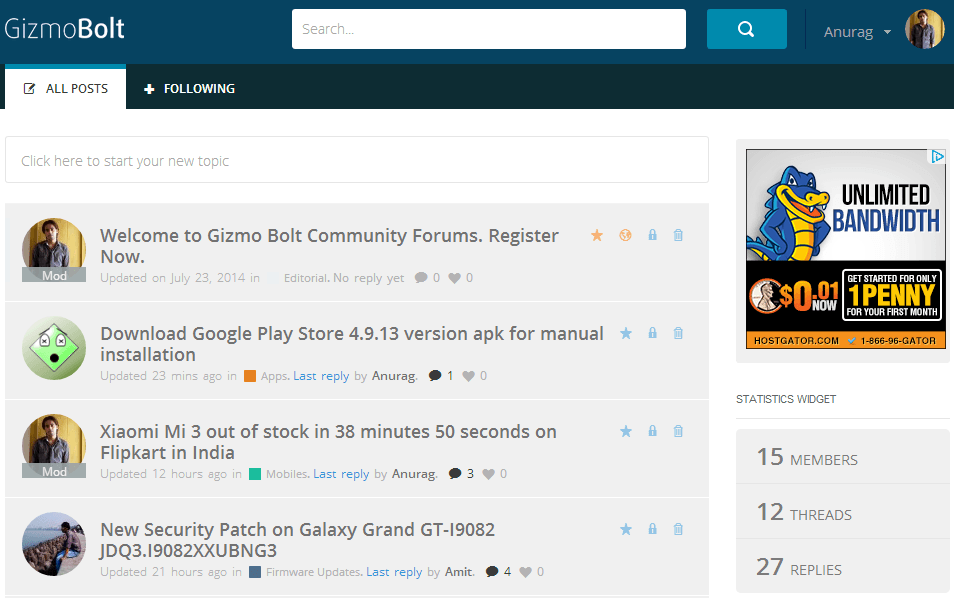 Users need to register on Gizmo Bolt Community Forums before posting threads.
Registeration Process
Gizmo Bolt Community Forums
Join Now
• User can either registering using Facebook or Twitter or Email Id.
• VERIFYING EMAIL ID is an essential step to confirm your account and becoming a valid user. Post registration you can post new threads, reply in comments. Do not forget to fill your profile.
Do not forget to read the rules for posting content. Follow the rules, make world a better place.
Thank You,
GizmoBolt Team
Follow us at  Facebook I Twitter I Google Plus I Pinterest | RSS Feeds
Download App from Play Store.