A day after when Sony officially started shipping Xperia Z1 Compact officially in UK, priced at £449 for SIM free version ( also available with carrier operators ) from official Sony online stores; just now we spotted that Sony has also listed Xperia Z1 Compact in Germany also and it is now ready for shipping, priced at €499 inclusive of all taxes. At present from Sony online stores in Germany, all 4 color variants of Xperia Z1 Compact are available.
Unlocked Xperia Z1 Compact is priced at €499 in Germany which is equivalent to £410, means it is a but cheaper in price as what Sony offered to users in UK. Two delivery options are there viz. standard delivery which takes 3‑5 working days  and express delivery which takes 1‑2 working days and if ordered from Sony online stores. No promotional offer is valid now.
Inside the box of Unlocked Xperia Z1 Compact  in Germany, Sony is providing  EP880 Charger, Media Cable EC801, MH750 Stereo Headset and a Screen protector.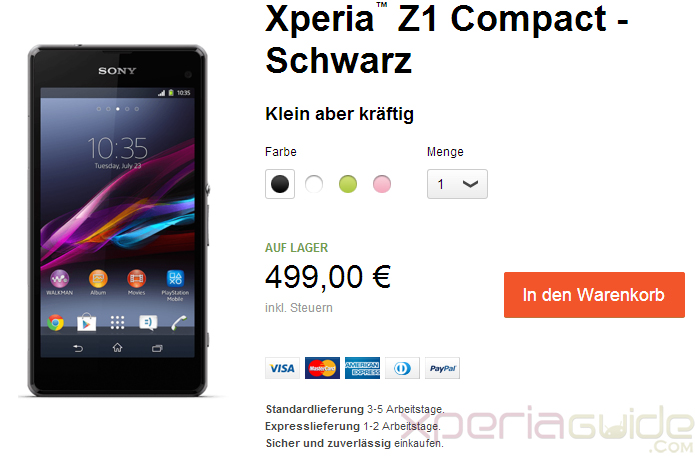 If you are looking to order Unlocked Xperia Z1 Compact in Germany, head over to Sony Online Store DE.
At maximum you can order 4 Xperia Z1 Compact units at a time from Sony online stores in Germany. While writing this line we noticed that pink Xperia Z1 Compact is already out of stock within 24 hours of listing, same happened in UK where black Xperia Z1 Compact went out of stock but later on 1 Feb 2014 Sony added it back in stock, so hope pink Xperia Z1 Compact will be back soon.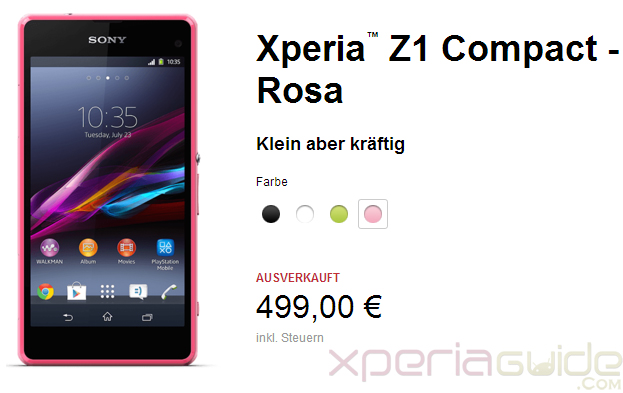 So are you planning to buy one ? It seems users in UK have already got Xperia Z1 Compact as many reviews are coming now from them, we will soon come up with hands on Xperia Z1 Compact pics.
Drop your comments below if you are planning to buy it or have already got it, like it ?