Another Android 5.0.2 Lollipop 14.5.B.0.236 firmware has been certified for T-Mobile Xperia Z1s (USA variant of Xperia Z1) on PTCRB recently. This is the third Lollipop firmware which has been certified till now, other two ones were 14.5.B.0.228 & 14.5.B.0.220 firmware.
Sony has already rolled Android 5.0.2 Lollipop update on whole Xperia "Z3" & Xperia "Z2" series, Xperia Z1, Xperia Z1 Compact, Xperia Z Ultra, Xperia T2 Ultra, Xperia C3 and will soon be rolled on Xperia Z, ZR, ZL and Tablet Z.
Xperia Z1s 14.5.B.0.236 Lollipop firmware
Check out the 14.5.B.0.236 firmware certification details for Xperia Z1s C6916 on PTCRB.
[
UPDATE 27/5/15
 ] 
T-Mobile Xperia Z1s Lollipop 14.5.B.0.236 firmware rolling
T-Mobile has also released its plan now for roll out of Lollipop on Xperia Z3 recently in USA.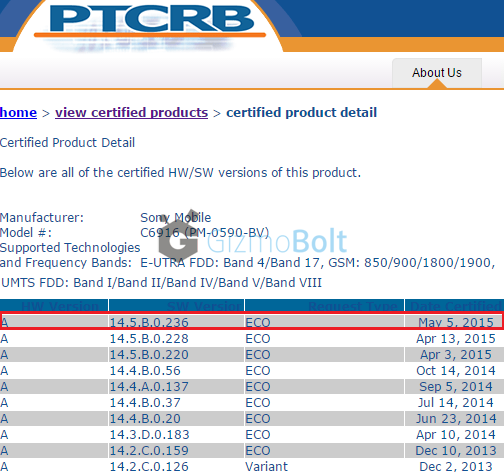 Recently Sony rolled 23.1.A.1.28 firmware update on whole Xperia Z2 and Xperia Z3 series.
Xperia Z2 & Xperia Z3 series users, check the link below to update your handset.
It seems this time 14.5.B.0.236 firmware will roll on Xperia Z1s. We will keep you updated, drop your comments below.
Thanks for the tip, Darcy Myers!