Business owners often see the process of hiring an IT support company very daunting. But it doesn't have to be a nuisance at all. The truth is, many entrepreneurs have no clue about how IT professionals can help their business's operations and never bothered to learn the scope of their expertise. No, it's not only about computers and other physical devices. Information Technology goes lightyears beyond what you've pictured.
If you're currently searching for an IT provider but don't know where to start and what to expect, we've covered a lot of ground for you and gathered the essentials so that the process of hiring an IT support company seems a little more pleasant and transparent.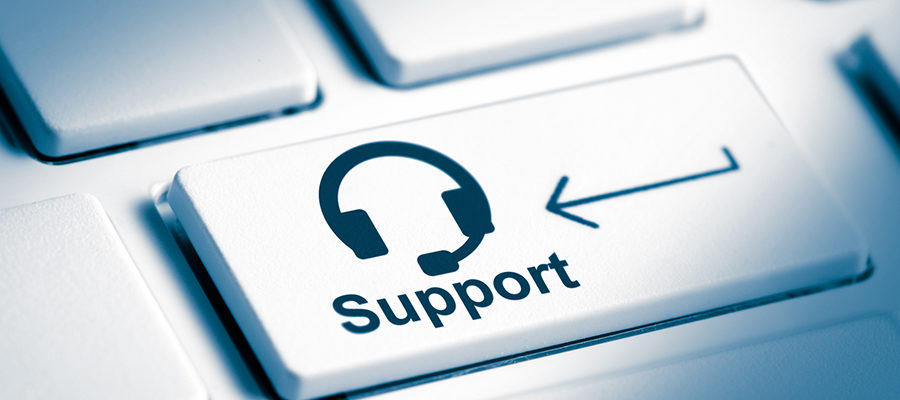 What does an IT Support Company Do?
To put it in a nutshell, an IT support company takes care of your company's technological operations. Ottawa-based firm Firewall Technical notes that the range of services vary depending on the provider but usually includes firewall, desktop server, anti-spam, virtualization, cloud services, and cybersecurity. IT professionals not only solve problems related to technological infrastructure but also educate employees and train them on how to use it.
You can opt for one of the two major types of IT support: managed or break and fix. We will discuss both of them in greater details later. The biggest difference, however, between those models is their approach to fix any occurring issue. Managed services are proactive, while the break and fix model rather reacts to them.
An IT support team is not only engineers and developers. If you want to ensure smooth operations, it is recommended to hire additional experts such as a project manager, helpdesk technicians, and a CISO. This, of course, depends on the size of your business and the number of employees so it's not crucial to overspend by hiring people who will only generate unnecessary costs and bring no real value to your company.
Benefits of Hiring an IT Support Company
You may be aware of some of the biggest pros of investing in an IT specialists team. While your main focus is to ensure the company's operations are smooth and flawless, Information Technology experts work "day and night" to ensure there are no failures in your infrastructure. There are numerous benefits of hiring an IT support company, so let's have a look at the most fundamental ones.
Experience

– it is always better to outsource tasks that we're not good at in order to focus on the business's growth. Entrepreneurs need to realize that it's better to allocate their efforts into constant improvement, while an IT team is taking care of the technological infrastructure. Thanks to their expertise, IT specialists are able to fix problems more quickly and prevent any downtimes, which are directly impacting the customer's experience.

Lower cost in the long run

– even though it may seem like an unnecessary investment, it will pay off eventually. First of all, you save money on taxes and employment benefits. Then, we need to mention the cost such a delay or downtime could generate. Finally, IT support companies usually offer several options of cooperation, either flat-fee or an hourly rate so you're able to choose the one that suits your business profile and its operations.

Available 24/7

– you may think such service is pointless as your company's working hours are rather fixed and no one does night-shifts. However, errors are not going to wait for you to show up at work to suddenly occur. IT support company monitors your technological infrastructure 24/7 to ensure failures are fixed straight away.

Security

– in today's world full of cybercrime, it is easy to get robbed. If you store your clients' sensitive data such as their personality details and credit card information, you're at risk of a security breach. If you hire an IT support company, you can be sure this will never happen, and even if it does, it will be spotted and dealt with instantly.

Recovery

– data loss can occur at any time, whether it's due to a natural disaster or a cybercrime. A team of IT specialists, however, is able to get your business back on track thanks to advanced recovery and backup strategies that allow them to reverse some or all of the failures.
Managed vs. Break & Fix
We mentioned earlier that there are two major IT support models: managed and break and fix. There are various fundamental differences between both approaches and as a business owner, you should be aware of them in order to make the right decision.
Break and fix model is a well-established traditional way of dealing with errors. It is sometimes called a reactive approach because failures are only fixed after they occur providing you informed your IT support company about them. Also, if your system needs an upgrade, IT services based on the break and fix approach will handle it when notified. Many agree that it is an outdated and inefficient method, however, it makes a perfect match with small companies, whose business does not rely on technology that much.
Managed services are, on the other hand, proactive, which means IT specialists constantly monitor your technological infrastructure and apply changes, upgrades, and fix errors right away. They practically foster your company's ecosystem ensuring its smooth running. You don't need to notify them in case a failure occurs, they probably already know about it and are working on fixing it. Even though this model is more expensive, its advantages easily outweigh the cons, therefore, a lot of businesses decide to opt for this relatively new, and highly efficient approach.
How to Hire an IT Support Company?
Whether you are going for a break and fix company or managed services, you should know which things to pay attention to and what to ask your future provider. There are various aspects that need to be taken into consideration before signing a contract.
One of the first things you will probably want to know about is the cost of such services. This entirely depends on the model you opted for. As we mentioned before, managed services are more expensive than a break and fix model. Both prefer diverse methods of payment as well. There are several variables based on which IT support companies estimate the cost of their services but they usually include the size of your business, the number of computers, job requirements, location, certifications, etc.
You may want to ask about the IT systems the company uses. It's a sort of background check. Make sure there's a proper CRM system in place. Based on your specific requirements you can also find out if the IT support company has any email, management and monitoring systems as well.
Another crucial aspect is the response time. This particularly applies to the break and fix model. As a business owner, you want to know how long it will take for the IT support company to respond to your inquiries. Any delay or downtime can cause serious problems so make sure the response time is as short as possible.
Hiring an IT support company can be compared to a job interview. And one of the standard questions is "What's your experience?". IT support with years of experience will probably do better helping your technological infrastructure but it's not always the case. Sometimes, newbies in the business perform much better.
Some companies don't require you to sign any contract but most of them do. You need to clarify everything before signing it. Check the period of the contract, the scope of service, if the hardware is included, if you're going to get a dedicated IT specialist, etc. A great following-up question is to ask about things that are not included in the contract. Also, you should make a list of the most popular services IT support companies offer so that you have a point of reference.
Don't forget to check the reviews online. There's nothing more reliable than other clients' testimonials. Your IT support company will surely present themselves in glowing terms but you want to find out what others think about them. Be careful though as you may come across some fake reviews.
Conclusion
Most companies will, sooner or later, need to think about hiring an IT support company. It's not about keeping up with the competition, rather standing out of the industry crowd. The process of choosing the right provider may seem a little off-putting and there are numerous obstacles lying in ambush. With a little knowledge and common-sense, however, you'll be prepared by knowing exactly what to expect when hiring an IT support company.