With the number of people using the internet growing every day, e-commerce websites are one of the best ways to draw in new business. Brick & mortar stores are limited by their geographical accessibility and can only reach locals. On the contrary, e-commerce provides you access to an unlimited amount of customers irrespective of their geographic region.
That's why ecommerce Website Development professionals are working round the clock to keep up with emerging trends in e-commerce to enhance the consumer experience.  Here are some of the trends that have taken e-commerce by storm in 2017.
Brick-and-Mortar are back as a supplement to e-commerce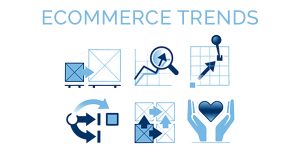 2017 has been the year when consumers demand more convenience from e-commerce vendors. That's why one of the top trends in 2017 is the return of brick-and-mortar stores geared towards offering the same.
This trend has mostly grown in the groceries sector where consumers want to order fresh groceries online, and have them delivered fresh, and on time. E-commerce companies have thus been forced to bring back physical stores that are located close to their customers, and entrench the convenience that comes with shopping online.
E-Commerce websites are now faster
In the past, consumers would abandon online shopping carts because the process was so slow and ineffective. This situation has changed in 2017.  The trend is now moving towards fast processing e-commerce sites that are smartphone optimized. This is all thanks to the integration of artificial intelligence into e-commerce. A good ecommerce website in 2017 is now smart enough to know what you are looking for, and help you do it fast. Artificial intelligence has also increased the speed of payment processing in 2017. Unlike in previous years, it takes very little time to make a payment on an ecommerce site.
Voice-based interfaces have made an entry into e-commerce
In the past, consumers had to manually search for the products they want to buy on e-commerce sites. But 2017, has seen the entry of a new trend, and that's voice-guided search. Today, a shopper can give voice commands to an e-commerce site and they will get everything they are looking for. All this is made possible by the increased usage artificial intelligence in e-commerce Thanks to this technology, e-commerce web developers can develop algorithms that easily interpret voice commands into a language that the computer can understand and execute.  This is a trend that will get better as we go into 2018 and beyond.
Digital payment methods are making an entry into e-commerce
One of the most interesting phenomena of 2017 is bitcoin. You have probably heard of bitcoin and how it is creating millionaires by the day. But away from that, e-commerce has started incorporating these new payment methods into the system. It is now common to see websites that accept bitcoin and other alt-coins, together with the more traditional modes of payments like credit and debit cards.
Subscription payments have grown in acceptance
2017 has seen consumers adopt subscription-based payments for useful, but easy to forget products. E-commerce sites now have automated check-off systems where consumers can schedule their orders, and have them delivered without having to do so manually.  This is a development that is likely to carry on as we enter the festive season.
Image Credits: Go-Globe