Two new Xperia models i.e. Sony D2502 and Sony D2533 are spotted on Indonesian Postel website where in past we have seen so many upcoming Xperia models getting certified and launching soon when they were certified.  Both handsets seem to be different variant of same parent model Sony D25XX where either one of them can be a LTE model and other as HSPA+ model.
No solid info is there on the specifications of Sony D2502 and Sony D2533 but they definitely seem to be mid range devices. Sony has already launched so many entry level and mid range devices this year and upcoming D2502, D2533 will add up in the list soon. We are not expecting any more phablet or 5″ devices from Sony for the time being so both these devices are expected to feature 4.3″-4.6″ screen display with specifications like Adreno 305 GPU, 1 GB RAM, 8 ( or 5 ) MP rear cam.
Sony D2502 and Sony D2533
Check below the certifications of Sony D2502 and Sony D2533 on Indonesian Postel.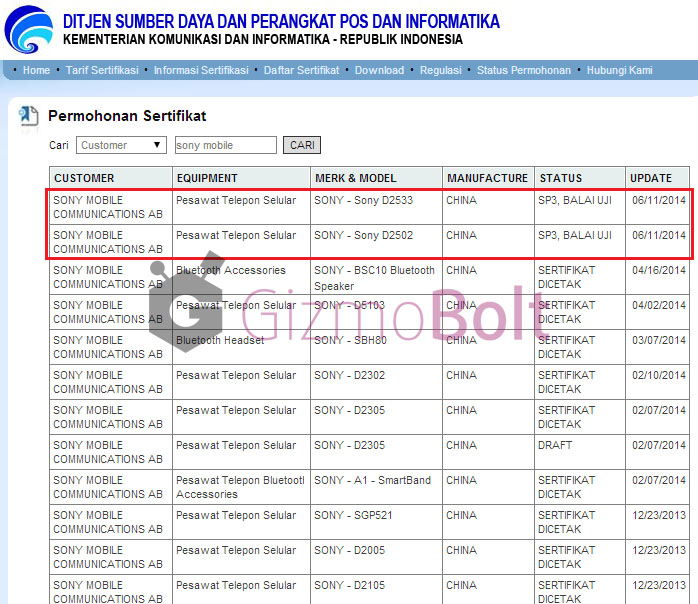 Sony is now days launching smartphones in numbered series like Xperia E, Xperia E1; Xperia M, Xperia M2; Xperia Z, Xperia Z1, Xperia Z2; Xperia T, Xperia T2 Ultra, Xperia T3 so can we expect any other device from Sony this time following the same naming convention.
We will keep you updated as soon as we get more info on existence of Sony D2502 and Sony D2533. What do you think guys is Sony launching too many handsets in short span this year. Drop your comments below.