Android 4.4.4 firmware update is rolling for HTC One M8 in form of 3.28.401.6 OTA update, size is 252.01 MB. It is already confirmed in regions like Georgia, Turkey, India, Finland. Android 4.4.4 3.28.401.6 update brings a lot new feature in camera apps like HTC Eye, Split Capture etc.
As per the changelog included in the update it reads as "The HTC Eye experience provided innovative enhancement for taking photos and making videos.", "Face Tracking " track up tp 4 faces during a video chat", "Split Capture : Record the action in front of you and yourself at the same time", "Face Fusion : Using 2 photos such as a celebrity photo and your selfie, try merging your looks together".
HTC One M8 Android 4.4.4 3.28.401.6 update
Look for the OTA notification to update.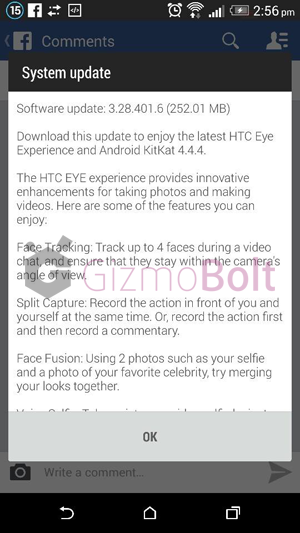 Below you can see the about phone details.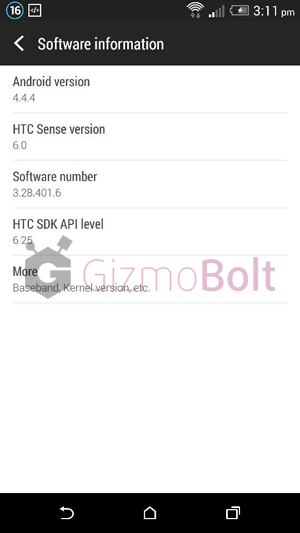 Check out the new feature in camera : Zoe Camera, Selfie, Split Capture, Photo Booth, Pan 360.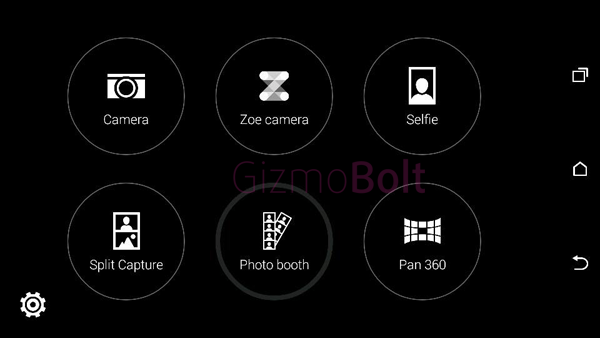 Download Android 4.4.4 3.28.401.6 update OTA Zip
If you haven't got the update yet, download OTA zip file from below and flash it. Older update version 2.22.401.5.
Download OTA_M8_UL_K444_SENSE60_MR_HTC_Europe_3.28.401.6-2.22.401.5_release_394467wxfrd4wkth4wv0d6.zip
If you have got the update, let us know your views on it. Drop your comments below.