Cryptocurrency Trading involves buying and selling of specific cryptocurrency through a crypto exchange (CEX or DEX). Apart from basic principles of demand and supply, factors like quantity in circulation, utility,  regional restrictions, etc. there are various number of factor which affects the pricing of a cryptocurrency.
Bitcoin is the leading cryptocurrency and indirectly affects Altcoins pricing also. Volatility in the pricing of Bitcoin leaves its impact on pricing of Altcoins also. Therefore it becomes extremely necessary to do fundamental research and analysis while making a trade in any cryptocurrency.
Cryptocurrency trading is possible via various exchanges available in the market, like Bitcoin Loophole, CoinSwitch, CoinBase, WazirX, etc. One needs to be extra cautious in terms of keeping the wallet keys safe while making a trade.
Cryptocurrency Trading
Like one studies the charts while trading in financial stocks in the same way, crypto exchange platforms (like WazirX) provide a facility to study charts of crypto currencies also. Patterns, Volume movement in selling and buying, movement of volumes with increase or decrease in price are of utmost importance to understand while making a trade in any cryptocurrency.
It becomes important to understand the bearish and bullish movement of cryptocurrencies before making a trade. As a long term investment (or Swing Trading) popular crypto currencies like Bitcoin, Ethereum, etc. might give you a good return but for intraday traders, Research and Analysis play an important role.
Below we have taken a screenshot of movement of Bitcoin prices at the time of writing this article where decrease in pricing shows less movement in volume (tentatively indicates people are holding the Bitcoin though its pricing is falling down – a bullish trend)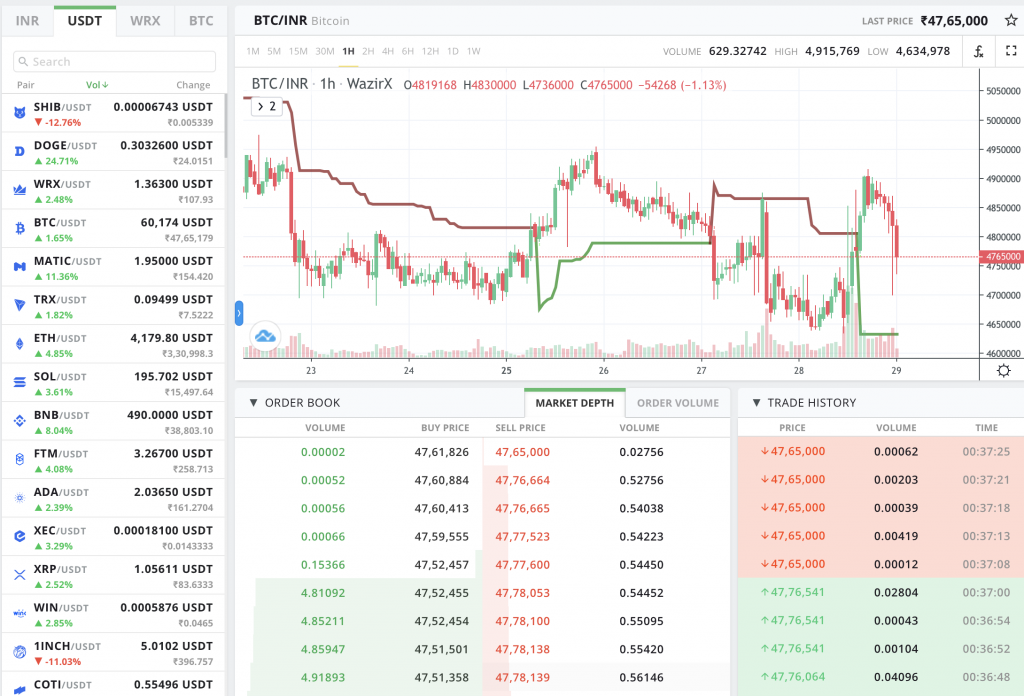 Risk to Reward ratio plays an important role in making a trade and the exposure one has for the value in the trade made.
One needs to be aware about the recent news development regarding any crypto currency and the regional restrictions if any associated with it to get a good entry and exit point.
Let us know what all points you keep in mind before making a trade in any cryptocurrency.