We are living in a digital age where a transition is going on from PC to mobile and with that number of mobile apps keep on growing and smartphones come into the picture. Every smartphone user install number of apps on its device be it Android, iOS or Windows OS; some are worthy and some are not. Apps stores data, cache and other files on your device, say you are using an Android device and then this junk slows your Android device.
There are so many cleaner apps available on Play Store for boosting your Android device's speed, removing junk but today we have chosen "The Cleaner App" for this purpose. We used this app for a while and found it a lot effective.
The Cleaner Android App Review
The Cleaner Android app is available for free on the Play Store. Download it, install it and let's see how this app works.

App UI
The Cleaner Android app follows grey-while looking UI (default Winter free theme) with four tabs on the main screen of the app i.e. allowing you to analyze memory, storage, apps, and conversations.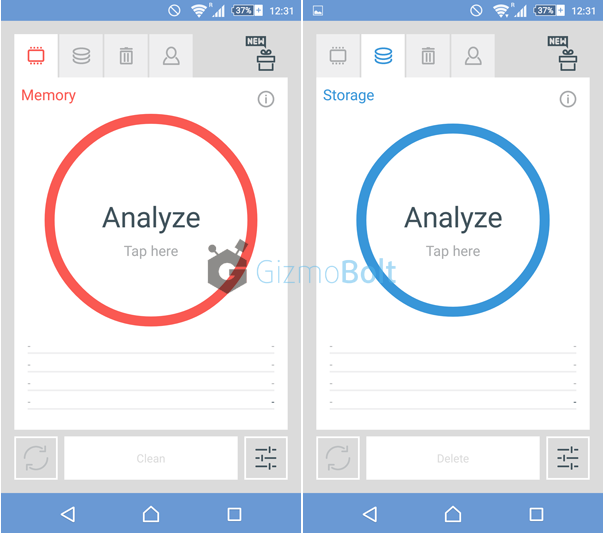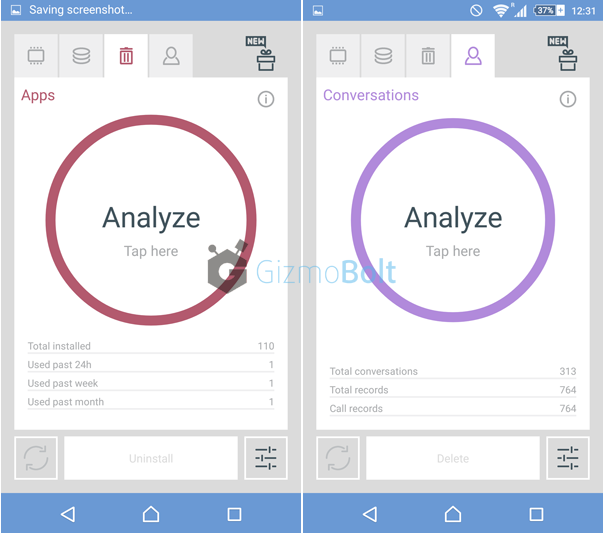 The Cleaner app allows you to add two widgets on the home screen of your Android device.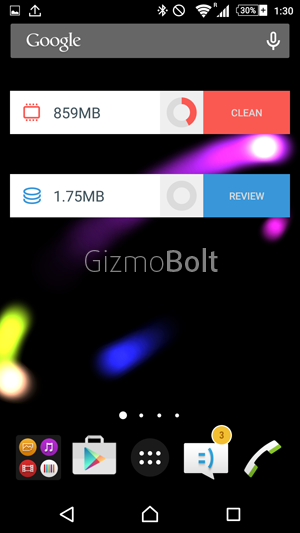 The Cleaner App Settings Menu
The settings menu of The Cleaner app is very simple (in listed form all options). You can manage the notifications (auto-scans).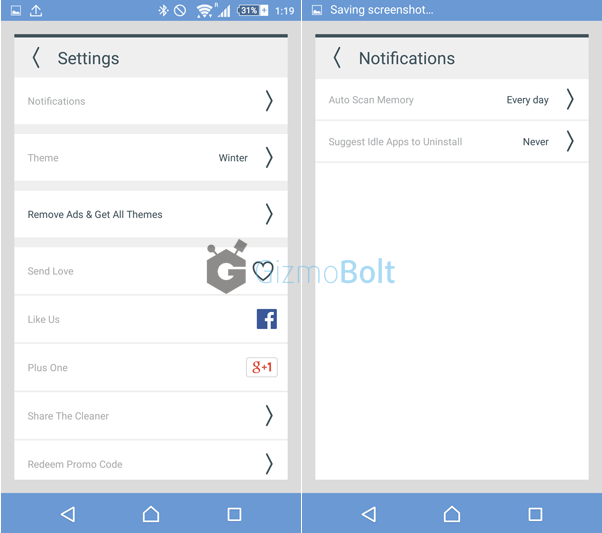 The Default theme on The Cleaner app is "Winter", you can choose other themes but they are paid (you have to buy them).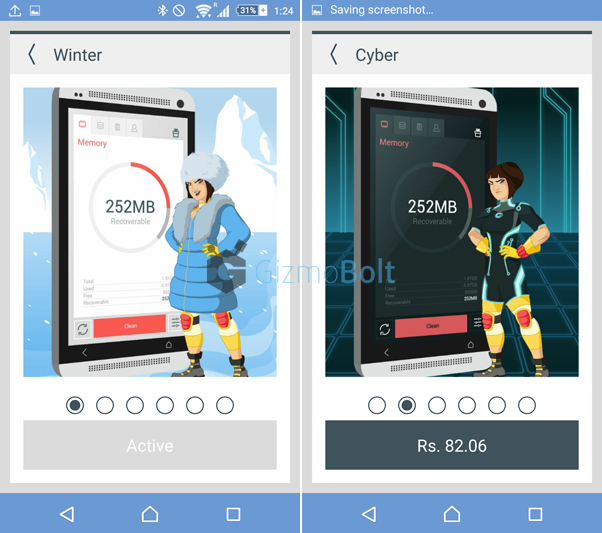 The Cleaner app does offer an option to remove ads and get all theme at price $1.99.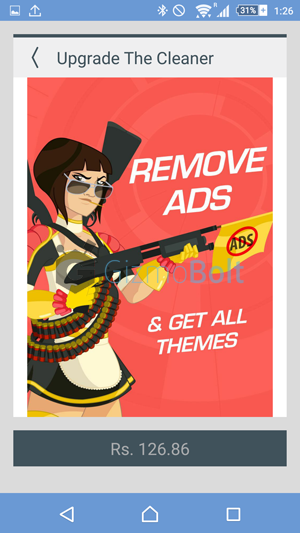 App Working
#1 Cleaning Memory
Tap on "Analyze" button. The Cleaner app will analyze the recoverable memory out of the total memory available. List of apps gets displayed showing the amount of memory consumed by them.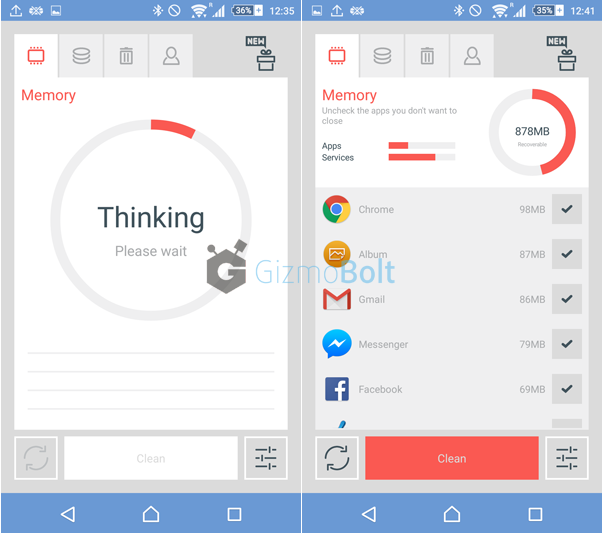 Tap on "Clear" button, the app will work and a certain amount of memory will be recovered for use again.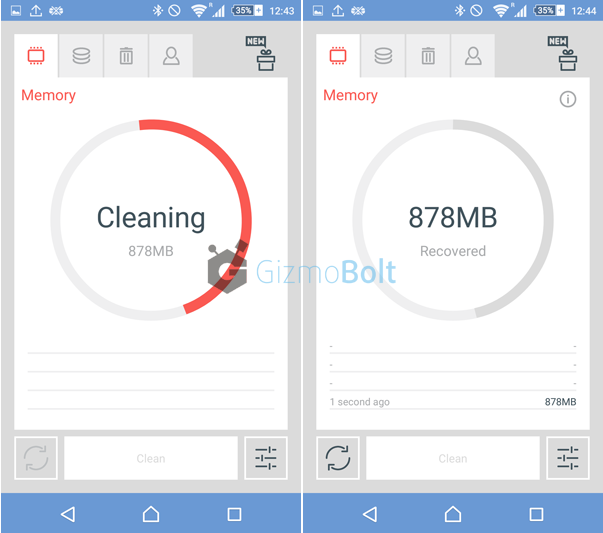 #2 Cleaning Storage Cache
Just swipe from the right side of the screen and the next tabbed option will be displayed.
Tap on "Analyze" button. The Cleaner app will find the junk cache being stored on your Android device's storage. Choose the required app for which you don't want to clear the cache or the required files. Then tap on "Delete" button in blue and you storage will be cleaned from the junk cache stored.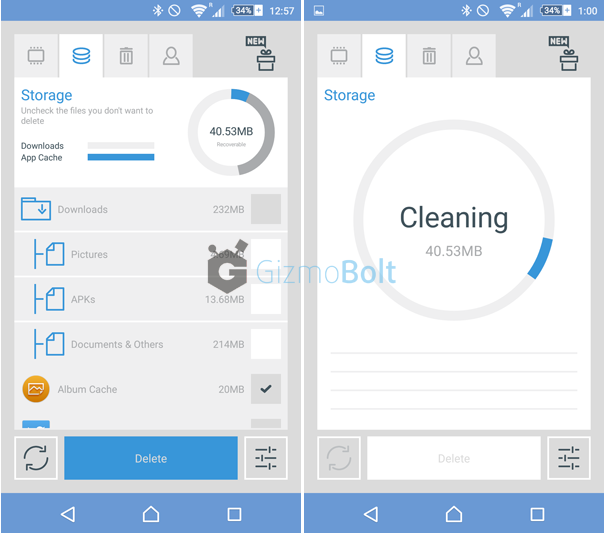 #3 Sorting out stored apps
One of the best feature of The Cleaner app is that it allows you to view all info like apps usage, install date, sorting apps alphabetically, storage usage, call permissions, SMS permissions, contacts permissions, location permissions and camera permissions.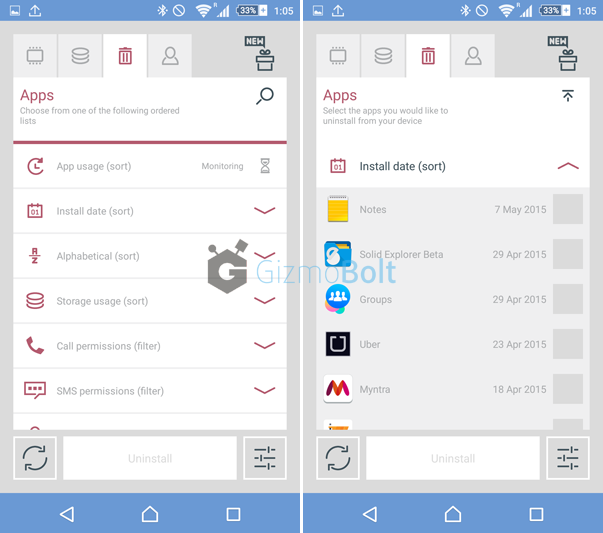 You can view every info in the detailed manner and then can uninstall any app from this section. It will help you to keep a check on which apps you use the most so that you can uninstall the not so required apps which are eating up storage as well as memory on your Android device.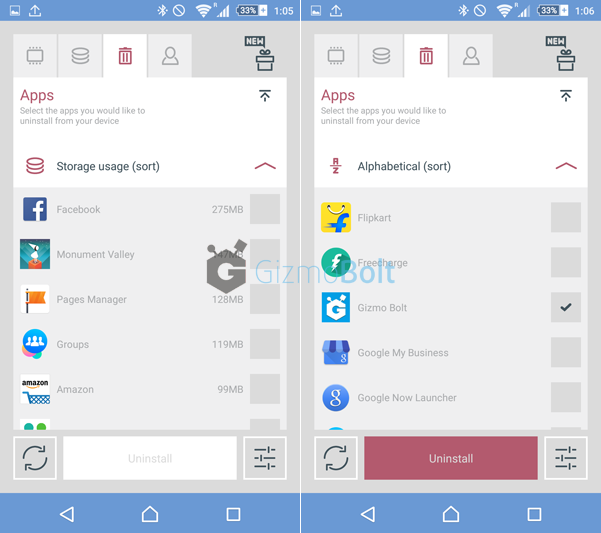 #4 Cleaning memory from Calls/Conversations
This section will help you to see all the calls/SMS records from one place and you can delete the desired ones. Piling up more number of call logs and SMS also eat up memory on your Android device.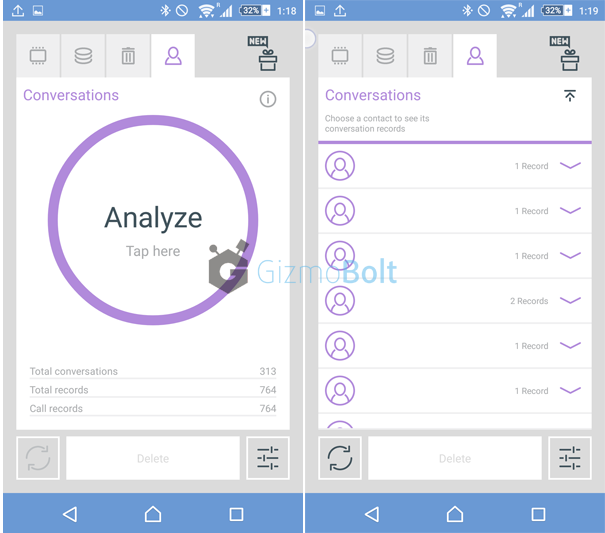 Conclusion 
The Cleaner app gives a good fight to other similar popular apps in the same category like Clean Master & CCleaner but it surely has a light-responsive-fast UI than those apps. In-app ads can be irritating for many users. We are expecting more number of free themes from the app developers in the future.
Smart control over apps stored in the device is a big merit for the app. We were not able to test The Cleaner app on a rooted Android device to see the amount of time it stops an app from restarting while having root access.
If you are looking for a cleaning app for your Android device then The Cleaner app is a worth try. If you are using or have already used The Cleaner app, let us know you review of it. Drop your comments below.