Users of Android phones rely on their device for storing data such as messages, photos, music, videos, contact lists, calendars, and even minutes of meetings. Added to these are the personal messages from relatives and love ones that you think are too precious to just delete. However, there are instances when everything that you have stored in your devices is gone in the wink of an eye. You can drop and break your Android phone, or accidently get it immersed in water. Or your system could be attacked by a virus, causing all files to be gone.
Any of these disasters could happen to your smartphone, causing you much distress. Thanks to modern technology; it is now highly possible to recover data that you have lost due to the causes mentioned. Throughout the years, data recovery software has been developed to help Android users recover important data that they accidentally lost. You can be rest assured that losing data in your Android is not irrevocable. As long as the data are not overwritten, you can easily retrieve them and restore them in your device. For your safety and protection, creating a back up file is recommended.
Nowadays, there is a powerful tool to recover lost data from your smartphone. Known as the Android Data Recovery developed from Androidphonesoft studio, this tool can be downloaded from the website. To allow users a free taste of how the tool works free trial version can be had. For those who find it effective, a full version can be had for minimal price.   This is the most recent product when it comes to data recovery products and is compatible with Android smartphones and tablets.
Key Features of Androidphoensoft Android Data Recovery:
Directly scan your phone's internal memory and SD card for all lost or deleted data.
Recover up to 17+ data types like contacts,messages, photos, videos, songs, call history, whatsapp messages, documents and more…
Preview the scanned data and decide to retrieve.
Support 2000+ Android phone and tablet like Samsung Galaxy, HTC, LG, Sony and more…
He steps for the data recovery process is easy and simple, if you need to retrieve deleted or lost text messages from Android phone,  you can take this guide to learn how to retrieve text message from Android phone:
Tutorial: How to Recover Deleted or Lost Text Messages from Android Phone
Step 1: Download and run the Android SMS Recovery tool and connect your Android phone to PC with USB.  To start the process, connect your device to the computer. Then activate the USB's debugging. Click the start button to have the data analyzed. Decide the mode of recovery to use.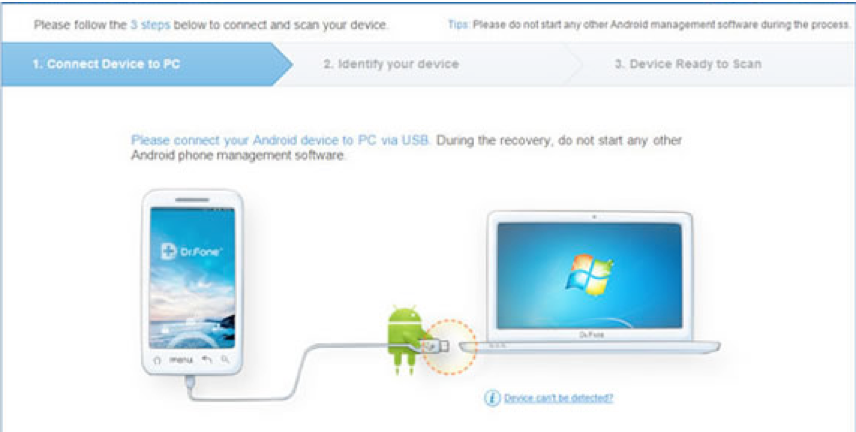 You will need a USB cable and a computer to perform the task. Before you proceed, make sure that the battery of your device is at least 20% full. This is to make sure that the steps will be done from start to finish without any interruptions.
Step 2: Start to Scan your Android phone.  You can just search for selected files or for all files. If these modes fail to recover what you are looking for, use the Advance Search mode. This will take a bit of time but you will be able to find what you are looking for. A prompt will tell you that it is now ready to scan.  A list of the files contained in your device will be shown.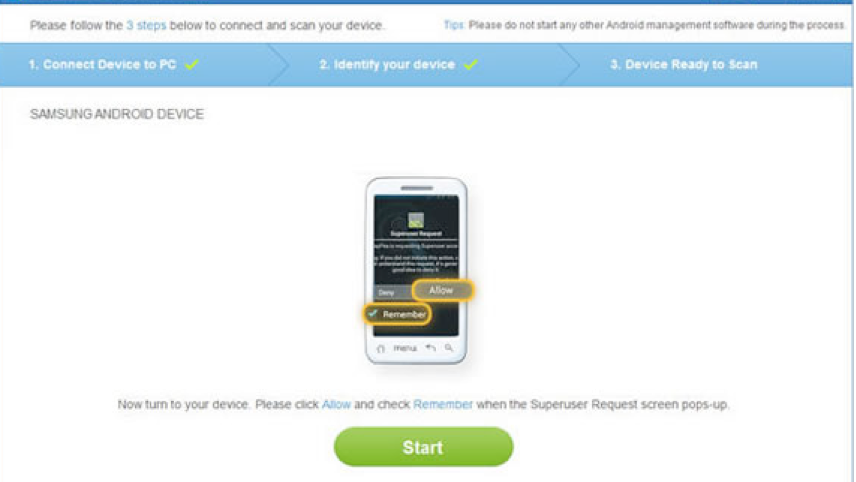 Step3: Preview the scanned text messages and start to retrieve text messages from Android phone. When the scan is finished, you can hit "text messages" in the left panel. You can go though the list and select the ones that you want to recover. The files will be shown and you can save them to the computer and t your device.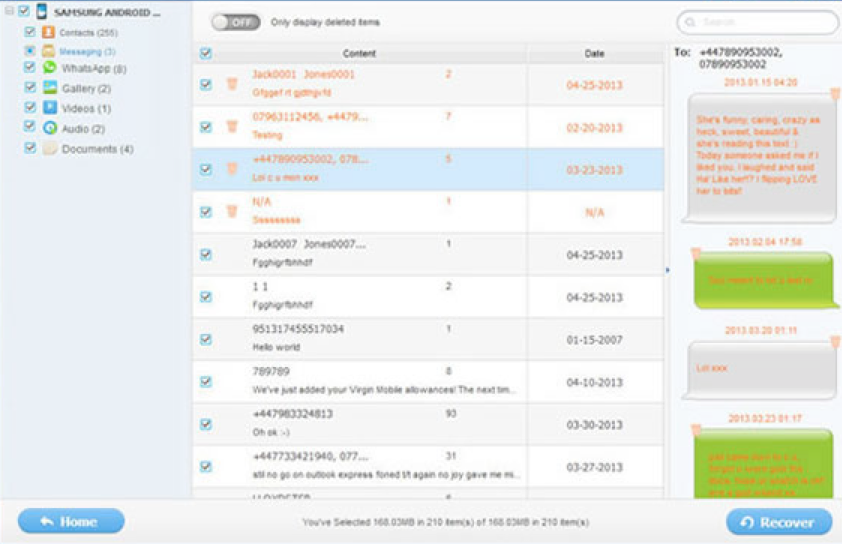 The Android Data Recovery program is compatible with all sorts of Androids. After retrieving your data, you can save them in your computer as backup.
Stop worrying whenever you accidentally delete data because you can now retrieve them instantly through the help of Androidphonesoft.com Android Data Recovery tool.