Gone are the days when a dozen cables were required to project a single image onto another screen. While some devices, such as the Nintendo Wii-U, have an in-built feature of allowing users to project whatever is on their devices onto a larger TV screen, now other devices can also do the same without having to use even an HDMI cable. Tronsmart T1000 allows users to wirelessly connect two screens together without the inconvenience of all those wires and cables.
This simple but useful item is available at GearBest.com. With a price of $24.09 on Gearbest, it isn't a bad bargain at all. Although is it similar to Google's Chrome cast, it has better streaming options; Tronsmart T1000 not only allows websites to be shown on TV screens by using a tablet, PC or phone, but it also enables users to stream videos, games, audio, pictures, PDF files as well as MS Office files onto a TV screen via a variety of devices.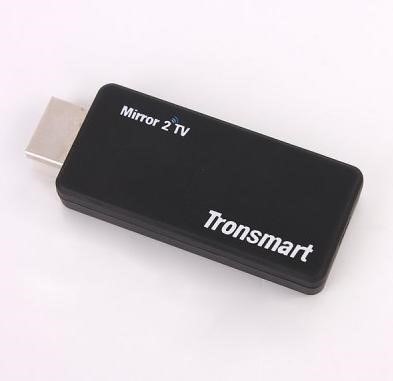 These devices basically include the more commonly used ones such as Android phones or tablets, iOS devices as well as Windows or Mac PC / Note (Notebook). Although it was a bit tricky to get started with Apple iOS devices, now, Tronsmart T1000 works just as well with iOS as with any other system.
As its alternate name (TronsmartMirror2TV) suggests, the dongle allows the TV screen to "mirror" the smaller screen. Therefore, even without WiFi, users can project files that are already on their tablets, phones etc., such as videos or PDF files etc. Wouldn't it be so relieving to play that game without everyone in the room looking over your shoulder? Instead, they could just stare at the TV screen while you play in peace.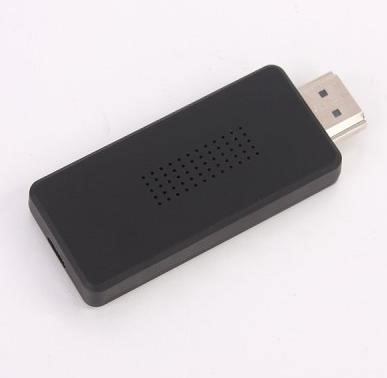 One could doubt the quality of the "mirroring", but users may rest assured that as long as they are using an HDTV, they are going to enjoy a full 1080p HD resolution, but if their TV has restrictions when it comes to resolution quality, they could easily choose to stream in 780p by simply changing the settings.
Setting Up Tronsmart T1000
Setting up Tronsmart T1000 is no secret. Simply plug the dongle into the HDMI port of the TV and switch the TV's input to HDMI. Afterwards, download the APP in order to sync the TV to the tablet / phone being used. And voila! It's all set to go.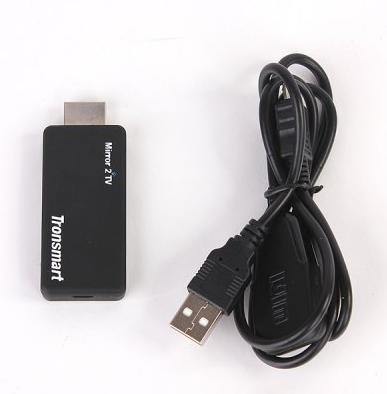 Formats That Tronsmart T1000 Supports
Tronsmart T1000 allows sharing files of pretty much all the common formats.
For videos, it supports avi, .mkv, .dat, .mpg, .mov, .mp4, .rmvb, .wmv, .divx, .ts, .vob, .mpeg and .rm.
As for pictures, JPEG and BMP will cause no trouble in this system.
While the supported audio formats include MP1/MP2/MP3, WMA, OGG, ADPCM-WAV, PCM-WAV, AAC, voice recordings only allow for .mp3 or .wav. So, buy this amazing product right now and enjoy it with all the functions.