While the peckish are thinking about how to best utilize leftovers four days after Thanksgiving, those ravenous for deals have something more important on their minds. Cyber Monday marks the end of the Thanksgiving celebrations, but it — along with Black Friday — act as the starter's pistol to the holiday shopping season.
If you're lucky, you can find budget-saving deals on gifts for friends, family, and — let's be honest — yourself. Though most retailers are now celebrating Cyber Monday in some kind of fashion, it's not always easy to find the best discounts on the things you need. If you expect to come out as a winner this Thanksgiving weekend, you need to follow these simple dos and don'ts to Cyber Monday.
Prepare early
With Cyber Monday in its name, you would think these online deals would be limited to the Monday following Thanksgiving. While it certainly started that way, it has since evolved to cover far more than a measly day. Some of the biggest retailers start the celebrations early, with an entire week devoted to their Thanksgiving deals. Others combine Cyber Monday with Black Friday to create an event that lasts the entire Thanksgiving weekend.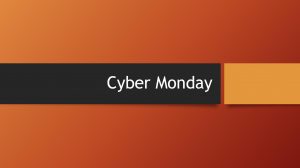 There's no rulebook for these deals, so you'll have to do some research to figure out when and where the items on your list go on sale. CNETand Engadget usually round upthe best deals to help you find savings, but you may still have to do some digital sleuthing beyond these tech giants' websites.
Don't be gullible
For years, the meaning behind Black Friday's name was tied to retailers' finances. According to the legend, retailers would run at a loss (or in the red) for the entire year until Thanksgiving, at which point they would start turning a profit. In other words, their books would go into the black once holiday shoppers took to the stores after gorging on turkey. While some intrepid historians have debunked this as a clever myth — you can find the real reason why Black Friday is called what it is here— it provides a good reminder that retailers are trying to make money over the Thanksgiving weekend.
If you find a sale that makes you wonder how the store is turning a profit, you should be suspicious. If a sale is too good to be true, it probably is.
Let's take a look at last year's biggest scam when fraudsters advertised free iPhone Xs as part of their Thanksgiving celebration. In your rush to nab a free iPhone X, it would be easy to overlook that Apple would never sell their flagship handset at this price point. As the hottest phone that year, the iPhone X was also the most expensive smartphone. It would be naïve to think Apple would set this high price only to give the phone away for free.
Not even iPhone accessories like iPhone wraps come for free. There's no doubt some companies will take the holiday as an opportunity to reveal new products like 2017's red dragonfrom dbrand, but prices will otherwise remain relatively normal for the time of year. When you deck out your mobile devicein a wrap, you can expect to pay less than $15 for an entire design. This is a realistic bargain for an accessory that wraps around the X. A free smartphone with no purchase necessary — just your contact and credit card information — is not.
Do be careful
Most scams aren't sophisticated. You should be able to catch them if you step back from the frenzy and really think about what you're seeing. That being said, fake Cyber Monday sales aren't always as obvious the free iPhone X. Sometimes the signs are a little less obvious — like a site that's missing its verified certificates or a contact page that only offers a Gmail account.
To save yourself from sharing your credit card number with a scammer, take some time learning how to recognize the signs of a Cyber Mondaycon. In most cases, you can protect yourself by keeping these tips in mind:
Don't click email links shared by an unknown sender and avoid URLs that look unfamiliar
If you are willing to give a new online retailer a chance, you should check what other customers have to say about their service
A quick search on Google should drum up any bad press.
When you're ready to cash out, make sure you're shopping from a website that's verified with a dependable encryption that will protect your payment information.
Don't shop without a budget
It's easy to forget you're dealing with real money when you're clicking buttons on a screen. Psychologists say it's because you aren't physically handing over bills, so the loss of your cash is less meaningful. The digital transaction is a much more esoteric experience whereby your credit card sends digital currencies to the retailer. At the time of the sale, you don't see the change in your accounts. You just click the confirm order button, and you receive a confirmation of your order.
Research shows shoppers are stingier with cash because they can see their wealth drop with every bill they spend. Just because this process isn't as obvious when you're online doesn't mean it isn't happening. You're responsible for paying off every line on your credit card statement.
You can help avoid sinking into debt over Cyber Monday by using a budget to figure out your limits for the holiday. The Every Dollar has a holiday spending guideline to help you manage your money during these expensive months.
Sure, Cyber Monday promises the best savings of the year, but only the most organized shopper can find them. Other less dedicated shoppers may settle for less impressive discounts. Luckily, preparing for the Thanksgiving weekend doesn't take much more than what's outlined in these dos and don'ts. Try them out for yourself this year to see the difference.