Xperia Z3 and Xperia Z3 Compact are finally coming to India as Sony India has started sending press invites for the launch of their latest Xperia flagship series in India on Thursday, September 25, 2014, at 2:15 p.m, New Delhi.
Mr. Kenichiro Hibi, Managing Director, Sony India, will address the press conference just like the last time he did when Xperia Z2 was launched. It is believed that for the time being only Xperia Z3 and Xperia Z3 Compact will be unveiled and Xperia Z3 Tablet Compact and Sony SmartWatch 3 will come later at the end of this year.
Xperia Z3 launch event on 25 Sept in India
Below you can see the new copy pf press invite which Sony India sent to GizmoBolt Team which says "The Time to Demand great is coming" #DemandGreat
[
UPDATE
]
Timing of event has been changed to 2.15 PM now from 12.30 PM now.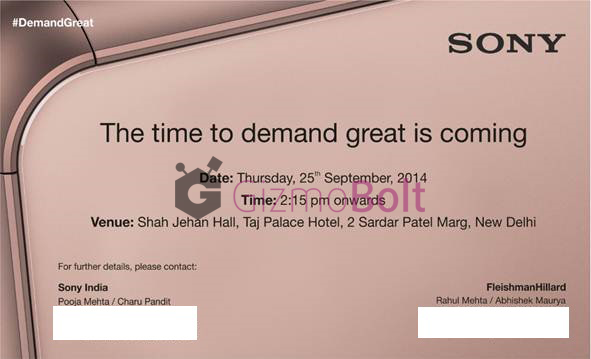 Xperia Z3 Price in India is still not revealed yet, at the time of writing this article, Xperia Z2 stands at Rs 45990 i.e. $756 as mentioned on Sony India site so we are expecting Xperia Z3 to hit price tag of Rs 49990 ( Rs 50000 / $821 ) or somewhat around it. Rs 5000 / $82 price difference is expected to be there between Xperia Z3 and Xperia Z3 Compact
4g LTE model of Xperia Z3 will be hitting Indian market this time.
We will be live blogging the event as it take place on 25 Sept and hands on Xperia Z3 will follow up. Drop your comments below if you have anything to ask.