Xperia Z, the much hyped phone from Sony, which it was boasting for its water and dust resistant ability. Well we have brought something amazing for you today…
Xperia Z C6603 / C6602 are IP57 certified phones i.e. dust and water-resistant up to 1 meter and 30 minutes as mentioned in manual from Sony, so this makes Xperia Z only a water-resistant phone not a water proof phone. So what to do if in actual your Xperia Z gets in water or got wet in rain, let's check out.
Are you freaked out with some issues that has come in your Xperia Z as when it got in water, well check out our post below to see what can be the issues and their possible solution.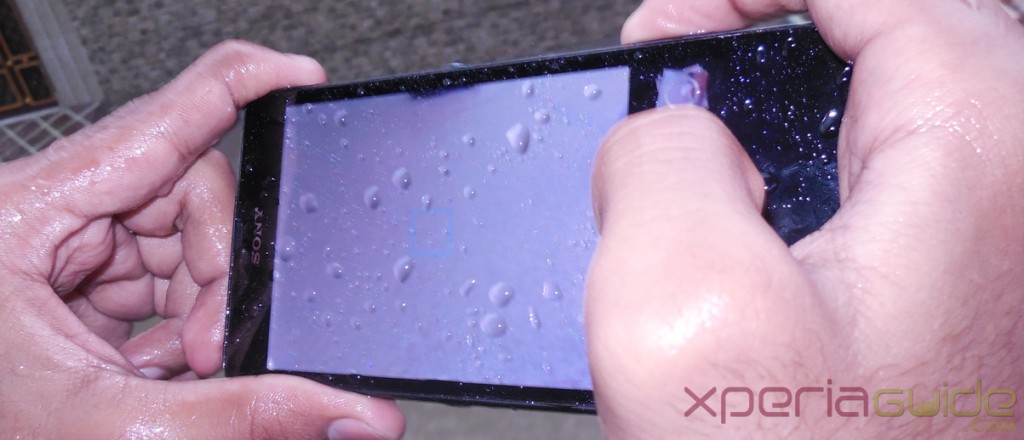 Xperia Z Getting wet in Rain [ Outcomes ]
To test the water-resistant ability of Xperia Z C6602, I took it with myself to let my phone enjoy in rain 🙂 Well the phone was completely wet in rain, I took some pretty cool pictures and shot video, all was working fine 🙂
Xperia Z C6602 touch was working smooth in rain also, water was all over the screen.

Camera works great after getting wet, no effects on photos and videos.
I was amazed to see camera and other things working all fine in rain 🙂
P.S. My Xperia Z C6602 got wet in rain, we didn't dipped it in water pool 😛
Problems in Xperia Z After getting Wet
Well as all the external ports of Xperia Z C6602 are completely covered by flap, which leaves, external speaker grill, microphone and hearing speaker uncovered, so definitely they gonna develop some issues.
We got only one issue i.e. low speaker volume on our Xperia Z C6602 after getting wet in rain.
Microphone working fine.
Gearing speaker is same as before.
So we were not afraid that our speaker has got damaged or anything else as we were prepared for all this. Let's see the solution of this issue…
Xperia Z Low Speaker Volume Problem Solution after getting in Water
What to do after your Xperia Z has got in contact with water…
Clean it with a dry piece of cloth.

Open all the flaps of ports and let some air get in, in case there is any water it will dry out. 

Blow some air from your mouth on the hearing speaker and other speaker on side to get some water come out.
Genuine Condition to happen…
Now play any song, you will see that speaker's volume has got very low…You may not able to hear anything on that. Take your Xperia Z close to your ear and listen, if speaker is playing music then it's working fine, now see what to do.
Keep your phone aside for 1-4 hours, in the meantime water in speaker will dry out and your phone's speaker will get back to their normal loud 🙂

If the loudness don't get back to normal in that time, do not panic. Some Xperia Z users reported that it came back to normal loudness in 1-2 days automatically depending on amount of water got in.
If in case your Xperia Z speaker volume don't get back in that time also then what to do ?
Put your Xperia Z inside a container of dry rice for some hours. Rice will soak out water from your phone if there is any left and your phone's speaker will get back to normal 🙂
All users of Xperia Z, ZR and Z Ultra should do the same thing in case water has got in their phone.
Well I wrote this post on my experience with my Xperia Z C6602, so in case any issues have come in your Xperia Z due to water, please  let us know in comments, we will help you out sure 🙂