Sony has officially announced its first portable wireless charger for Qi-compatible devices in Singapore exclusively. Sony CP-W5 portable wireless charger can charge any Qi technology enabled device and other devices with the help of USB connector. If you are charging your device via wireless option than output will be 1.0A while if connected via USB port output will be 1.5A which is a standard rating which we get though AC Adapters also.
Sony CP-W5 portable wireless charger packs 5000 mAh rechargeable Li-ion battery inside it which can be easily charged 1000 times. It has Sony's Hybrid-Gel Technology which will enable it to retain 90% of its capacity at 1000 charges. At present it is only available in white color and will be on sale April 2014 onwards in Singapore while its availability in other regions of world is still unknown.
What we guess is as seen with other Qi chargers for Xperia devices, there may also be a special Qi enabled back phone case from Sony which will have charging plate embedded inside it and after putting case on phone and placing it on Sony CP-W5 portable wireless charger you can charge your phone. As mentioned by Sony both wireless charging and USB charging can't be done at same time.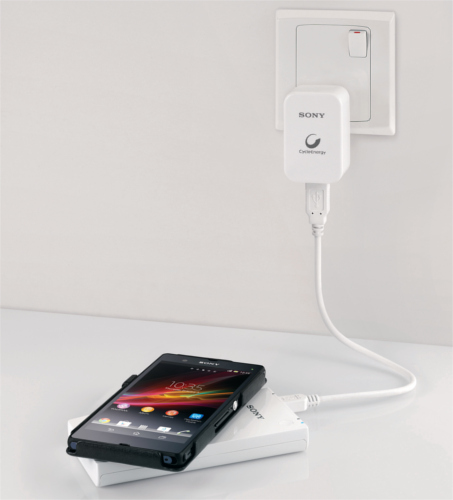 Sony CP-W5 portable wireless charger Technical specifications
It weighs around 188 grams, dimensions are 66.0 x 130.0 x 16.5 mm, operating temp 0-35 degree Celsius, Input – DC5V, 0.5A ~ 1.5A, Output – DC 5V, 1.5A (Max), Supply time – Approx. 120 min (Max 1.5A).
Sony CP-W5 portable wireless charger price is still unknown, we will let you know as soon as we get more info the pricing and exact release date of it.
What do you think of Sony CP-W5 portable wireless charger guys, let us know. Drop your comments below.
Source – Sony SG