A few days back we came across a very unique type of headphone "Skunk Juice LS-100 Headphones" which comes with a patented magnetic technology / connector allowing you to connect as many as 4 headphones so that you can share the same audio with 4 different persons. Skunk Juice has so many headphones listed on their product page and almost all comes with same magnetic connectors allowing you to make a chain of headphones for listening same audio.
Skunk Juice LS-100 Headphones are over the ear type of headphones available in white-black color combination with adjustable grip band and ear phones with inbuilt speaker ( as usual ). Skunk Juice LS-100 Headphones costs $59.99 inclusive of taxes, ships worldwide from USA. Let's see what it has to offer us.
Today we have posted a preliminary review of Skunk Juice LS-100 Headphones, tested with our Xperia Z1 and other Sony phones, working great with all devices.
[ REVIEW ] Skunk Juice LS-100 Headphones
Skunk Juice LS-100 Headphones comes in a nice black box.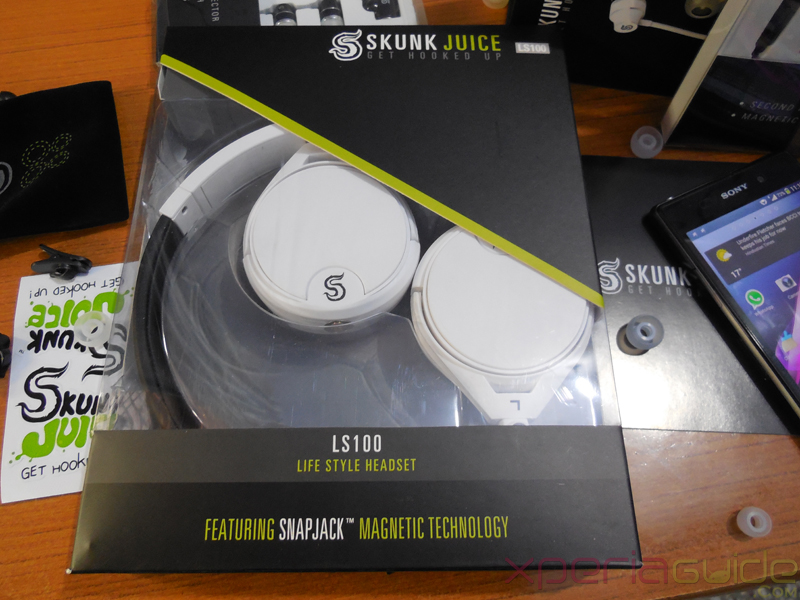 Product features and specifications mentioned on the back side of cover. Inside the box you will get 1 Skunk Juice LS-100 Headphones and two magnetic connecting cables.
Skunk Juice LS-100 Headphones Technical Specs
Speaker Diameter – 40 mm.
Frequency Range – 20-20K Hz.
Impedance – 32 Ohms.
Cable Length – 122 cm.
Plug Type – 3.5 mm Gold Plated.
Sensitivity – 114 dB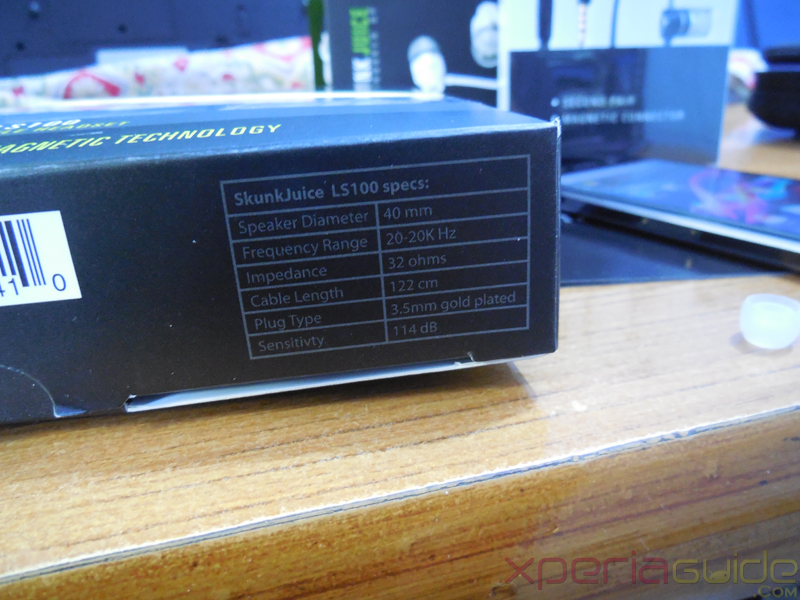 After opening the package, headphones are like this ( ear phone folded upside down ).
Below you can see the small magnetic plug connector ( 12 cm in length ) and another bigger magnetic connector cable ( 110 cm in length ). Small cable is inserted in phone's 3.5 mm headphone jack and then its magnetic end is connected to either of the big cable's magnetic connector end.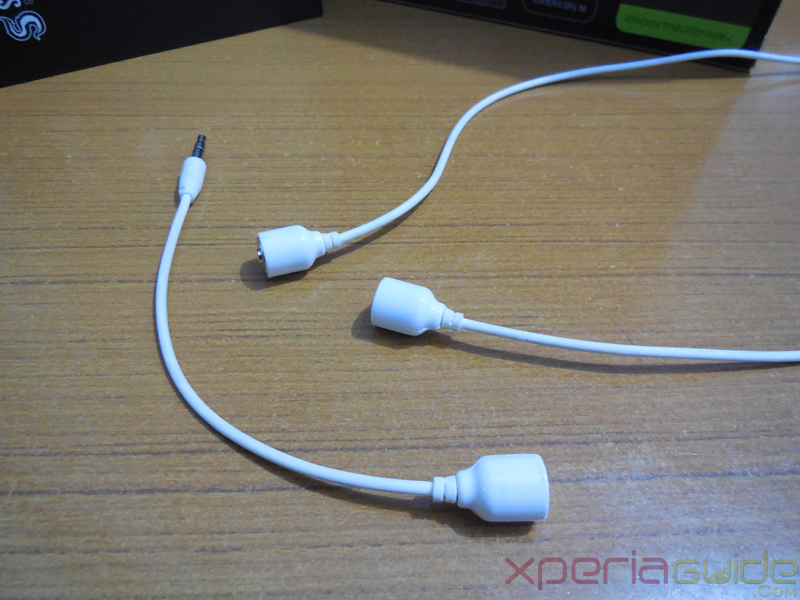 Magnetic connectors are provided at bottom of each ear phone of Skunk Juice LS-100 Headphones.
Adjustable Skunk Juice LS-100 Headphones, both ear phone can be moved in circular motion.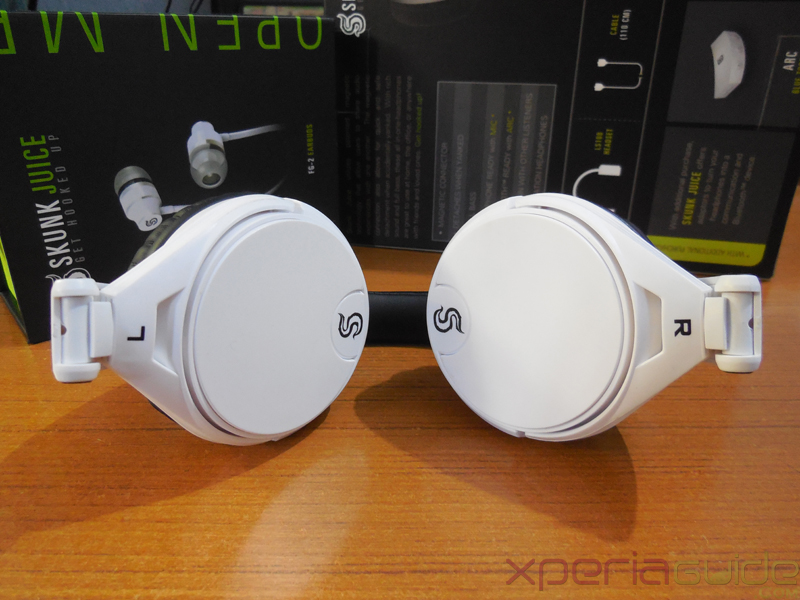 Soft rubber cushion with threaded speaker cloth. You can see the magnetic connecting wire attached to one end of ear phone.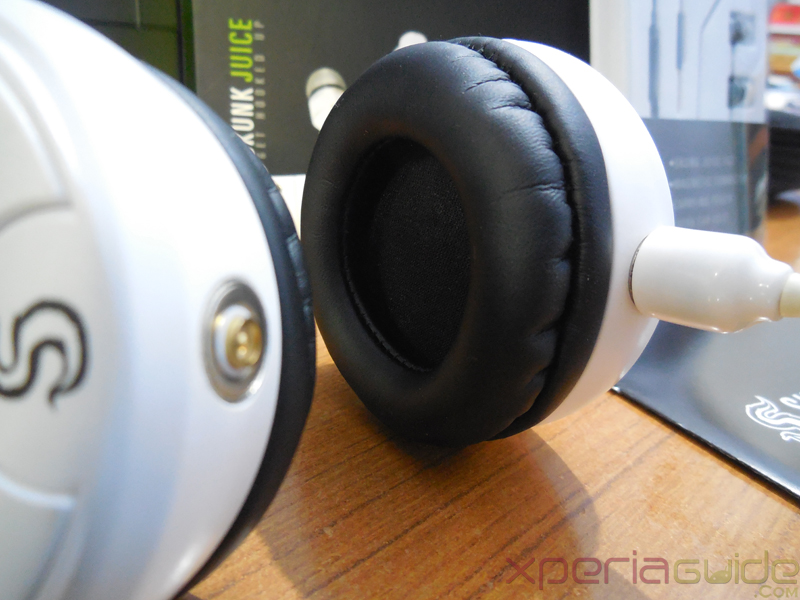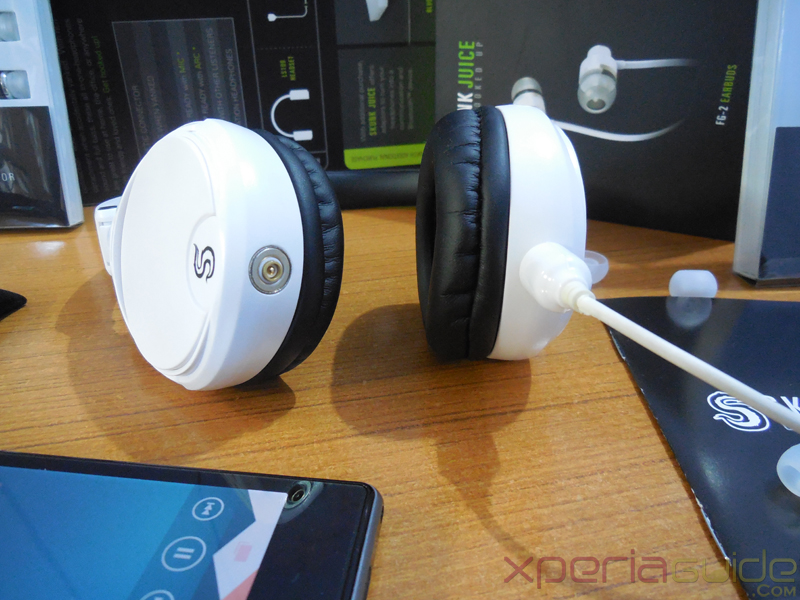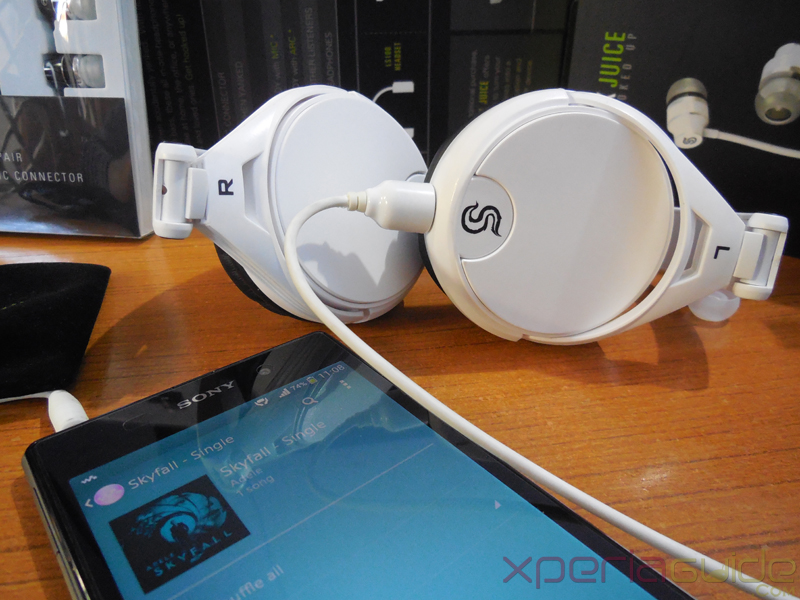 Two magnetic connectors of both small and large connecting cable attached to each other.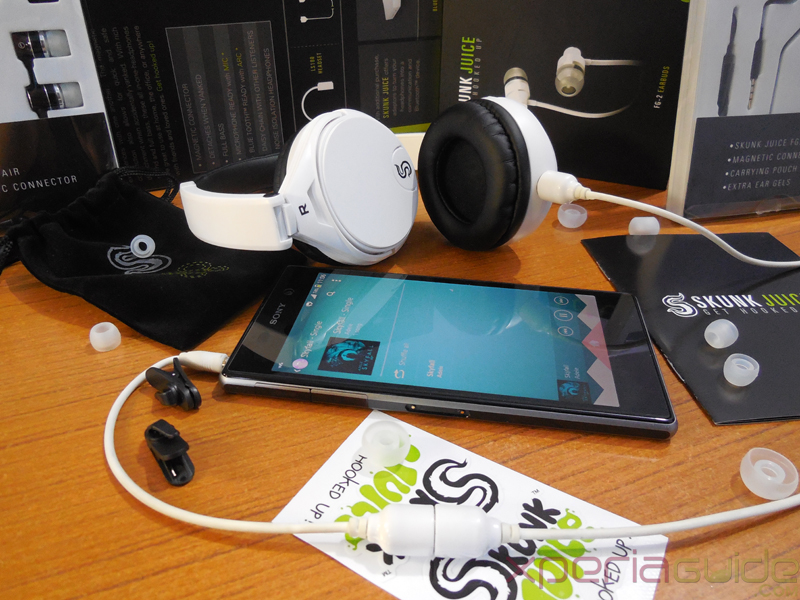 Adjustable over the ear grip can be seen below in black color ( outer layer of made up of same rubber cushion which is present in ear phone ).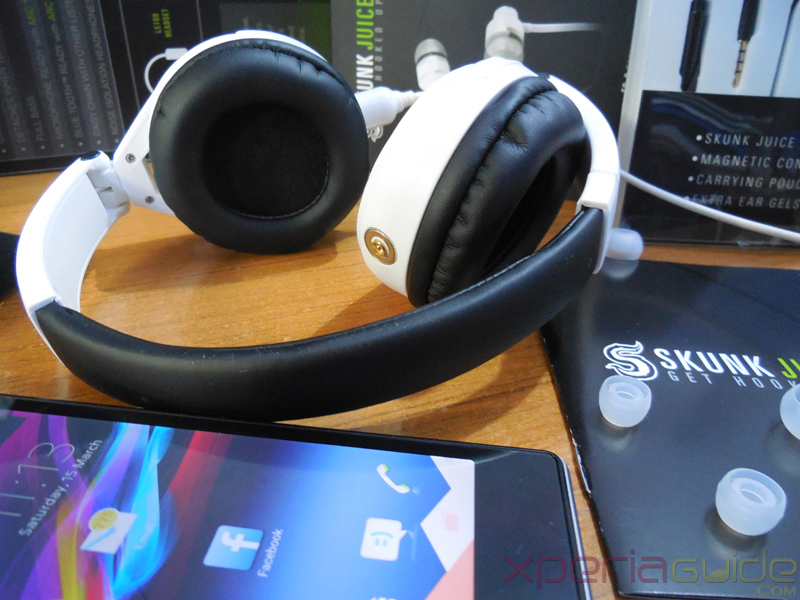 You can see below Skunk Juice, get hooked up tattoos.
As soon as you will plug in the Skunk Juice LS-100 Headphones in any Sony Xperia smartphone, Smart Connect app will recognize the headphones.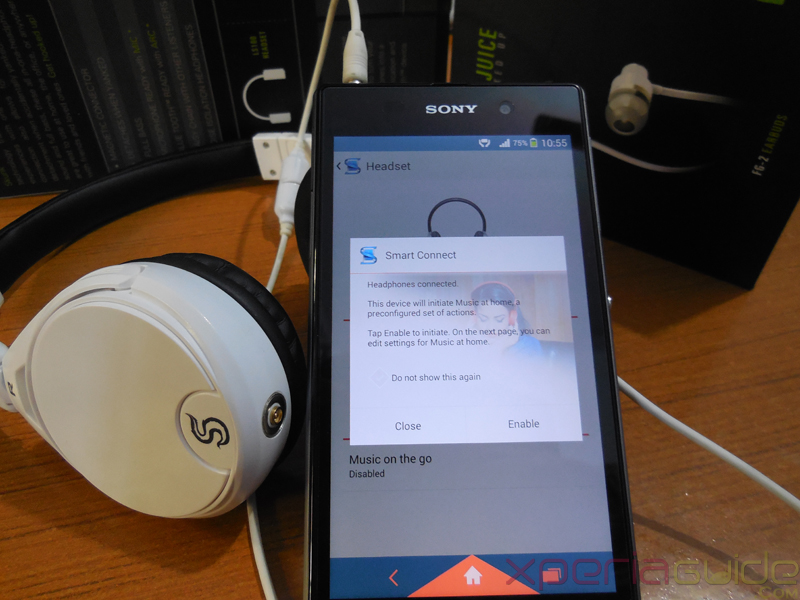 Adjust the headset functions which you want to enable with Skunk Juice LS-100 Headphones connectivity.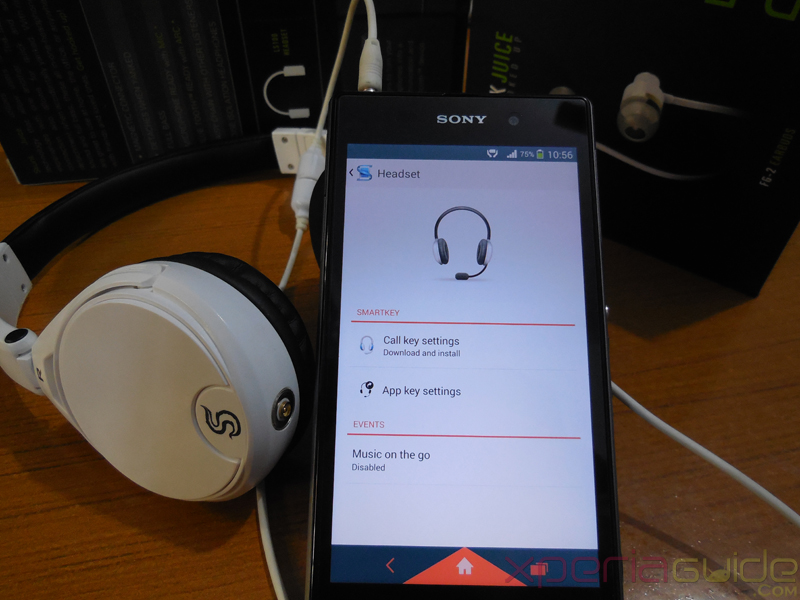 3.5 mm headphone connectivity.
Pros
High Quality Sound
Clear loud sound with perfect bass
Comfortable ear phone cushions.
Can be connected to 4 headphones at a single time to form a chain.
Foldable earphones make easy to carry them.
Cons
No specific demerit we found in Skunk Juice LS-100 Headphones, as they come with magnetic connectors we will advise users not to pull the connecting wires with force to separate them, pull them gently or wire will come out of connector.
Overall Skunk Juice LS-100 Headphones are nice earphones, if you have ever used them or using any similar magnetic connector headphones then let us know. Do let us know your views regarding these headphones. Drop your comments below.