Sony Mobile has officially rolled out android 4.4.2 KitKat firmware update for Xperia E1 Dual and Xperia E1, making the announcement on their blog today. Xperia E1 and E1 Dual users can now update their handset over KitKat, confirmed in India and European regions.
Xperia E1 D2004 and D2005 has got 20.1.A.0.47 firmware while Xperia E1 Dual D2104 and D2105 has got 20.1.B.0.64 firmware update. Update is available over PC Companion, No OTA seen yet.
Sony has confirmed giving app to SD card feature for Xperia E1 and Xperia E1 Dual in this update saying this feature will be useful for devices with low internal memory. It was first spotted in Xperia T2 Ultra's KitKat update recently.
As a part of changelog, new transparent status and navigation bar spotted, new Xperia home launcher, new Xperia themes, tweaked Xperia keyboard, Xperia lockscreen effects and boot animation.
New Sony Media apps along with updated Camera app is present. For PlayStation 4 users, new UI is introduced. Smoother UI, performance enhancement, built-in screenshot taking option in power menu now.
Xperia E1 and E1 Dual Android KitKat official changelog as seen on their product.
Android 4.4 KitKat with many new features and enhancements
Improved software stability giving smoother performance
Camera improvements for enhanced performance
Personalise your messages now with colourful emojis
Take screenshots easily with the built-in screenshot menu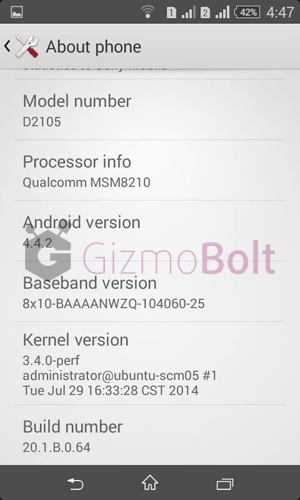 Sony has also promised Android 4.4.2 KitKat update for Xperia M2 and Xperia M2 Dual which will soon be rolled out. Meanwhile Xperia SP users are still waiting for any news on KitKat update and it seems Sony has plans for Xperia 2014 lineup first.
Soon we will post the Xperia E1 20.1.A.0.47 firmware ftf and Xperia E1 Dual 20.1.B.0.64 firmware ftf for manual flashing of firmware.
If you have updated your Xperia E1 and Xperia E1 Dual on android 4.4.2 KitKat update, let us know your review on it. Facing any bugs. Drop your comments below.