This post brought to you by Straight Talk Wireless. The content and opinions expressed below are that of Gizmo Bolt.
Are you using a handset with carrier plan ? Are you thinking why are you on a carrier plan rather than a GSM plan because of bigger hefty bills well if you are are planning to switch, wait. Have you heard of Straight Talk Wireless? Straight Talk Wireless offers a non-contract plan for your carrier handset. All manufacturers like Apple, Samsung, HTC etc are included in there service.
Choose the service plan as per your budget. As per stats 25% Americans are using non contract wireless service and many carriers are coming under same service. 
Don't sign any contract, using same phone or buy new phone online at Straight Talk Wireless or at Walmart store. Just buy any service plan from Straight Talk Wireless. When you get on Straight Talk Wireless, you can retain our old number with your device and same carrier as before. 99.6% nation wide coverage is provided with 4G LTE high speed network in America.
What you get is same phone on your same network but at half cost. The most popular plan is $45 unlimited plan including data ( 3 GB of data ), text and talk ( this plan offers the most high speed data of any $45 plan ). There is also an option to choose basic $30 plan which includes 1500 minutes talk, unlimited text and 100 MB of data.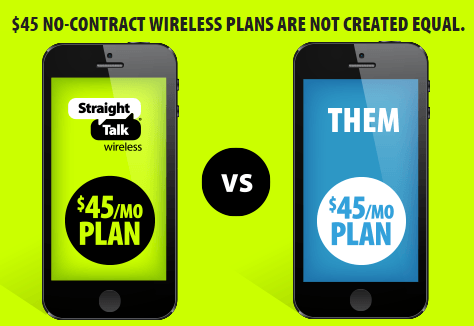 Refiling your plan is easy, just sign up for monthly auto refill program or choose an option to refill after every 30 days. Go to StraightTalk.com and choose you refill options or visit your nearest Walmart Store to buy the service plan card.
So why to shed those extra bucks from your pocket when you can save a lot on your carrier handset plans. Switch to Straight Talk Wireless today and see by yourself. What we appreciated was the reduced cost of plans.
Try Straight Talk Wireless today and share your experience with us in comments.