Technology has become a major part of all our lives; and there are quite a few famous people out there who owe their fame purely to the internet, and the tech that's helped create different phenomena such as Twitter, Instagram and Facebook.
Here are just a few of the celebs who might never have been famous but for the existence of the internet.
E L James
There are lots of struggling authors out there, who will never see their creative ideas make it to print. E L James shot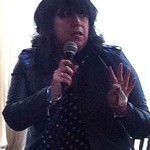 to fame when people started buying and reading Fifty Shades of Grey, and the trilogy has now sold more than 70 million copies globally.
But few of her readers will know that the trilogy came into existence as a piece of fan fiction inspired by Twilight.
James wrote the beginnings of Shades of Grey under the pseudonym Snowqueens Icedragon.
Dan Bilzerian
Dan is a pro poker player who first came to the world's attention when he took part in the 2009 World Series of Poker Main Event, featuring in six episodes of the linked TV show. He only finished in 180th place. But what Dan has become famous for are his Instagram posts which mainly focus on Dan having a great time with a load of scantily clad girls, living a life full of opulence thanks to his continued success at the poker table.
He's now also featuring as a rival to bgo's The Boss – Verne Troyer – in the gaming site's most recent TV ad, which sees Dan Bilzerian arriving at the bgo casino, accompanied by a beautiful girl and a gorilla playing a kind of bodyguard. The collaboration between Bilzerian and bgo sees the confirmation of his fame being as much about his good time lifestyle as much as his skill at playing poker.
Ted Williams
Homeless man Ted Williams owes his fame to an interview that was posted on YouTube. After the video became a viral hit, Ted's 'golden voice' was discovered. He has since been a voice-over artist for Kraft Mac & Cheese ads, for MSNBC and appeared on the Today Show. Ted's also checked into a rehab clinic – which is a typical 'celeb' kind of thing to do anyway.
Grumpy Cat
Even animals can become famous thanks to the internet. Grumpy Cat's miserable expression went viral when her owner posted her photo on Reddit in 2012. Since then, the moggy has appeared on Good Morning America and Today, has her own book deal and has even been the subject of an interview by Forbes Magazine.
Jeff Bezos
Although Jeff Bezos may not be a household name, the company he dreamed up is. Jeff is the creator of Amazon, the site that sells possibly almost everything you could think of and dominates the online retail market.
Mark Zuckerberg
Probably the ultimate in internet success is the founder of Facebook who is now worth more than $30 billion. There's also been a blockbuster movie about his creation of Facebook and he's already done a special appearance on the Simpsons.
[ Image Credits : Wikipedia ]