In this article, we will learn how to transfer WhatsApp from Android to iPhone in the easiest way. Whatsapp is now an integral part of our lives, and there's absolutely no doubt in the fact that people use WhatsApp more than their text messages. It's quite an addiction, and it's justified too because first of all, WhatsApp is free, and second of all, you can always see who is online and who is not. So for now, one thing that we can all agree on is that yes, we cannot live without WhatsApp installed on our phones.
There's this other situation in which you buy a new phone and want to transfer your data, including the data that's on your WhatsApp. This is a tough one, especially if you are shifting from Android to iPhone. To transfer data between iOs, Android, and Windows Phone, Google and Apple have tried bringing a solution for the transfer of all the important data and documents. But you should know that Whatsapp and other third party services and apps aren't included in it. 
The point we are trying to explain here to you is that no matter what you do and no matter what function you use, you can't transfer all of your WhatsApp data between Android and iPhone. However, there's one tool that can bring all your WhatsApp transfer problems to an end, and that tool is none other than "MobileTrans." 
What Is MobileTrans And How It Works? 
MobileTrans is a one-click tool that will allow you to transfer all your WhatsApp data (including pictures, voice notes, audios, files) from one phone to another. Especially if you want to transfer WhatsApp chats from one phone to another, this is the tool that you need to use right now, and we assure you that you won't be disappointed.

Whenever you get a new smartphone, use this tool to transfer your data. It doesn't matter if you are shifting from Android to iPhone or to Windows or to some other notebook etc. This one-click solution is going to be the best thing you'll ever use, and this is something we can say without any doubt.
MobileTrans Features 
There are multiple features offered by MobileTrans, and we are now going to jot down some of them right here. 
Multiple Device Transfer 
MobileTrans supports a wide range of Apple devices, so no matter which one you have, you can always transfer your WhatsApp files just with a single click. Yes, you'll find a lot of online tools that will claim to transfer all your files, but honestly, they don't.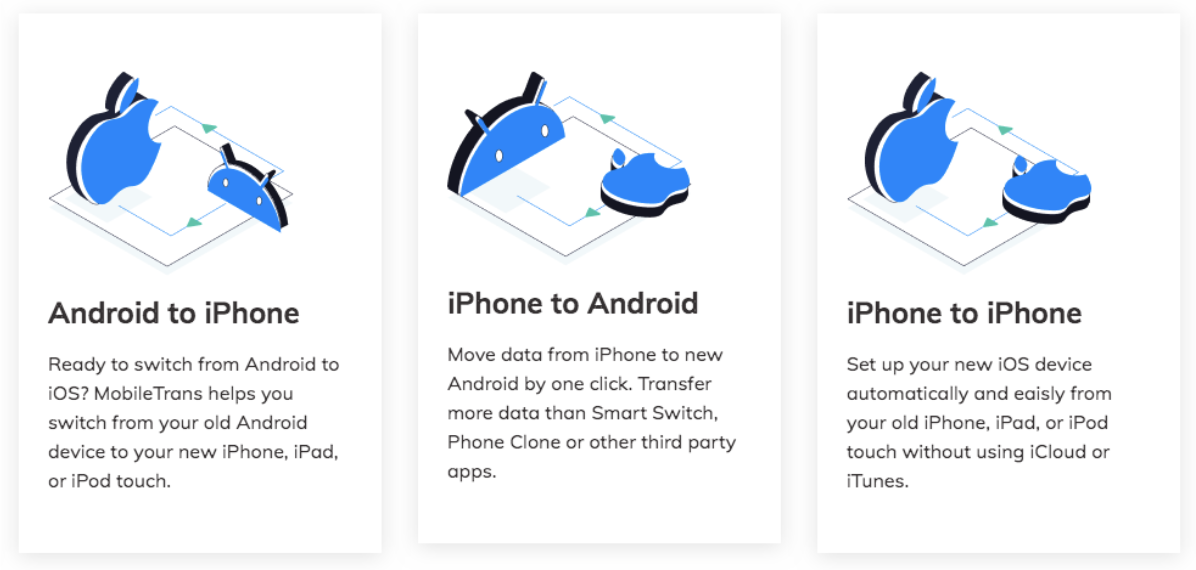 Especially if you don't want your WhatsApp conversations half gone, don't try them and don't rely on them. Instead, use MobileTrans that's famous worldwide for being the best transfer solution. All of your messages and files and documents will be transferred from one phone to another within a short period. The best part is that MobileTrans works for other such chat applications too. For example, if there's Viber, Kik, LINE, or WeChat, you can still use this tool to transfer your data without any hassle. 
Backup To Computer 
If you've tried it before, you'll agree with us on this that it takes a lot of time to backup your data on your laptop and computer, etc. Especially if the size of the file is quite big, the backup can take you hours. However, with MobileTrans, you don't have to worry about any such thing. All your media can easily be transferred to any internal or external hard drive that you want. This is useful because at least you'll be able to free up some space from your phone and install all those games that you want to. On top of it all, with MobileTrans, no matter which files you transfer to your computer, you can always view the messages and listen to the voice notes on your PC without any hassle. 
Transfer Whatsapp From Android To iPhone 
Whether you want to transfer WhatsApp from Android to iPhone or if you want to move WhatsApp from iPhone to iPhone, all you have to do is to use MobileTrans, and that would be the end of all your data transfer problems. The best feature of MobileTrans is that if you mistakenly delete any data on your WhatsApp and now, if you want it back, you have to use this one-click tool, and that's it. Yes, you read that right! With MobileTrans, your WhatsApp data will be restored immediately, and you can read those old chats and listen to the voice notes easily then. 
Guide To Transfer Whatsapp From Android To iPhone Using MobileTrans
Download and install the MobileTrans app on your PC, it supports all operating systems so downloading the app won't be a problem. Now open the app and let it load, once done, you'll see a "Whatsapp Transfer" function, just click on it and ensure that your mobile is connected with your PC properly.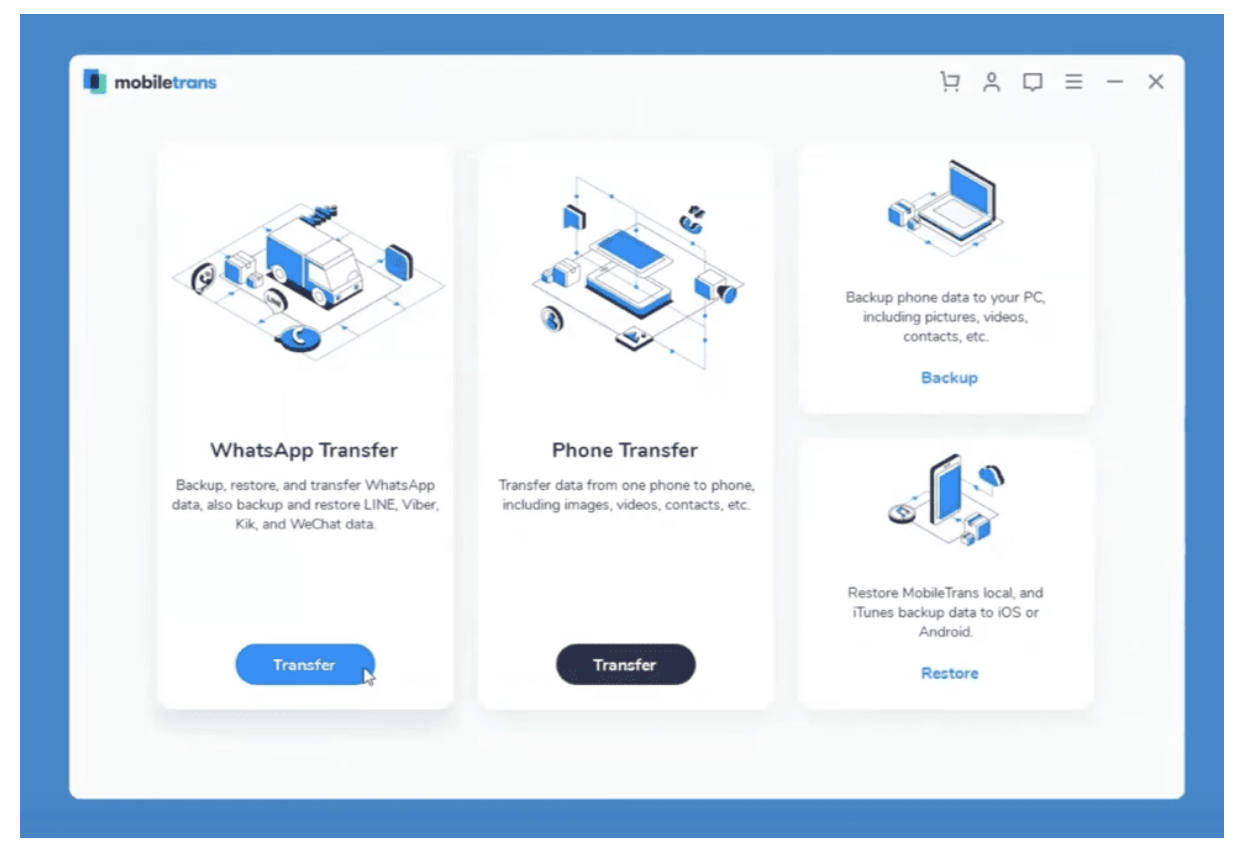 There's going to be an option stating "transfer Whatsapp messages", just click on it and then head to the option that says "restore to device" and "backup Whatsapp messages". Once you click on both these options, you then have to click on "next".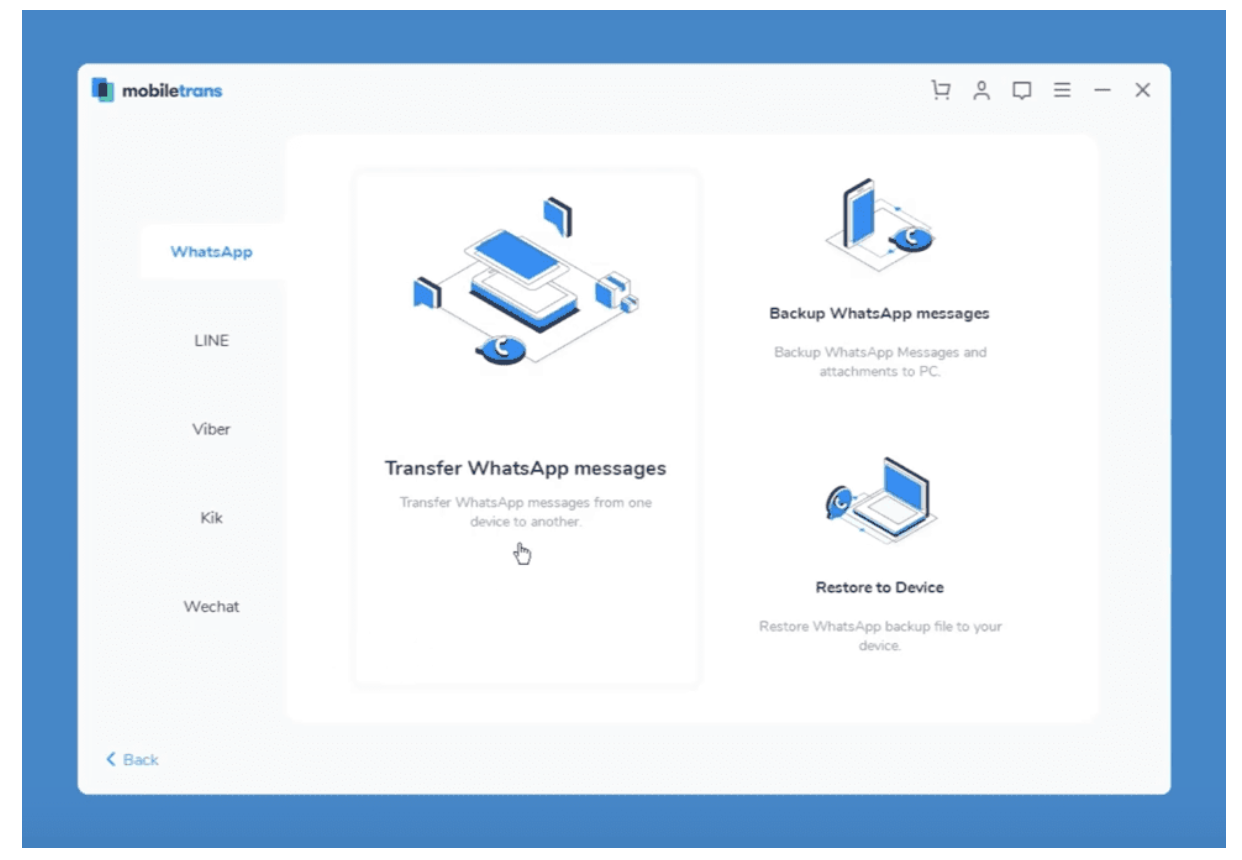 MobileTrans will automatically detect the destination device where you want all the data to get shifted to. You on the other hand have to ensure that your destination device is connected properly. If the pop up shows the incorrect device as the destination just hover on the "flip" option and everything will fall into place.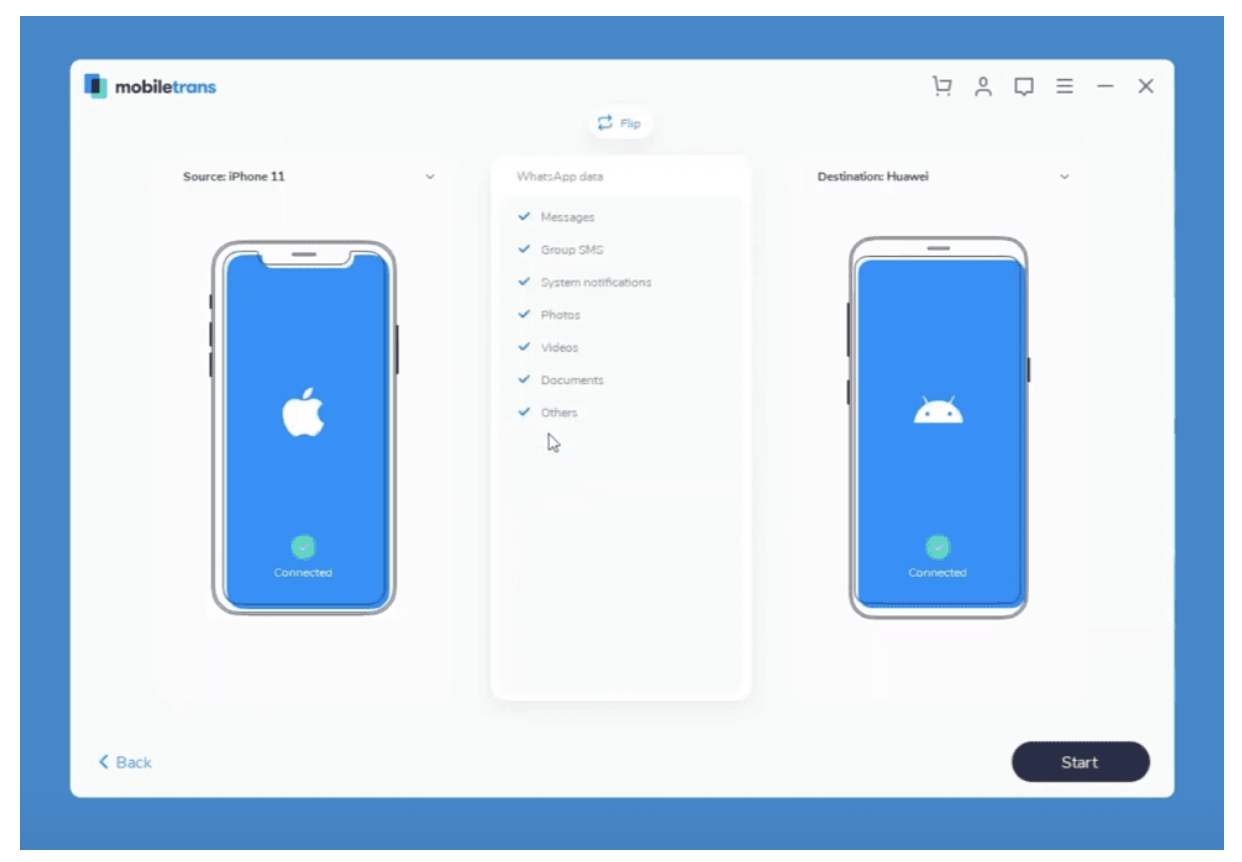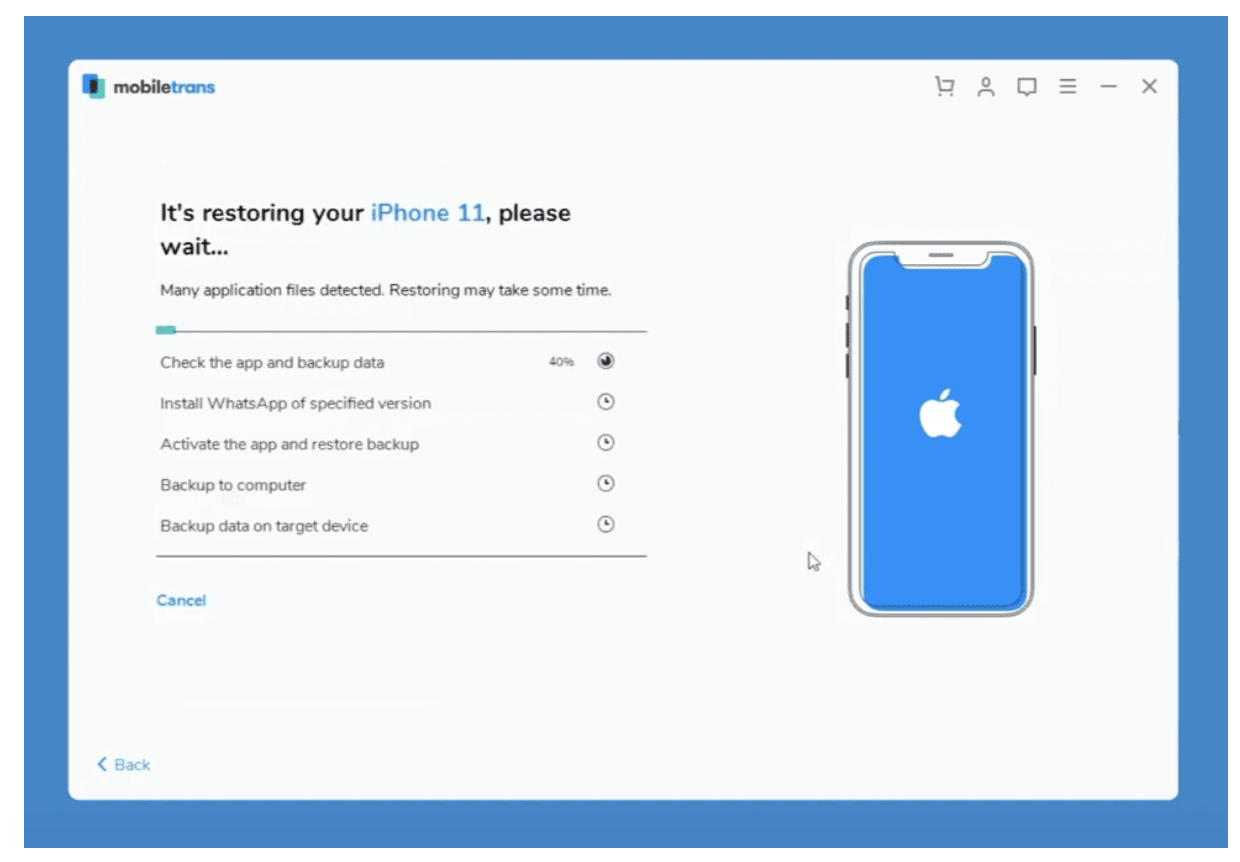 All your whatsapp messages will now be transferred without any hassle. Once you make sure that your destination device is correct, you just have to click on the "start" button and within no time your Whatsapp data will be transferred to your new phone. 
Why Use MobileTrans? 
You might be wondering that out of all the other tools, why use MobileTrans? Well, the reason is simple, that this tool is one of the easiest ones to use, and it's legit too. Unlike other WhatsApp data transfer tools, you won't have to worry about any complications and complexities with MobileTrans. This one-click solution is so far the best one, and it's a must-try because once you do, we can bet on the fact that you won't ever have to look for any other file transfer application. This one's simple, easy, and efficient!
Now without wasting any more time, if you've got a new phone, wait no more and use MobileTrans right away. 
Try it and let us know what you think. Happy Transferring!