How many data recovery software out there offer you a "free" data recovery solution, while supporting every kind of file type, every device and every data loss scenario?
In my opinion? None of them! Except one:- EaseUS! Well yeah if that doesn't call for a review over here, what does?
Let me tell you beforehand, you don't need to shell a single penny out of your pockets for EaseUS! So nope, I'm not trying to sell anything!
What Makes EaseUS Special?
I'm sure you've had your time with data recovery solutions before this article too, so what makes EaseUS worth your time?
Apart from just "recovering" your data, here's why EaseUS deserves every second of attention you can allot to it:-
The first edge EaseUS gives me over almost any other data recovery software in the market is that it supports every kind of device that exists out there.
You can recover data from:-
Hard-Disks.
USB sticks.
Music Players.
Digital Cameras
Memory Cards
And a lot many other devices.
And there's no "extension" or "premium" plan you'd need in order to recover your data from any one of these, meaning you can use the free version on any one of the above listed device (or even some other device which I might have missed), and you can recover your data normally.
Recover Every File Type:-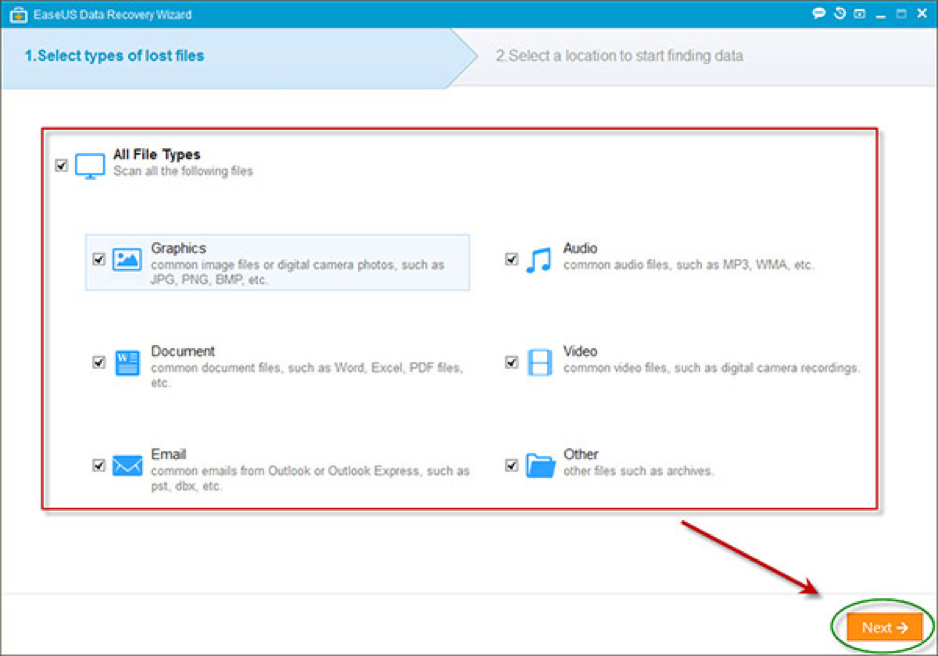 By "every" over here, I mean file types which we normally use in our daily day-to-day life. Including:-
A wide variety of "image" files- JPG, PNG, Bitmap and almost every other known file type.
Audio Files:- Mp3, WMA and the list continues on.
Documents:- Doesn't matter if it's a pdf, excel or any other kind of "document", EaseUS can recover it for you.
Apart from them, you can even recover E-mail archives and other saved files.
Recover from Any Data Loss Situation:-
There are data recovery tools which let you recover data from a virus attack, or maybe a corruption of data.
But EaseUS? It's the ultimate recovery tool for the simple fact that it recovers your data regardless of your data loss situation.

So doesn't matter how you lost it, EaseUS is going to get it back. Some of the data-loss situation it masters are:-
Virus attacks.
If you accidentally deleted the files.
If your Operating system crashed and you lost your files.
If you lost your partition.
Raw Partition
And probably a hundred other scenarios which I'm unable to list over here.
So bottomline? If you lost your data, or it was corrupted, and as long as you own the primary device where the data earlier existed, if there's one tool I would trust to get it back, it would be EaseUS!
Resume Recovery Process Feature:-
You don't need to start and finish the recovery process in one go. Infact if you scanned a large number of files, it's only natural that the scan took a bit long.
So if for some reasons you are unable to finish the recovery process in the single go, you can export your scan results,and then import it later for the next steps, so that you don't have to go over scanning the drive/device again.
Fast:-
Before writing this review I've had my time with atleast 15 other data recovery tools (that includes almost all the "major" data recovery tools on the market, including the premium ones).
And I'm not saying EaseUS is the "fastest" tool, but considering it's free and considering it's offering you such a wide variety of features, let me tell you I would vote for it over all those other 15 tools any day of the year considering its speed.
Final Verdict:-
So here's the thing, it's free, it has more features than you and I would probably ever use, and it's extremely fast and simple.
I dare you to go out, try EaseUS and give me one single reason to tell me it's not good enough for you. (Unless ofocurse you burnt your hard-disk and are trying to recover data from it!).
If you are looking for alternate options, do try Remo Data Recovery Software.
So go out and try EaseUS for yourselves.