Ever craved your favorite TV channel or show lineup while you are not at home? Here are the best cable TV providers with the best TV apps you can use to watch channel TV on your phones. 
Cable TV Providers With TV Mobile Apps
Ever since the merger between Charter and Time Warner Cable, Spectrum has started to gain a lot of name recognition. The credits goes to its flexible internet and TV bundles, as well as high-speed connections that customers can rely on. If you are an Android user looking for a cable TV app to watch your favorite content on-the-go, then Spectrum TV app is the one for you. With this app, you can live stream up to 120 channels. It also has on-demand titles that are best for people who have busy schedules but want to keep up with their favorite shows and movies on their cable TV.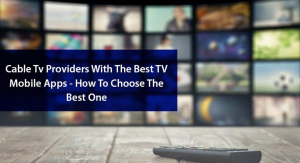 You can also use Chromecast and other mirroring techniques to watch on-demand content on larger TV screens. Other features of the app includes parental controls and personal favorites list. You will need to have a Spectrum internet plan as well as its cable TV service. Visit its website or call Spectrum phone number to check availability in your area. 
Xfinity Stream App is home to 250 live channels that users can select from, as well as numerous on-demand titles for on-the-go entertainment. It includes a basic TV guide that you can use to make the most of the app and DVR. Not only this, but you can have your DVR recordings synced or downloaded to your Android phone and enjoy these recordings anywhere you go with or without the internet. The app is also compatible with Apple watch, so if you are an Apple user, you can take this app everywhere with you. One significant drawback of this app is its inability to let you access live channels without a connection with Xfinity home Wi-Fi.  Schedule your DVR recordings from the app, access offline library and mirror on TV screens with Chromecast with Xfinity Stream App.  
An excellent app for Android users is DISH anywhere app. It best for long road trips or even flights as you can access your DVR recordings on your phone even when offline. It is the most detailed DVR controlling mobile app. You can download the app on any Android tablet to view your favorite shows and movies on-demand or live stream on a larger screen. However, the offline viewing option is only available for particular DVR models, while slow playback is a recurring issue with the app. It has a minimal internet speed requirement of 3 mbps, and has support for HD quality resolution too. It is also compatible with Amazon Fire tablets, which increases its versatility in terms of devices and mediums you can use it on. 
For iPhone users, AT&T U-verse app is the best solution. While the app is available for Android as well, it has better interface and functionality on iPhones. It is also compatible with Apple watches. The app lets you create your personal favorites lists and control your DVR recordings as well. The best feature is that you can use the app to even schedule your recordings, so you never have to miss out from live TV. Plus, you can use the app to work as a remote control for your TV. Other features of the app include parental controls, so it is ideal for family homes or parents who tend to give their phones to their children for entertainment. If you are an AT&T internet and cellular customer, your data caps won't be counted while streaming on this TV app.
Other than this live cable TV app, AT&T also has a streaming app that is a good alternative as well.  You get local sports channels, with HBO Max included in the price for the app, so it's a complete entertainment package. 
Controlling what your child watches can be really difficult with such small screen phones and tablets. If that's an issue for you, but you don't want your kid to miss out on entertaining TV content, then Optimum TV app's full-scale parental controls can be of great help. It is available for Android and iOS devices. Some of its key features are ratings and reviews you can give to on-demand titles that allow you to only share your experience and also take help from these reviews to decide what you want to watch. On-demand titles include a range of both paid and free content. 
You can subscribe to Optimum TV and Internet service from buytvinternetphone.
Wrapping it up
As long as you have the best internet and TV bundles, you can get and make the most out of these apps. Make sure you have the necessary things in the place, such as a good resolution screen and a good audio system for the perfect experience.